Something happened last week. I forwarded this
article - My Sons, the Sous-Chefs
to DH. Sometime in the next couple of days I was standing over the dishwasher complaining yet again about having no energy to cook in the evenings. Don't get me wrong cooking makes me happy but there are days when I would be very happy if there is food already cooked and ready to eat when I reach home.
DH got tired of the cribbing and he whipped up a schedule assigning certain days to himself, certain days to me and a weekend dinner to the DDs. DD has been behind me to let her be the head chef for one day. The article linked in the first paragraph just propelled us to do it.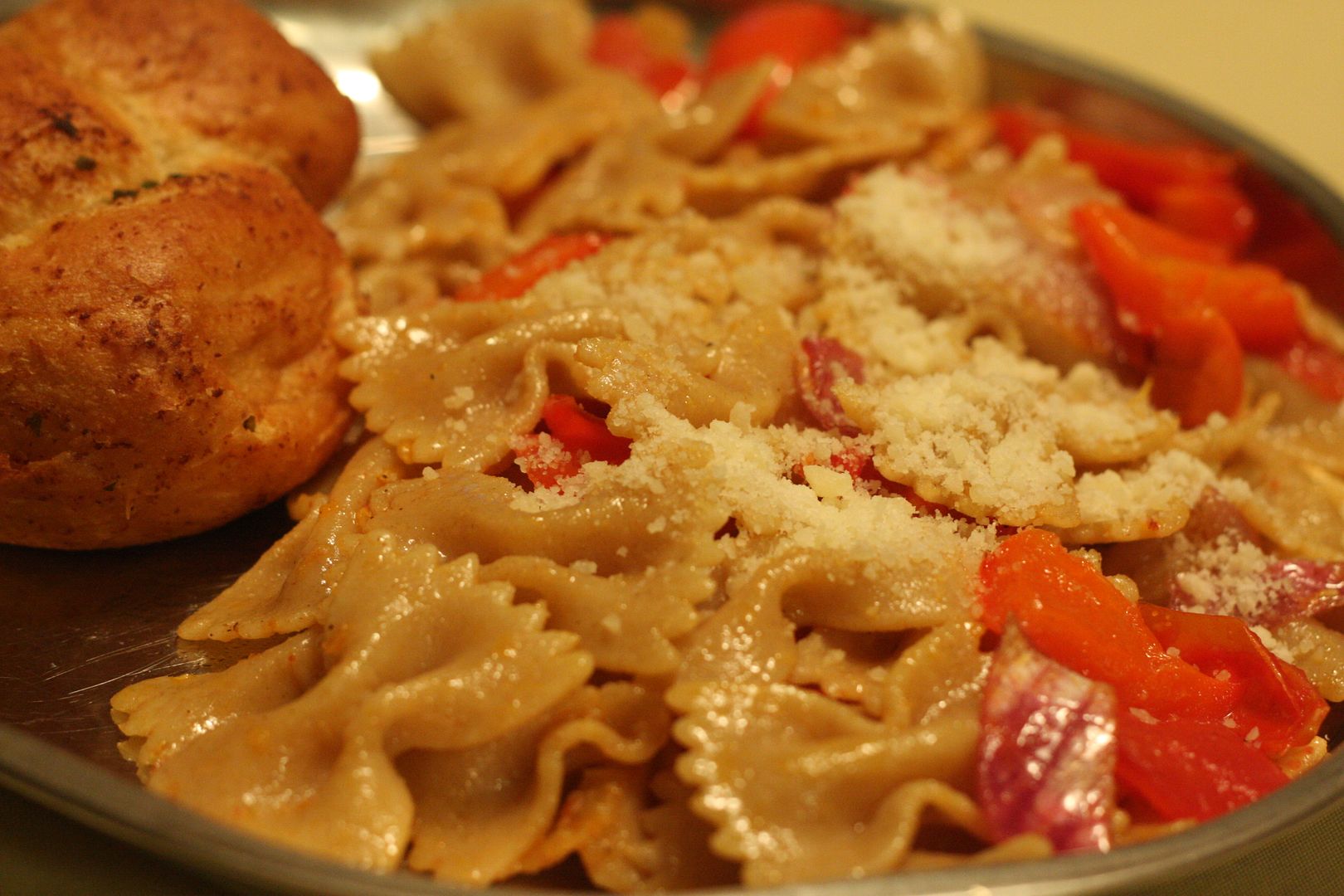 The schedule went into effect last week and Saturday's dinner was served in style by the DDs. I controlled my interfering self by removing myself from the kitchen and watched some TV. It felt good to be not responsible. The dinner was a grand success and the kids were pleased as punch.
Recipe Source:
Washington Post Recipe Finder
Pasta with Cherry Tomatoes and Sweet Peppers
Serves 4 people
Ingredients
1. 1 Red Bell Pepper seeded and diced
2. 1 Pint Grape Tomatoes cut in half
3. 1/2 Red Onions diced
4. 3 Cups Farfalle pasta
5. 1 tbsp pepper powder
6. 1 tbsp olive oil
7. grated Parmesan cheese
8. salt to taste

Method
1. Spread the vegetables (bell pepper, onions and tomatoes) in a baking sheet, spray some oil over it sprinkle with pepper and salt and roast in a 350F oven for 30 minutes or till the tips of the bell pepper start to get brown.
2. In the mean time boil the pasta in salted water with a tsp of olive oil. Drain.
3. Now toss the pasta with olive oil, roasted vegetables, pepper and salt.

Served with Parmesan cheese sprinkled on top and with some garlic knots on the side.