Wishing all readers once again a Very Happy New Year! Hope the New Year started off well for all of you. Mine did. It is only customary for every New Year to start off with resolutions and this year is no different. Here goes the resolutions for the year,
First a few personal goals for the blog.
1. To provide better quality pictures.
2. To present food better.
The above two are tough but I am willing to try.
Public goals for the blog.
1. To get better reader participation.
2. To get readers to provide recipes on the blog.
3. Provide easy to prepare meals for a healthier lifestyle.
This is even harder because I need support from you the readers. Hopefully with your support I can move towards making this blog a lot more interactive and useful.
1. Readers can get updates by subscribing to the blog using one of the methods available from the right side bar.
2.If you would like to showcase a recipe on the blog you can contact me at indosungod AT GMAIL DOT COM.
Now on to the first recipe for the New Year - Nutella cookies. Baking is not an inherent or easy skill for me. The hardest thing is to follow the recipe step by step as it is a skill that does not come naturally. I have kept away from baking cookies as I considered it a hard thing to do. That impression is not exactly true after this most recent attempt.
I found this recipe in the 'Vegetarian Times' magazine I was browsing in the library. DD who was looking over my shoulder whipped out a paper and started jotting down the recipe. Nutella and cookies in one sentence and there is no stopping the kids. With the holidays and time on hand these cookies saw the light of day.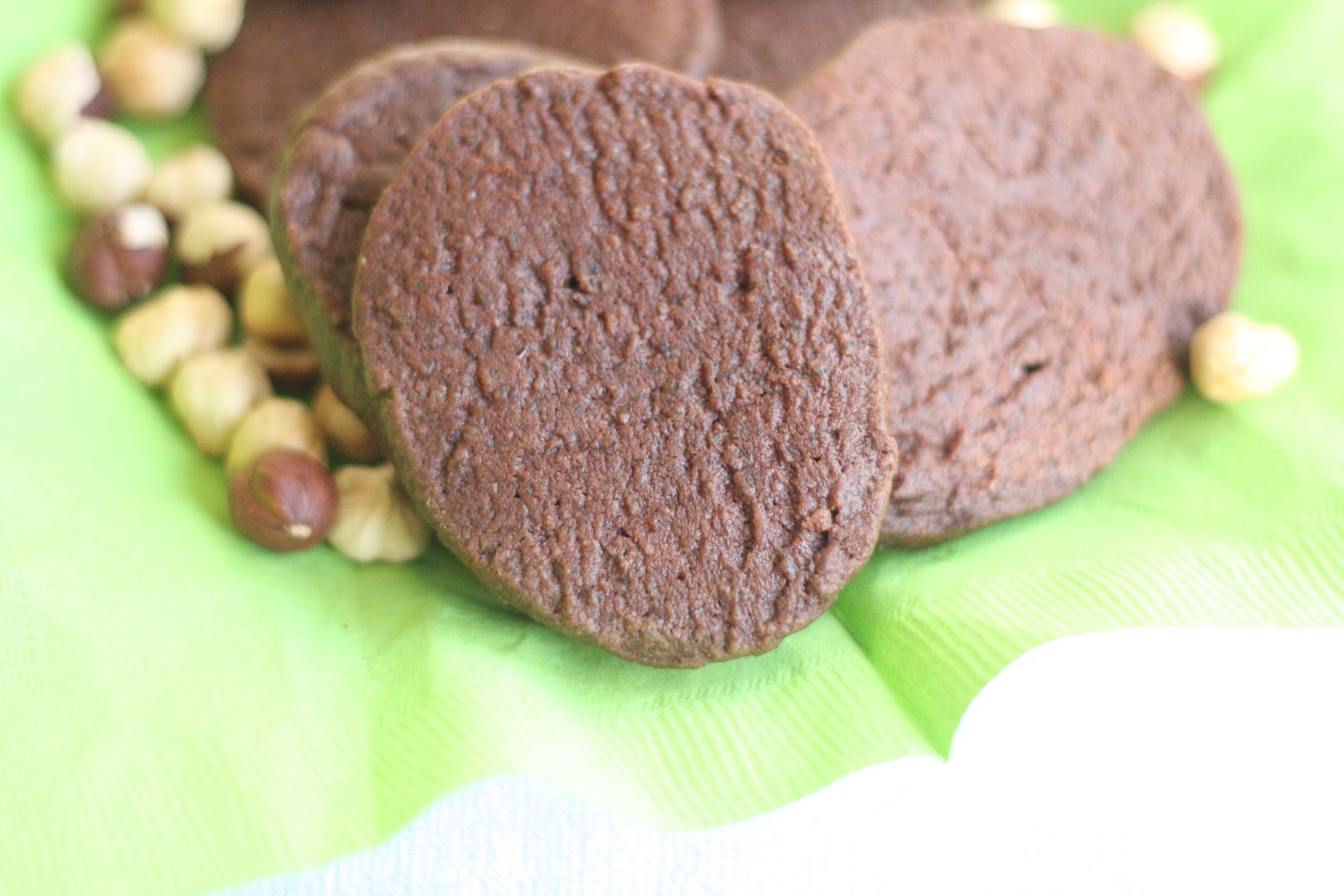 Home baked warm cookies are a delight so give this a try.
Tips to note while baking:
The only mishap happened because I was impatient and put two trays in the oven at the same time. It still would have been ok if the trays were placed on a higher rack than a lower rack close to the burner.
Best to put the cookie trays in the middle rack. Or even better bake one after the other. Remove them from the oven at the specified time.
Recipe Source:
Vegetarian Times
Nutella cookies
Ingredients
1. 1 3/4 cup unbleached all purpose flour
2. 1/4 cocoa powder
3. 1/2 tsp of baking soda + 1/4 tsp of salt
4. 1 cup Nutella
5. 4 oz/1stick unsalted butter
6. 3/4 cup of sugar
7. 1 large egg
8. 1/2 tsp of hazelnut extract
9. 36 whole blanched hazelnuts roasted (optional)

Method
1. Sift together flour,cocoa powder salt and 1/4 tsp of salt and set aside
2. Beat Nutella and butter till smooth (I used an electric hand blender)
[Make sure you have a big enough vessel to hold the wet and dry ingredients]
3. Add the egg and sugar to the above mixture and beat till well combined
4. Now slowly add the flour and in low speed incorporate into the wet mixture till dough forms.
5. Transfer the dough into a plastic wrap and shape into a 2inch diameter log and refrigerate for a minimum of 2 hours.
6. Heat oven to 375F.
7. Cut log to 1/4 inch thick rounds and place on a cookie sheet.
8. Bake for 9 minutes and remove from the oven and let cool for 30-45 minutes.
9. Once cooled pipe Nutella on to the cookies and place a hazelnut on top. ( I skipped this step)

Note:
1. The roasted hazelnuts can be powdered and added to the dough for an even more nuttier taste.