I have posted the recipe for a Burrito Bowl in fact a Fish Burrito Bowl earlier. This recipe deserves another post not only because I like it a lot but also because it is perfect for a cold or rainy winter's day meal. The colors and the flavors that go to make this bowl brightens up the day for sure.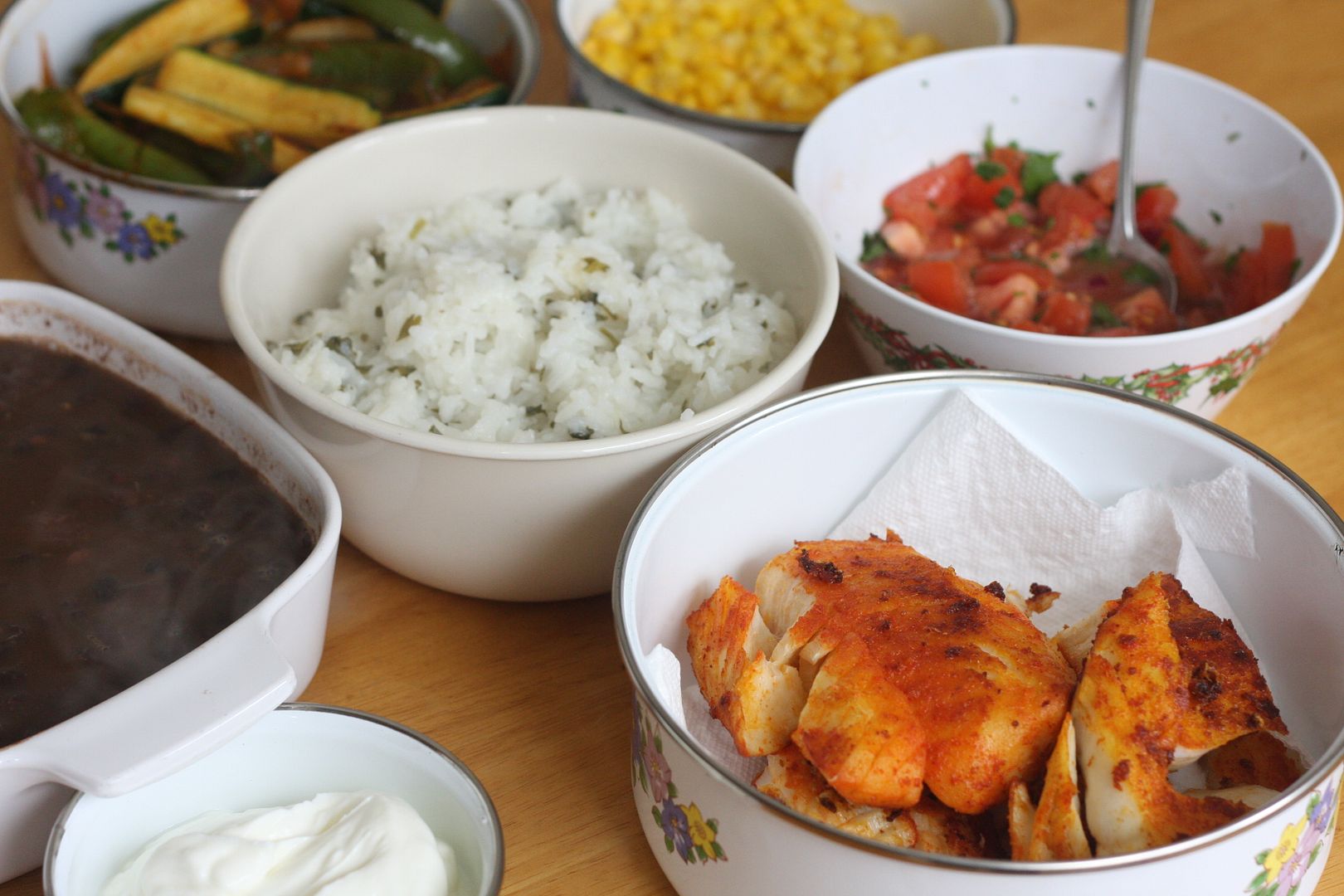 The list of ingredients seem long but it is quick to put together. I used frozen Cod filets but Tilapia or Cat Fish will also work.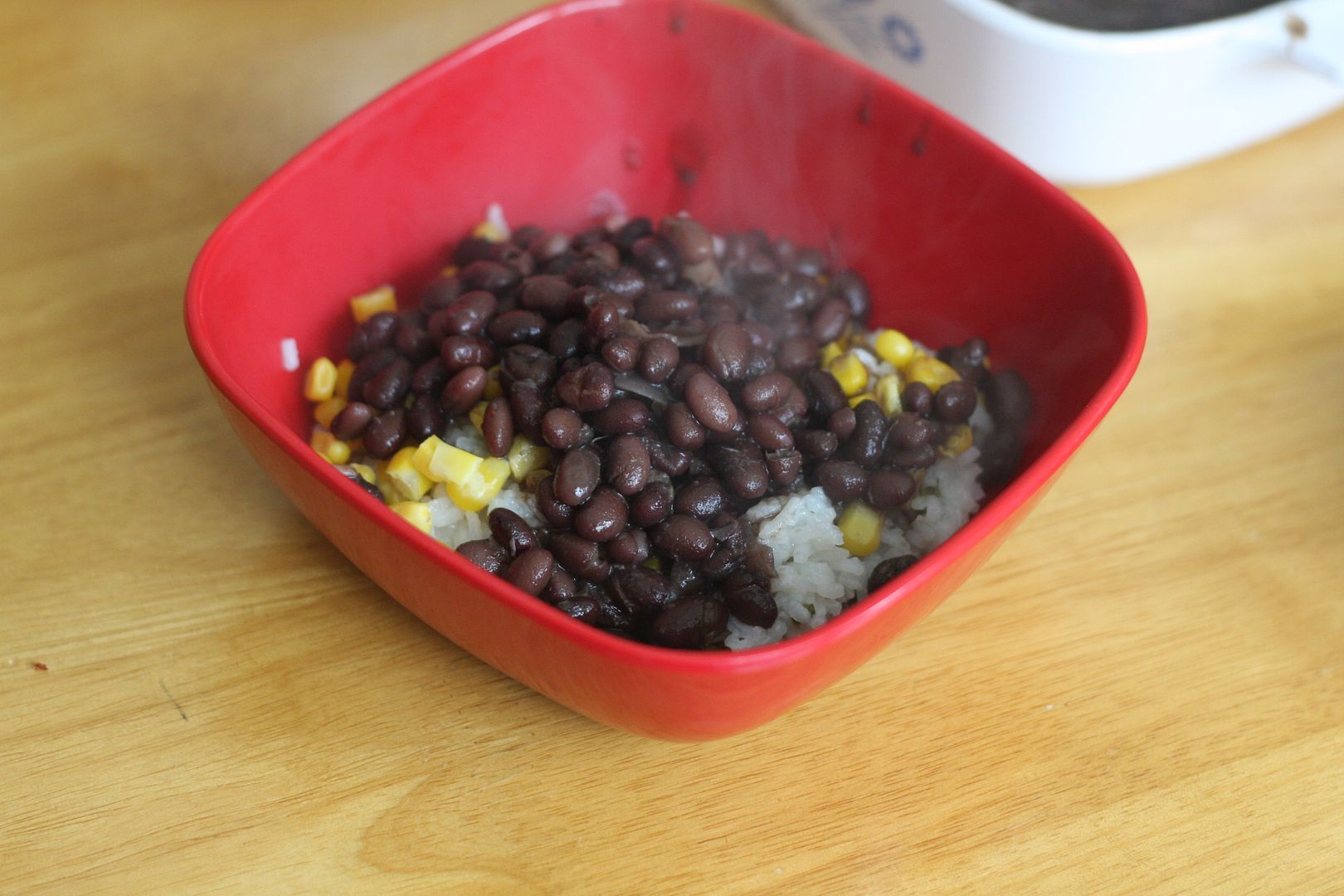 Do not be put off by the long list of ingredients. There is not much cooking involved and very easy to put together.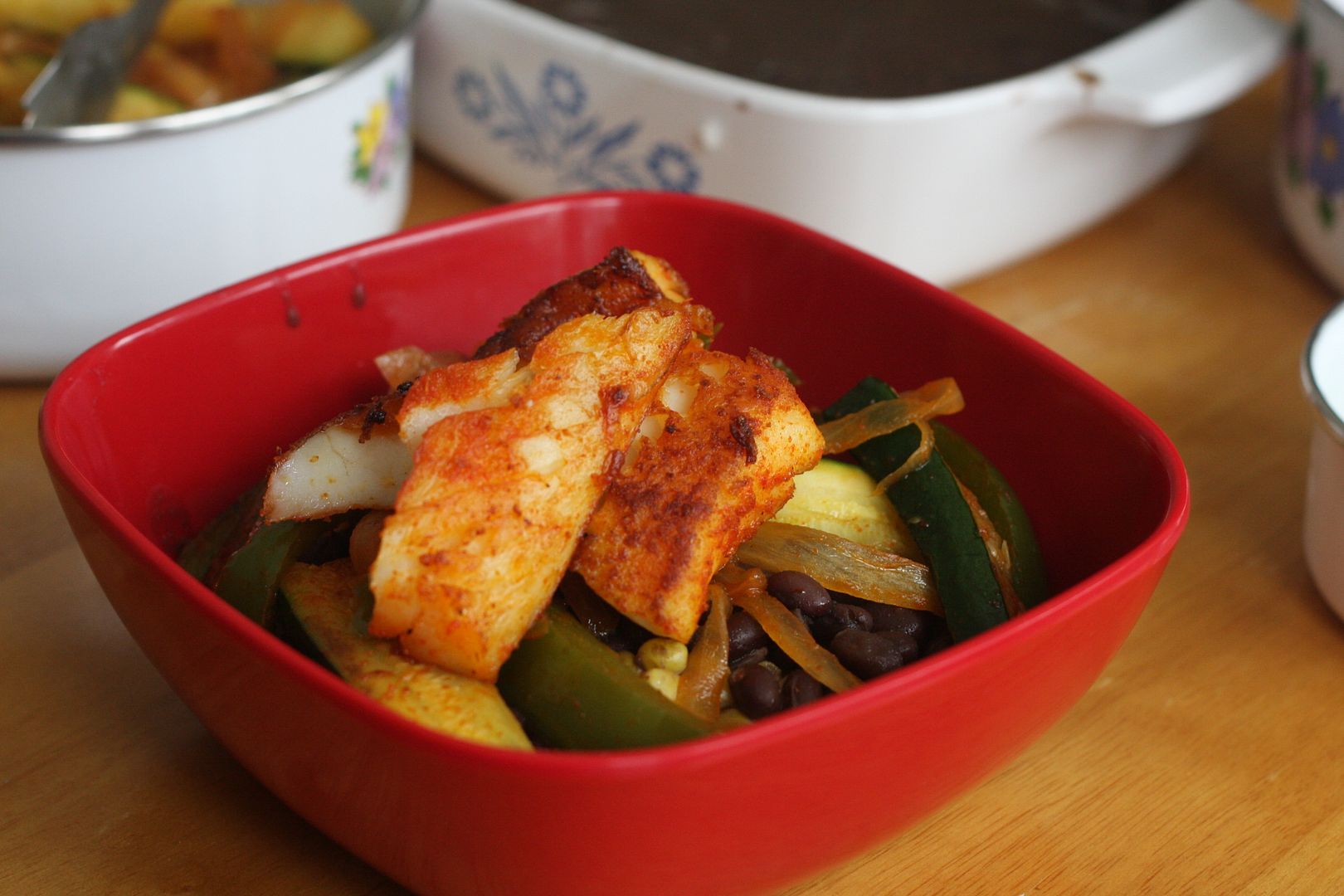 Fish Burrito Bowl
Ingredients
1. 4 filets of Cod washed and patted dry- Sprinkle cayenne or red chili powder salt or any masala powder and set aside for a couple of hours.
2. 1 cup of black beans soaked overnight
3. 1 Green or Red Bell Pepper seeded and cut into thin strips
4. 1 Vidalia Onion cut into thin strips
5. 2 Zucchini cut into strips (optional)
6. 1 cup of corn (I used frozen corn kernels)
7. 1 - 2 tomatoes chopped
8. handful of coriander leaves chopped
9. 1 tbsp of freshly squeezed lemon juice
10. 1 inch ginger pounded + 2 tbsp of onion + 2 cloves garlic
11. 1/2 tbsp of red chili powder + 2 tsp of cumin powder (for the beans)
12. salt to taste
13. shredded cheese (optional)
14. Sour Cream
15. 2 tbsp of oil

For the Rice
1. 1 1/2 cups of jasmine rice
2. 2 handfuls of chopped coriander leaves
3. 2 tbsp of freshly squeezed lemon juice
4. 1 tbsp butter
5. Water as required

Method
Black Beans
1. Cook the black beans with about 3 cups of water along with the onion, ginger and garlic till soft ( I used a pressure cooker)
2. Open the lid, add chili powder and cumin powder and salt and let the liquid cook down till desired
Corn
3. Boil the corn kernels and set aside
Salsa
4. Mix the chopped tomatoes, coriander leaves and squeezed lime juice with salt. Add a few tsp of chopped raw onions if desired and set aside.
Vegetables
5. In a wide mouthed pan, saute the onions followed by the bell pepper and zucchini, season with the chili powder and salt and chili powder. Set aside when the veggies are cooked.
Rice
1. Add the rice, cilantro, lime juice and butter to an electric cooker and let cook.
Fluff once the rice is cooked and set aside.
Shallow Fry the Fish
1. In a wide mouthed shallow pan heat the oil and shallow fry the fish and set aside.

Assembling the Bowl
1. Take a bowl and add the rice, followed by the black beans and corn kernels.
2. Add the vegetables and the tomato salsa.
3. Top with the fish and a dollop of sour cream.
4. Sprinkle any of your favorite cheese.

Perfect meal while watching a movie.