I am not really sure how the holiday season has crept on us so quickly. I can blame it on the commute too. Okay I won't do that. I am sure all of you are just getting tired of this particular crib. I usually know for sure that the Holiday Season has arrived when DD2's school has their Holiday Party. This year the day before the the holiday party(was yesterday) I realize that I have not shopped for presents for the teacher.
I quickly ran to the store and bought gift cards. What do you all think of giving gift card to teachers? Photo frames, scarves, candy boxes and such which are safe gifts seemed boring. The other reason have no idea if the teachers find them useful or not. There is only so many photo frames that a teacher can keep around the house right? Anyway I feel the gift card gives the teacher flexibility to buy what they really want.
Any teachers or parents who have opinions on this one please chime in. I feel a bit guilty beacuse it might seem that I did not spend time finding the perfect gift. Folks what do you think?
On to the recipe,
The recipe presented is one for those weekday nights when there is no time but want something quick and filling. I always have beets in the fridge. They come in handy and stay for a long time. Beets cooked to almost roasted is when they taste best. This
beet raita
is something I grew up with and reminds me of home whenever I cook it. I modified it a bit and started mixing it with rice and it has become another go to one pot meal. Broccoli is normally not added but I decided to add some because there was a huge pack of broccoli lying around after DH decided to do some Costco shopping. Broccoli in the end seemed like a great idea (the only reason why I chose to make this post). It gave it a crunch that goes well with any rice dish. Do not overcook the broccoli that it would be a very bad idea.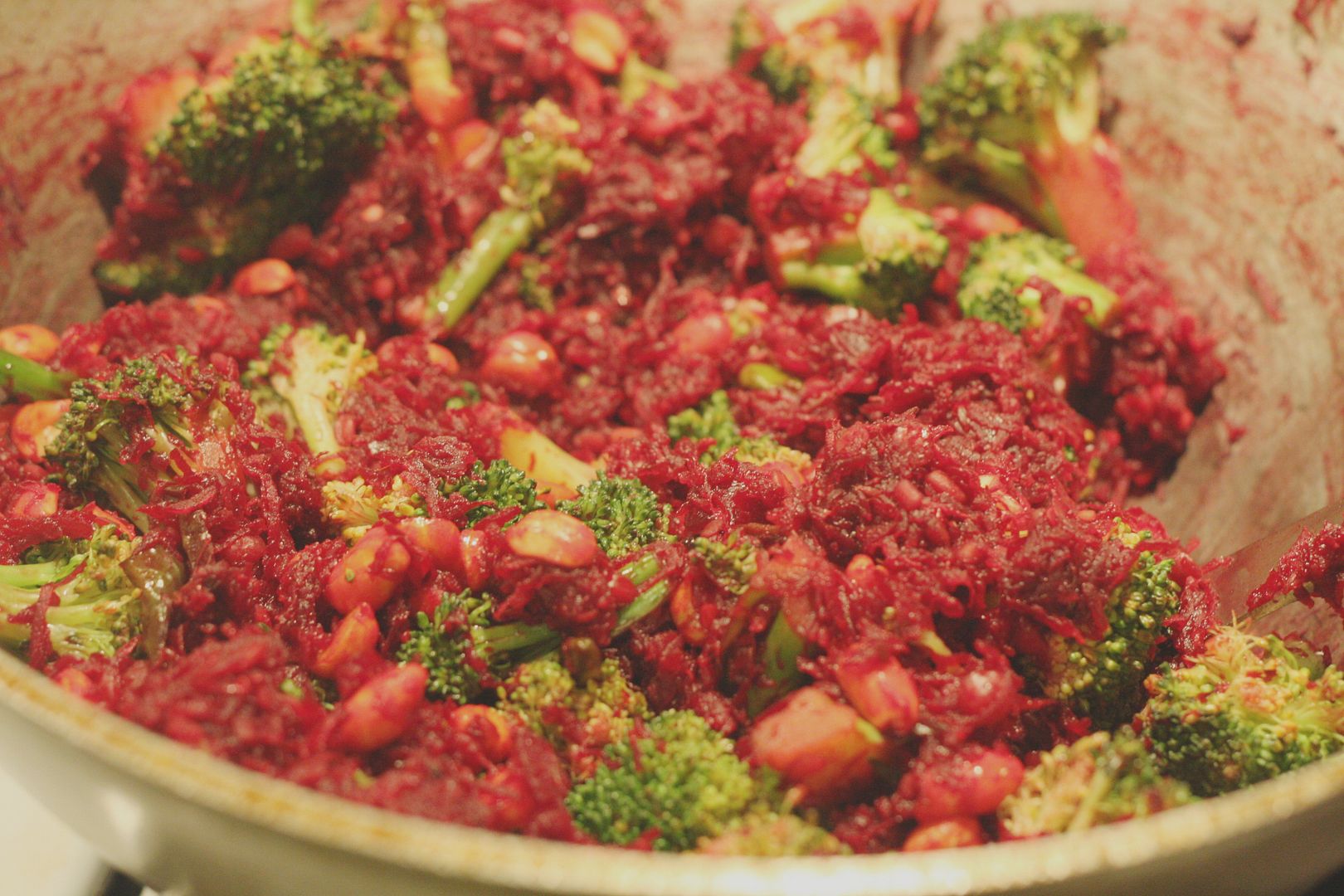 Beets with peanuts and broccoli
Ingredients0
1. 4-5 medium to small beets peeled and grated (see notes:)
2. 2 cups of broccoli florets
3. 1/2 cup finely chopped onions
4. 8-10 slit green chilies (or as per taste)
5. Cooked rice from 1 1/2 cups of rice (I used ponni parboiled rice)
6. 1/4 cup of roasted unsalted peanuts
7.seasonings: cumin seeds, mustard seeds, 1 tbsp channa dal, 2 tsp of urad dal and curry leaves
8. salt to taste
9. 2 tsp of oil

Method
1. Cook the rice, fluff and set aside.
2. Heat a kadai with oil and when hot add the channa dal and urad dal. When brown add the cumin, mustard seeds and curry leaves.
3. Add the green chilies, onion and saute till it starts to turn brown.
4. Add the grated beets with a 1/4 cup of water. Water is optional (see notes). Add salt.
5. In the meantime heat water in a sauce pan to boiling and parboil the broccoli florets for 2-3 minutes. Drain and set aside.
6. When the beets have cooked and there is no liquid add in the peanuts and broccoli and give a good mix and turn off the heat.
7. Add in the cooked rice and mix it in for a one pot meal.
Notes:
1. I hand grate the beets but they can be chopped to tiny pieces using a food processor.
2.I add a 1/4 cup of water so I do not need to babysit the beets but no water is required but just that they have to be stirred every couple of minutes if no water is added. The taste is far better without the water.