The US I came to a while ago was a lot different place than it is now. The proliferation of 'Made in China' and Walmart had not completely taken hold. I am talking about the retail landscape here. The list of once been stores are strewn around. Woodward and Lothrop, Montgomery Ward, Hecths, Zany Brainy,Borders and many others. Most of these might have been chain stores which caused the demise of mom and pop stores.
The one that bothered me most was the closing of Woodward and Lothrop a store that was headquartered in DC and had been around for a hundred years shuttered for good. The next was Hechts which also had its head quarters in the DC area. The ones that replaced these stores have made retail shopping experience in any of part of the US essentially the same. Every mall looks the same anchored by the very same department stores.
Anyway the reason for this retail talk is because the Indian government bowed to pressure and said no to Walmart and Tesco. Would it have been a good for the Indian consumer if the Indian government in all its corrupt glory had allowed these retailers into the Indian market.
The shopping experience in India is a lot different than the experience here. Shopping with shopping carts in not typical. We mostly shopped (this has changed now to a great deal with many stores which do provide shopping carts for shopping pleasure) at a single counter. You either pointed at what you wanted or told the shop keeper or his assistant what you wanted and they retrieved it from the back of the store.
I still remember the store I frequented when I was a wee elementary schooler. This tiny store had all the stuff that I dreamed off. Scented erasers, pencils and candies. The one I remember and liked the most was a mini egg shaped pastel colored oval candy with bright yellow inside made to resemble an inside of a boiled egg. Dean's store shopping experience on the way to and from school still lingers in my mind. I bet many of you have your own Dean's store experience. Walmart is most definitely not going to provide a personalized shopping experience that most of these mom and pop stores provide.
There are positive reasons stated for allowing FDI (Foreign Direct Investment) into the Indian market. The ones that caught my attention are :
1. Cutting out middlemen and helping the farmer sell his produce at a far more profitable price.
2. Bring supply chain efficiencies to prevent the rotting of produce which apparently in India happens a lot.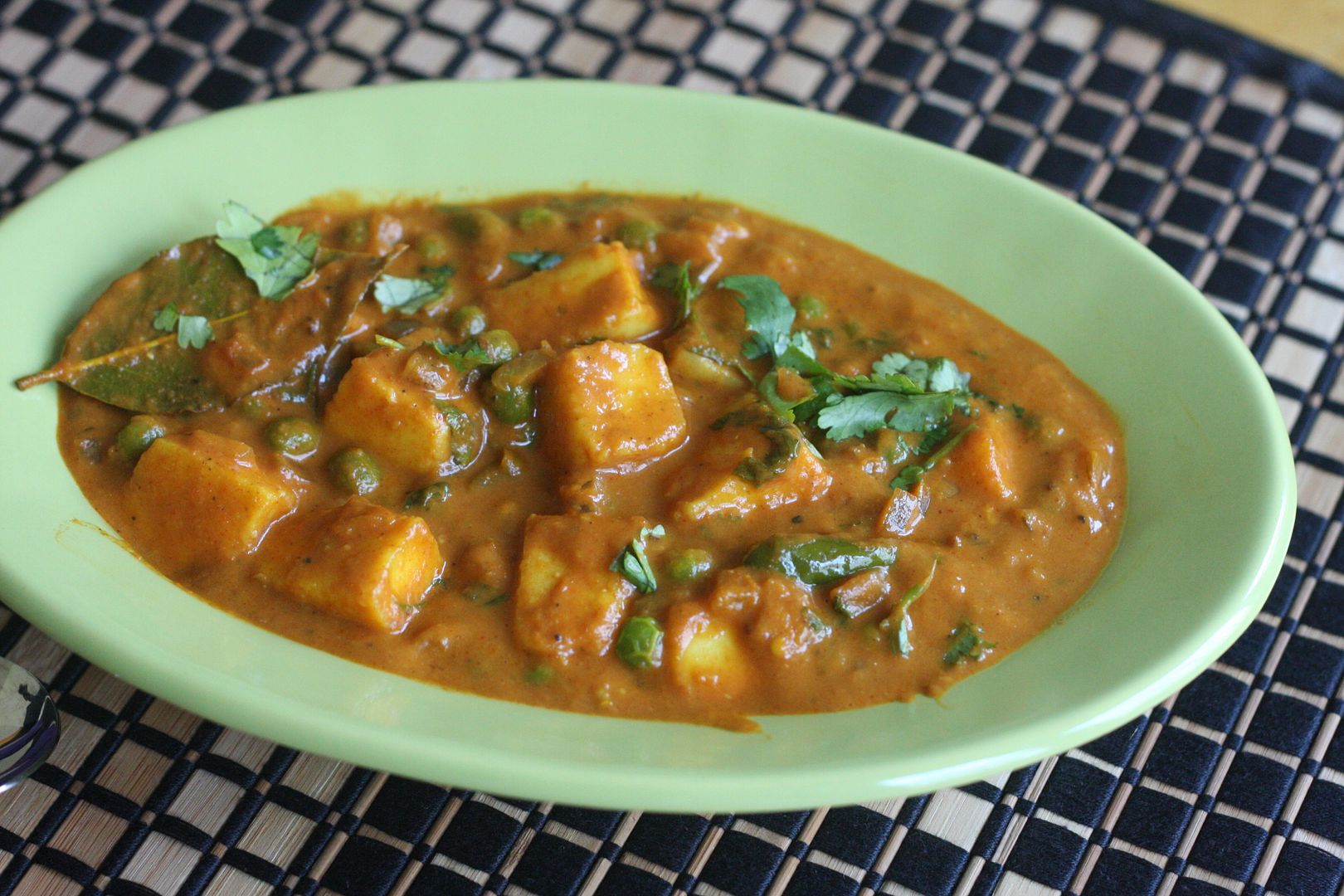 But how about Walmart and it practices in the US? Is it going to leave them State side when it enters the Indian market? Walmart would surely not be leaving behind its cut throat prices and everything else be damned attitude. Once a Walmart enters a landscape it leaves retail carcasses in its wake. Has the entry of Pepsi and Coco-Cola really helped the Indian consumer?
That is enough retail talk for day I think. Now on to the recipe.
Paneer is not something that I am fond of and I rarely ever cook with it. But unlike me the DDs love paneer and the request for Mattar Paneer has been a long standing one.
Mattar Paneer Masala
Ingredients
1. 14 oz package of low fat paneer cut into cubes
2. 1-2 cups of fresh or frozen peas

3. 1 onion chopped roughly + 1/2 onion chopped very fine
4. 8 cloves of garlic
5. 2 inch piece of ginger
6. 2 juicy tomatoes chopped (I used canned crushed tomatoes)

7. 6 green chilies
8. 2 tsp of chili powder (see note)
9. 1 tsp Kashmiri chili powder
10. 2 tsp turmeric powder
11. 1/2 inch piece of cinnamon, few cloves roasted and powdered (garam masala)
12. 2 bay leaves + 1/2 tsp cumin seeds

13. a handful of chopped coriander leaves
14. 2 tbsp roasted cashews
15. salt to taste
16. 2 tsp oil + 2 tsp ghee

Method
1. In a saute pan heat a bit of oil and saute the onions, garlic and ginger till the onions are browned. Take care not to let them get black. Cool and blend to a paste with maybe a tiny bit of water. To this add the chopped tomatoes and blend.
2. In a wide mouthed pan heat the ghee and when hot place the panner cubes and brown them evenly on all both sides. Drain and set aside.
3. Add the oil to the pan and when hot season with cumin seeds and bay leaves. Add the green chilies and onions and saute till the onion turns translucent.
4. Add in the powdered garam masala followed by the turmeric powder and chili powders and give a good mix.
5. Add the blended paste with 1 1/2 cups of water and let it come to a boil.
6. Add in the green peas and salt and let it cook till the gravy thickens a bit (about 8-10 minutes)
7. Add in the paneer and mix it in gently.
8. Now make a paste of the cashews with a tbsp of water and add to the gravy.
9. Sprinkle the coriander leaves and let simmer for a couple of minutes more and turn off the heat.

This is absolutely a great accompaniment for any Indian flat bread.

Note:
Be careful when adding the red chili powder. This was a slightly on the spicy side.