I am not really sure what magic my mom has in her hands.Bear with me I'll explain. When she soaks urad dal for making idli batter, the measurement is the one I generally use.
The only difference being she soaks the urad dal for 20-30 minutes before grinding while I soaked it overnight. The batter which results is one and half times more than what I get usually. Now I follow her advice but still the end result is no where close to hers.
Well anyway when there is a lot more urad dal batter in proportion to the rice she saves some of it in the fridge for later use. The thing with urad batter is that it does not need to be fermented to make goodies. Mix and use is how it goes. Urad batter in the fridge meant some yummy goodies for the kids for after school snack and by extension us. I just soak a bit extra and keep it aside.
So when evening there were these tasty yummy urad vegetable fritters and they were delicious. Not deep fried, she had used the paniyaram pan or if you want to go Dutch use the aebleskiver pans to make them. No need for a dipping sauce. Tasted great all by itself.
If you want a quick but tasty and not the usual run of the mill paniyarams these are the way to go. I was listening to a program called Splendid table on NPR and I heard an interview with this person called Indiana Jones of Ginger. I learned a lot about the different varieties of ginger and decided the fritters to be made needed a good dose of them.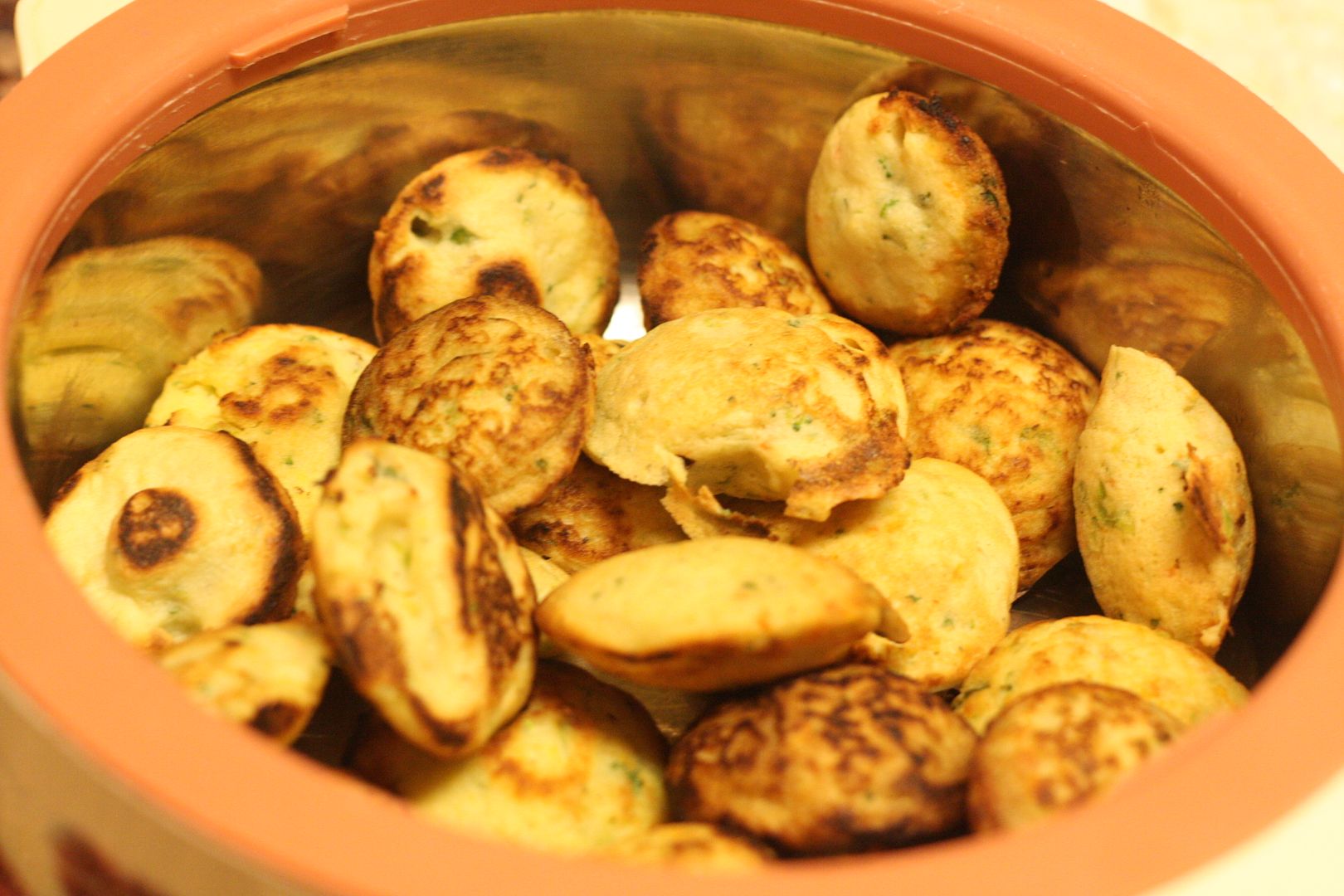 Black Lentil Vegetable dutch pancakes(Uzhundhu paniyaram)
Ingredients
1. 2 cups of urad batter (soak for 20 minutes about 1/4 cup of urad and blend to a smooth paste without adding too much water)
2. 1/2 cup of rice flour
3. 1/2 - 3/4 cup of besan flour
4. 2 cups of shredded vegetables (broccoli, carrots, green beans, cabbage) - see note
5. 4-5 green chilies shredded along with the vegetables
6. 1 tbsp of grated ginger
7. handful of coriander leaves chopped
8. salt to taste

Method
1. Add the urad dal to the shredded vegetables and mix it in. Add in the rice flour and chick pea flour and mix without any lumps.
2. Add salt, ginger, coriander leaves and just enough water to form a that can be poured into the paniyaram pan.
3. Heat the paniyaram pan, spray oil pour the batter into the holes. Let cook on one side, turn and cook on the other side. Spray more oil if required.

Can be served with any chutney of choice (Coconut works best) or even ketchup.

Note
1. If using broccoli shred the florets with a knife and for the stems just peel the outer skin
and shred them with the carrots and beans.