From literally zero commute to an hour commute even if the distance is a paltry 12 miles is what happened. I hereby once again join the woes of the DC metro residents who are unfortunate enough to get on any major highway in the area. It has been more than a decade (has it been that long?) since I did any serious commute. Just to warn that I shall crib and complain till I get used to sitting and stewing in traffic. New place, new faces, new idiosyncrasies all add to the wonder that is life! Kidding guys. It is a job after all.
Anyway now on to more tastier things in life. DD loves this cookbook (Taste of the East) I have. She flips through the pages admires each one of the pictures and inquiring when I'd cook them. I usually stay quiet for fear of being called on it, till I see something that can be quickly and easily accomplished.
This was actually 2 recipes in the book, one for the dal rice and other for the curry to go with it. I combined both to make one simply curry to eat with rice. Don't I deserve the
MacArthur Genius award
? I was just kidding again but I like the sound of it so why not!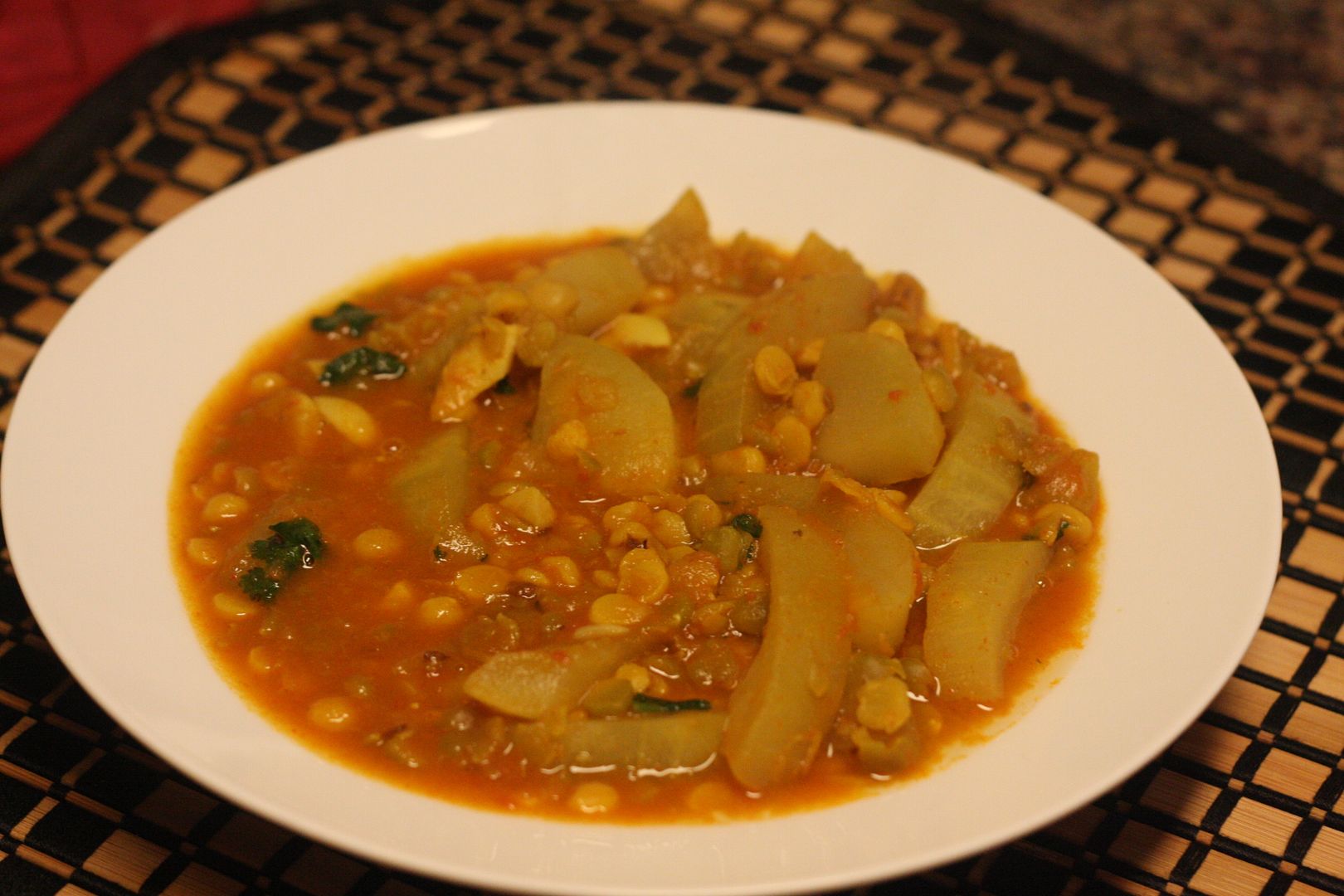 Channa dal with bottle gourd curry
Ingredients
1. 1 cup channa dal
2. 1 bottle gourd peeled cut in 4s lengthwise and just cut across about 1/2 inch thick
3. 1/2 tbsp ground coriander
4. 2 tsp cumin powder
5. 2 tsp chili powder + 2 tsp turmeric powder
6. 2-3 garlic crushed and chopped
7. 2 tomatoes pureed
8. 1/4 cup of tamarind pulp from a small piece of tamarind or 2 tbsp lemon juice (the recipe called for kokum, I did not have any)
9. a handful of coriander leaves chopped (or fresh/ dried fenugreek leaves )
10. salt to taste

Method
1.Cook the channa dal in plenty of water with a bit of turmeric and a tsp of oil. I cooked it on the stove top to avoid getting mushy.
2. In a saute pan heat oil and add the garlic. When soft add the chopped gourd and let it cook for a few minutes.
3. Add in the powders and give a good mix. Add in the tomato puree and cook till it comes to a boil.
4. Add the cooked dal along with the cooking water.
5. Let it cook till the gourd gets soft. Add in the tamarind and salt and let cook for another 4-5 minutes. Sprinkle the coriander leaves before turning off the heat.
6. Turn off heat when desired consistency is reached.

Serve with rice.