Hello readers hope all of you had time to say thanks and have yourself a fabulous meal with family/friends. We did. Our host had prepared so many dishes that by the time the appetizers were done I was stuffed already. That did not stop me from enjoying the main meal if you are curious to know.
I am especially happy for the holiday. Long commutes can do that you I guess. My commute itself is not long necessarily, it is the sitting in traffic. But my long commute is not without its benefits. I have refound the pleasures of listening to NPR. Last week had one of those dreary days with rain during the rush hour commute. Rain means a snarled traffic and the dealys twice as longer than usual.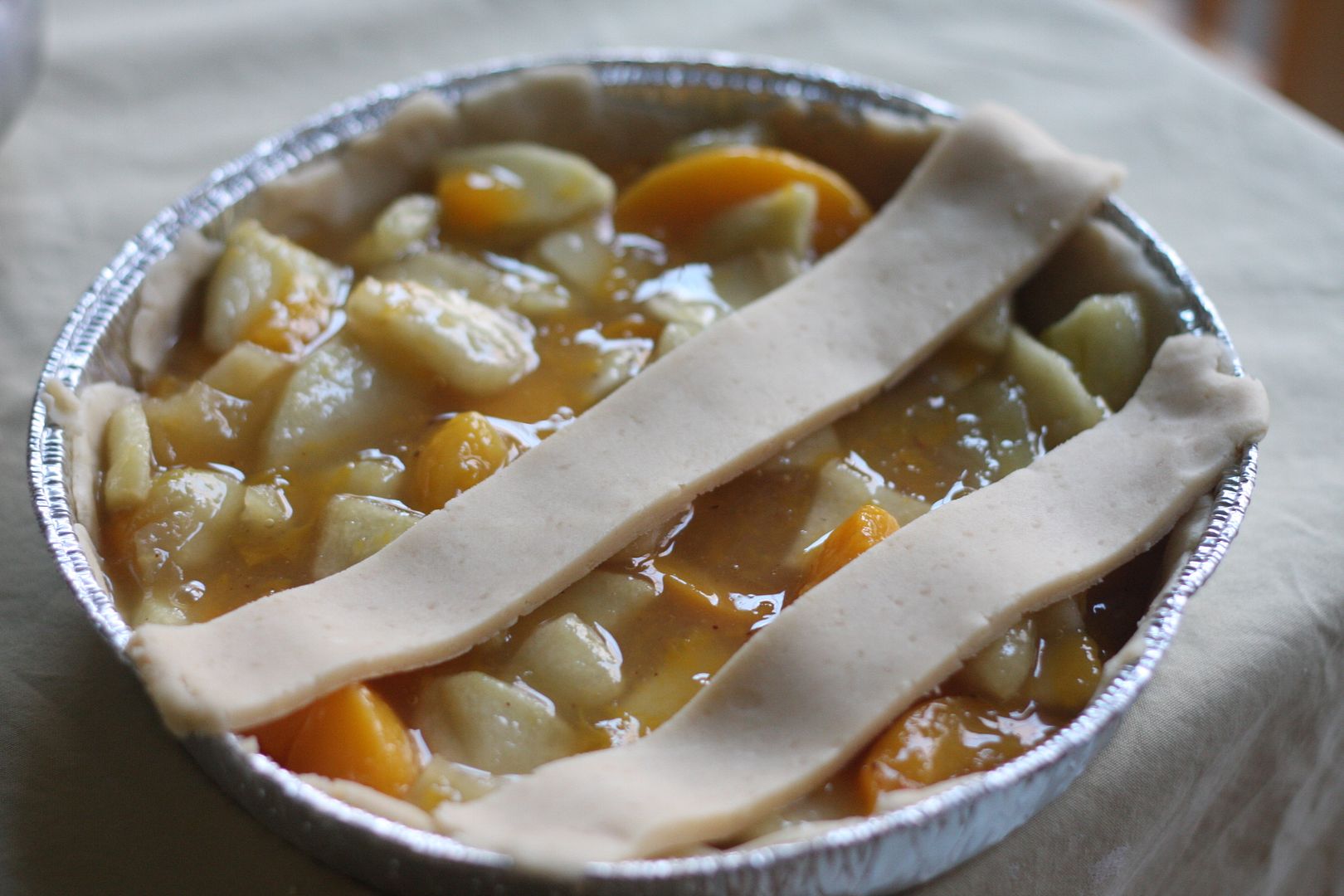 On this particular day what made me forget the traffic for a bit was the news about the arrival of the newest Bachaan into the world. To be discussing the birth of a child of two Indian cinema actors on NPR should be news on its own. What endeared me to the story was the tiny slip that the dad wanted a girl child. In movie crazy India what these actors do has cachet with their fans. Maybe the news will do a tiny bit to alleviate the gender gap.
Link
to the NPR story if you are inclined.
I had not until I saw
Nupur's Cherry Pie Post
called my host to offer to bring something to the Thanksgiving party. Once I saw the post I made a phone call and an offer to bring Apple Pie. I got slightly nervous after that. I eat pie but I am not particularly fond of pies which have a very thick and doughy crust. I love warm pies with Vanilla ice cream. That probably explains why I don't try to make them and we also have our trusted Dutch market which sells some amazing Amish home style pies.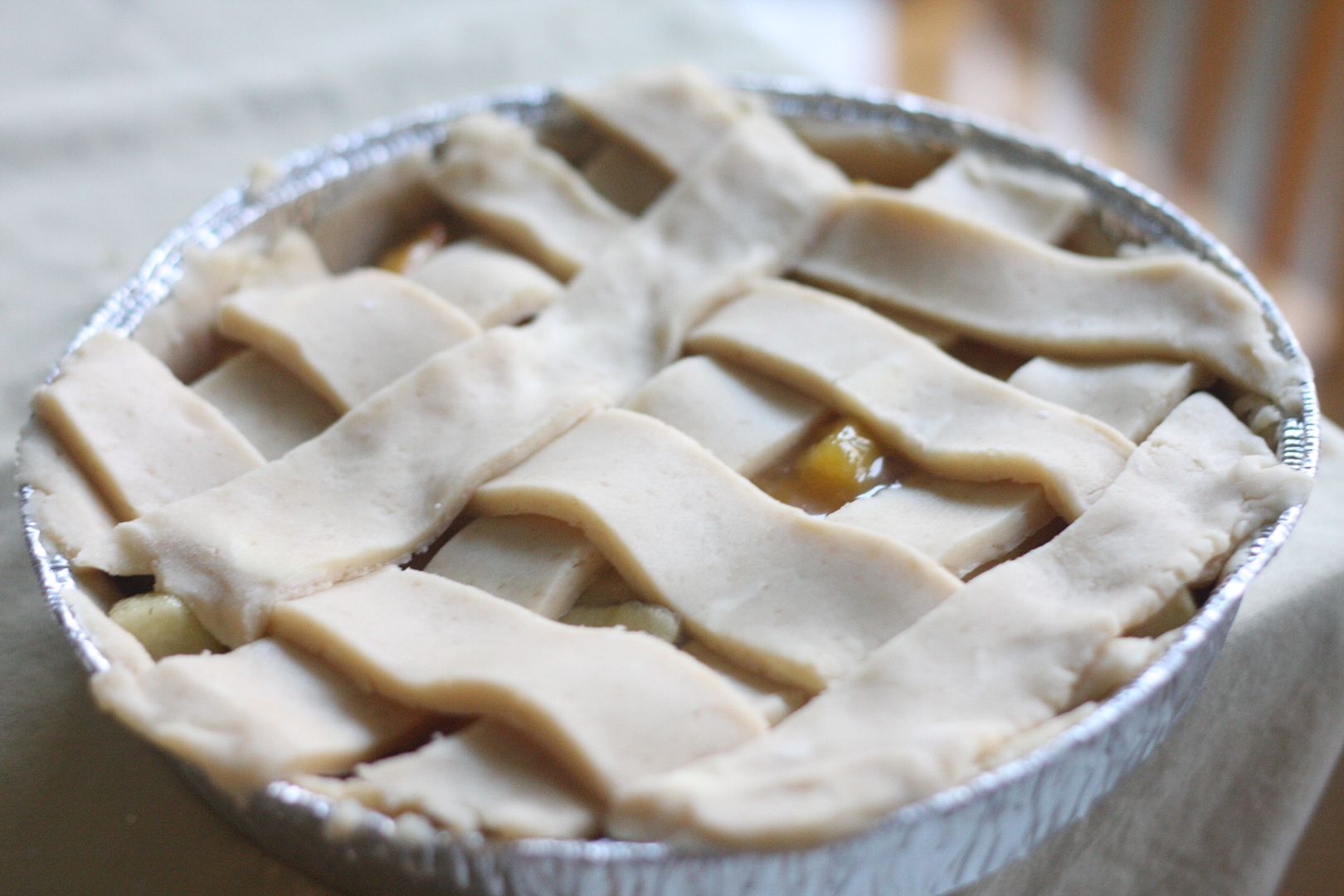 I had watched a Jacques Pepin show a couple of weeks ago where he made caramel apple pie in a skillet. He explained the importance of the consistency of the filling and how long it should be cooked. How much the filling is cooked is important for the pie to stay intact and not fall apart with liquidy filling.
I wanted to make apple apricot pie but apricots tinned or otherwise was hard to find. I could have used soaked dried apricots but it did not occur to me at that time so I settled for tinned peach. I made the filling all at once but made the dough separately for two 8 1/2 inch pies.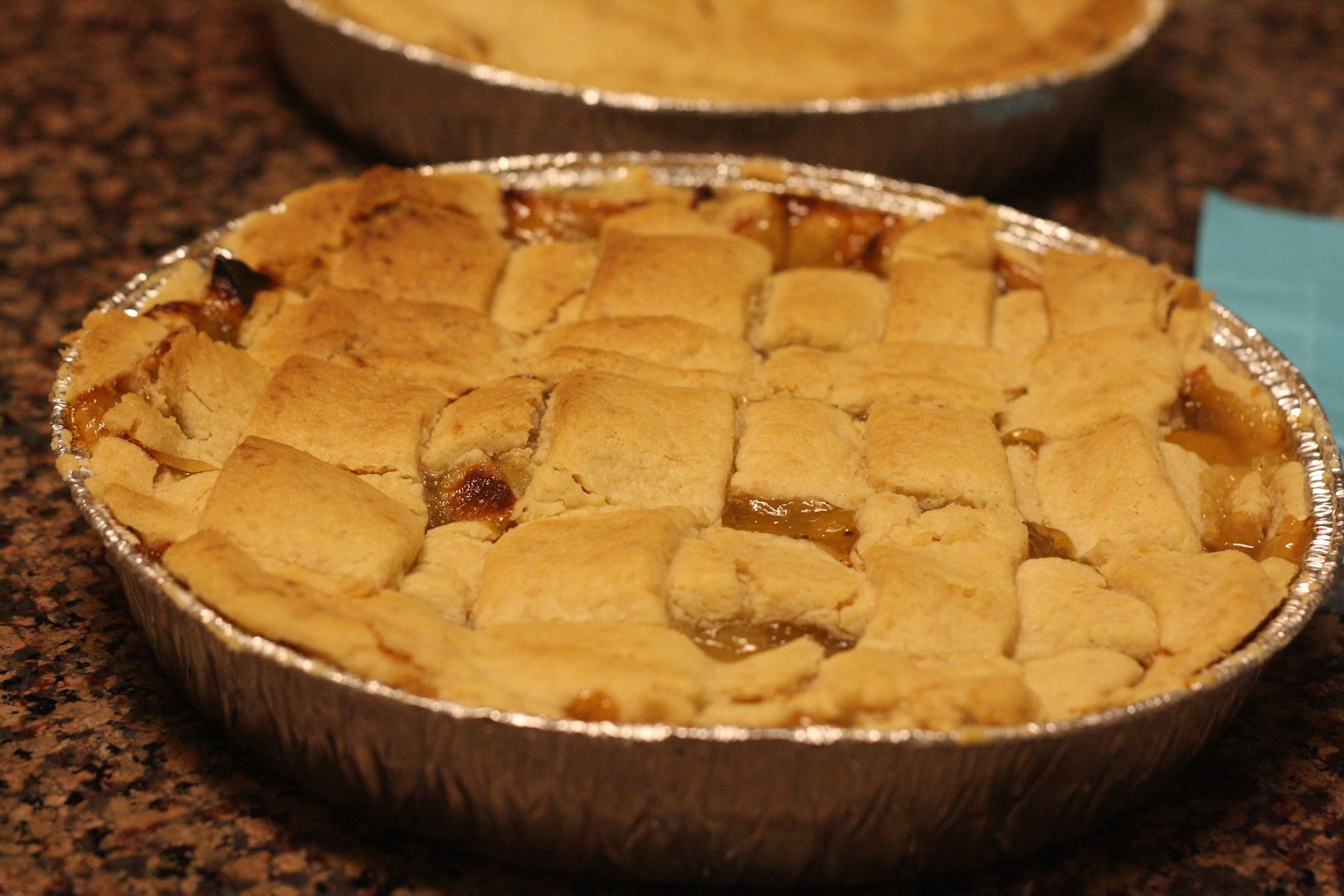 By the way if you have extra filling there are delicious with some whipped cream or as a spread for toast or pancakes. The pie crust was just as like it crumbly and falling apart and not doughy. But this was an unexpected side effect not what I was looking for. I was expecting the dough to roll out nicely which did not happen. The dough crumbled a bit at the edges as I was rolling which is a good thing I later realized when I went to search for a reason. I did not add water to the dough because it came together nicely without it. I liked the end result and the texture of the baked pie though. A bit more flour would have made it ideal for rolling out the dough I am guessing. I might have had a tad bit more butter and fat.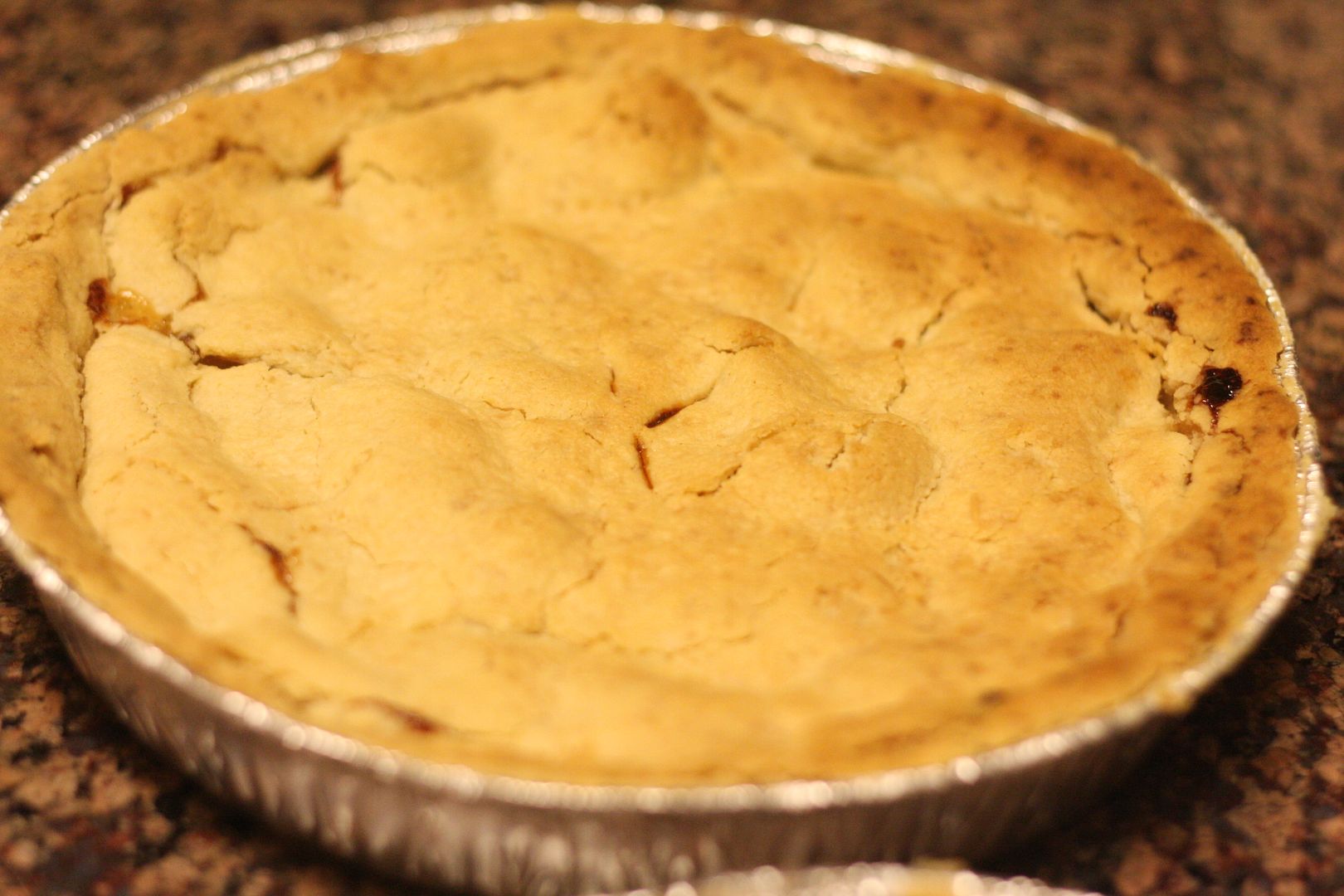 Another recipe I consulted was from
Williams Sonoma website
.
Apple and Peach Pie
Ingredients
For the Pie Crust - for one 9.5 inch pan
1. 2 Cups of flour (I used 2 cups but 2 1/2 might have been ideal)
2. 1 stick of butter or 8 tbsp
3. 8 tbsp of Vegetable shortening (or substitute with butter)
4. 1 tsp salt
5. 2 tbsp of sugar

For the filling (for 2 9.5 inch pies)
1. 4 Granny smith apples (peeled and cored)
2. 1 15oz and 1 8oz cans of sliced peaches (about 2 cups in total)
3. 1 cup of raw sugar or brown sugar
4. 1/4 tsp cinnamon (I used a tiny bit not being very fond of cinnamon in sweets, see Note:)
5. 1 tbsp of lemon juice
6. 4 tsp of corn starch
7. 1/4 tsp of salt
8. 1 tbsp of water

Method
For the Filling
1. Peel core and quarter the apple and then slice the apples about 1/4 inch thick.
2. Drain the peach slices free of syrup. If using fresh slice the peaches
3. In a dutch over or thick bottomed pan add in the apples, sugar, corn starch, salt and cinnamon and mix them together.
4. Now add a tbsp of water so as to prevent the sugar from burning, cover and let cook for about 20 minutes. Open and let it cook for another 7-10 minutes till there is liquid flowing and the look is glossy and shiny.
5. Turn of the heat, add in the lemon juice and set aside for 30 minutes.

For the Crust
1. Sift together the flour, salt and sugar.
2. Add in the shortening, cut the butter into tiny piece and work into the dough. I used a flat stainless stell spatula to cut the butter into the dough.
3. Once most of the butter has been incorporated. If still very dry add a tbsp of ice water. Mine did not require any. Bring the dough together into a ball and cover with plastic wrap and refrigerate for 1/2 hour to 1 hour.

Assembling the Pie
1. Preheat the oven to 400F.
2. Separate the dough into two equal portions. Dust the board with dry flour roll out the dough from the center out (do not roll over the center again)to about 9 1/2 inches in diameter (I used a 8 1/2 inch pan). Do this for the second portion also.
3.Now roll it over the rolling pin and spread it over the pie pan. Tap the pie crust on the sides and break off the he extra from the sides.
4. Now add the filling and cover with the second rolled out dough. And bring both the edges together.
5.Make a few slits in the center and on top.
6. Bake for 1 hour till the crust is golden brown and nice.

Serve with whipped cream or vanilla ice cream.

Note:
1. I rarely use cinnamon powder in sweet dishes. That is a matter of preference. 1 tsp of cinnamon powder can be added to the filling for some good aroma and flavor.

The pie was much appreciated but the crumbly crust is a matter of preference. DDs, DH and me liked it a lot. Since we shared it with a lot of friends we each got just a slice. We are all set to make it again with a different filling.