Indian Cooking as we all know offers a wide variety of recipes with cooking time varying from a few minutes to a couple of hours. Even with only half an hour or less available it is possible to make steamed rice or a bread and a side dish without much of an effort. Cooking elaborate curries is not an every day thing in most households. If you are familiar with Indian cuisine through restaurant food, clear that image from your mind. That is absolutely not what people cook for everyday eating.
The other cuisine which offers such a wide variety of recipes at least from what I know has to be Italian. When I first came here, seeing how ubiquitous both pasta and pizza were I thought they were American food. It perhaps is but who is keeping track! If these two are taken from the list of options I would be hard pressed to name any truly American food. Pasta doused in the red tomato sauce and tasting bland to my Indian spice trained palette was the main reason I learned Indian cooking in a hurry.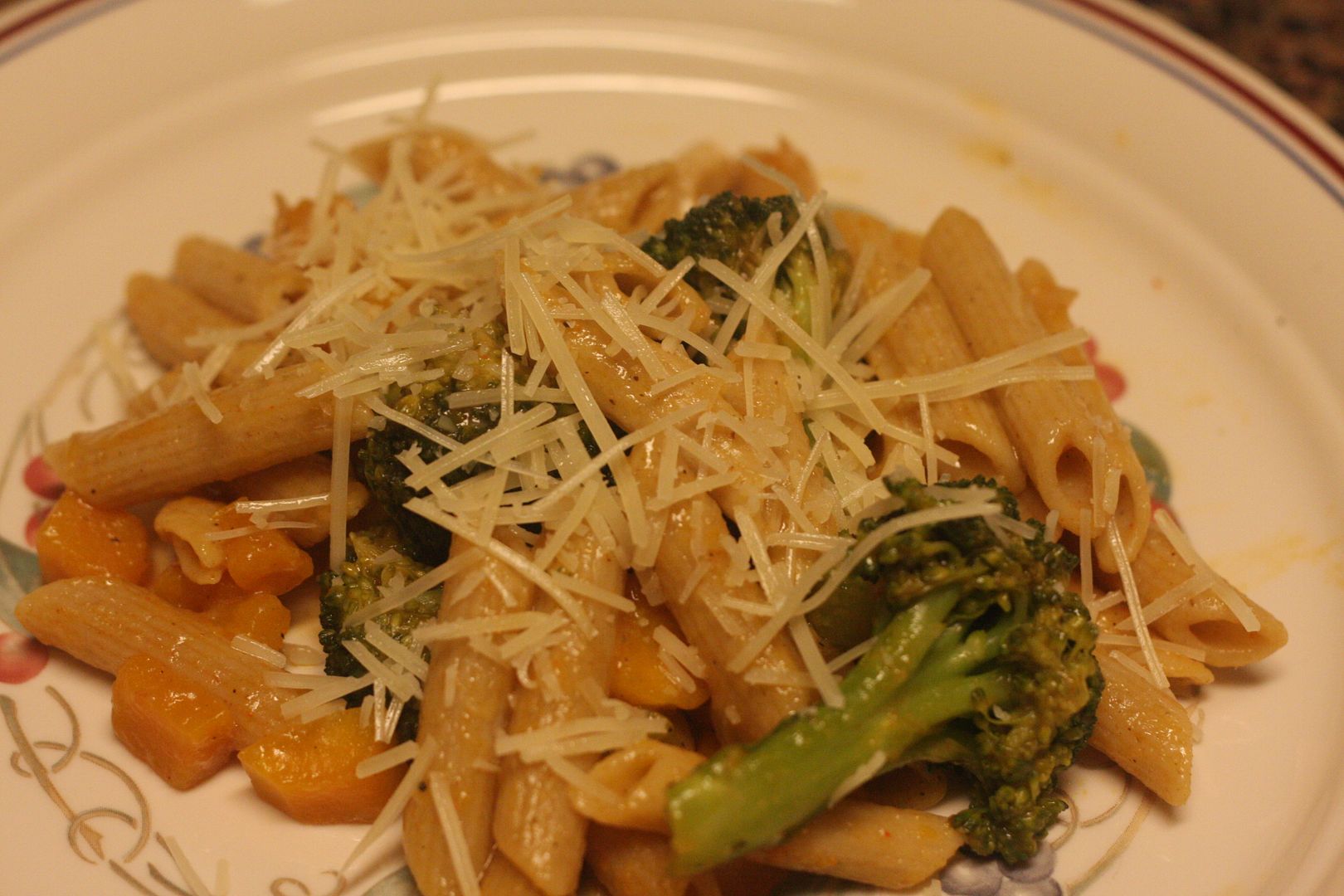 Anyway like any recent convert I am extremely taken with pasta. Does not hurt that the family loves eating pasta as well. The trick is to cook pasta with a variety of vegetables without the tomato sauce and still make it moist and tasty.
Watching Lidia Bastianich's cooking shows on TV was what changed my attitude towards pasta. Her shows are a treasure trove of ideas using a wide array of vegetables and different cooking methods opening up whole vista of possibilities for me.
We prefer whole wheat pasta which holds its shape better than the white pasta which tends to fall apart and get mushy.
This recipe is based on one episode where Lydia cooked pasta with butternut squash and cauliflower. Like potatoes I always have the versatile butternut squash in my pantry. Never know when it will come in handy. Used broccoli instead of cauliflower. Broccoli is another vegetable that go well with pasta but they have to be crunchy.
The Occupy Wall Street protests which started in New York is spreading to other cities. Cheers and support to all of you out there doing what everyone who is not ultra rich hopes they could do. Read this article in the
Wall Street Journal
. Pay attention to what the mayor a Wall Street bililonaire has to say.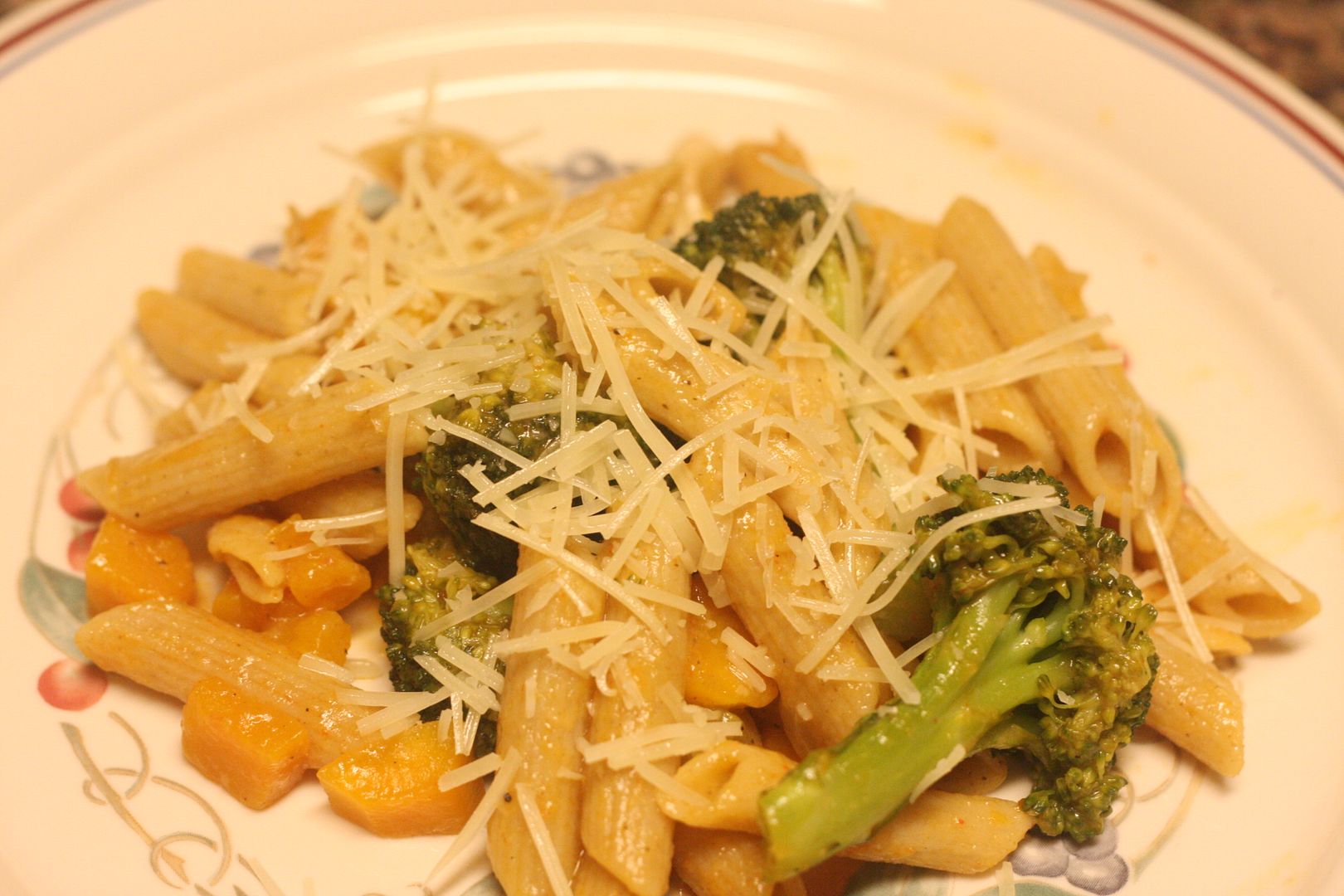 Pasta with Butternut squash and Broccoli
Ingredients
1. 2-3 cups of Pasta
2. 1 cup of diced butternut squash (1/4 - 1/2 inch dice)
3. 2 heads of broccoli separated into florets (see note)
4. 4 garlic cloves minced
5. 1/2 onion chopped fine
6. 1 tbsp thick tomato paste
7. 2 small tomatoes chopped
8. 2 tsp of lemon juice (optional)
9. 1/2 tbsp pepper powder
10. 2 tsp of red chili powder or paprika (use as per taste)
11. salt to taste
12. 2 tbsp of chopped basil leaves
13. 2-3 tbsp chopped walnuts
14. 1 tbsp olive oil + 2 tsp
15. Parmesan cheese

Method
1. Set a pot of boiling water with salt and a tsp of oil added.
Blanch the broccoli for about 3-4 minutes drain and set aside. Add the pasta to the same water and cook as per directions
2. In a pan add the oil and when hot(should not be smoking) add the onion and garlic and saute till they are translucent
3. Add in the butternut squash and let it cook till it becomes and the edges start to brown
4. Add the chopped tomatoes and the tomato paste and cook for a couple of minutes till the tomatoes are soft
5. Add pepper powder, salt and chili powder and cook for 2 minutes more
6. Add in the broccoli and mix it in
7. Now add the drained pasta (do not throw away the liquid) and mix it gently along with the vegetables. Add in the lemon juice if doing so
8. Check for taste and add a bit more pepper powder if required
9. Add in about 3-4 tbsp of the pasta liquid, chopped basil leaves and drizzle another couple of tsp of olive oil
10. Add Parmesan cheese and the chopped nuts before serving.

Note:
1. Do not throw away the woodsy lower portion below the florets in the broccoli. Remove the skin, chop them into the same size as the florets and use them.