DH rearely gives advice for the blog
more like he does not read it
. On the rare occasion he does read, it is for the recipes. His opinion being that there are many like him and that there should be an option to jump to the recipe instead of reading the gyaan I seem to come up with for every post. I hear a big YAY from all of you too. So here goes. From now on you should be able to jump right to the recipe like so.
Jump to the Recipe >>>
If you haven't jumped yet, here is the topic of discussion for today. I read this article
Two families choose different paths to academic excellence
discussing something I wrestle with all the time. The comments offer a lot of insight as well. The Tiger Mother battlelines seem drawn once again. It is relevant one for me as I struggle with what I do is excessive or not enough all the time.
I am not convinced that having kids spend every second of their waking hours studying or playing music is necessarily a good thing . Having a happy childhood should also be part of the picture Yes? Playing outside watching the birds sing rather than just learn about how they sing from books and tutoring should definitely have some value?
Anyway an involved parent is more important than a parent who does not care about what his/her child is doing at school thereby putting enormous pressure on teachers and schools which is what the American school system is all about. It indirectly penalizes kids who do well in school because the teachers get rewarded for small incremental improvements from failing kids.
I think more of our energy should be spent in arguing how parents ought to be more involved in their children's education and not about what style of involved parenting is better don't you think?
Don't get me wrong, setting clear expectations for what is acceptable is an important step in helping a child to succeed. A parent who does not care what grades a child brings home is sowing the seeds of failure in the child. I see in the school that DD goes to how low expectations can wreak havoc.
What kind of parenting style is yours?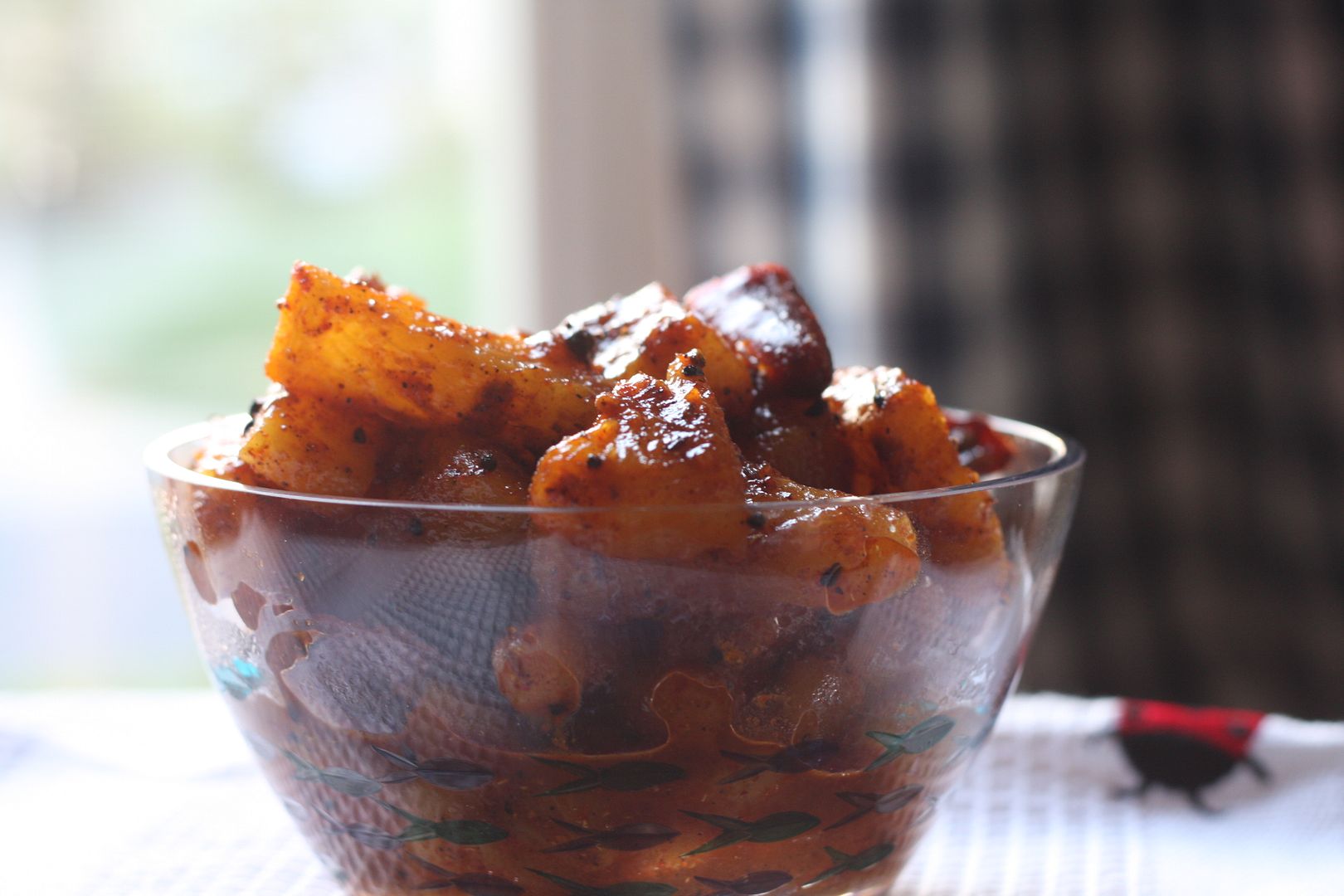 Now on to the recipe,
Pineapples are in season now and they are plentiful and cheap now. DH seems to pick at least one every week. Besides eating fresh pineapples there is not much I do with them. I am not a baker by instinct so baking an upside down pineapple cake is out of the question or maybe not. Never say never right? This post on ecurry.com for
Pineapple chutney
was just what I was looking for. The Bengali cooking series started with much fanfare would also get a boost and an equally good oportunity to use up my panch phoran.
I made the recipe a tad spicer and reducing the sugar making it a bit more suitable for the South Indian (Tamilian) tongue perhaps? I made it with Turbinado sugar but jaggery or cane sugar would be good substitutions.
Recipe Source:
Pineapple chutney
Sweet, Sour and Spicy Pineapple Chutney
Ingredients
1. 5-6 cups of chopped pineapple (pieces as big or as small as you want)
2. 1/3 cups of sugar + 3/4 cups of water
3. 1/2 tbsp red chili powder
4. 1 tsp panch phoran
5. 3 dried red chilies split and seeds removed
6. salt to taste
7. Juice from one lime
8. 1/2 tbsp grated ginger
9. 1 tsp of oil

Spice powder
1. 1 tsp of coriander seeds
2. 1/4 tsp of cumin seeds
3. a few methi seeds
4. 1 tsp pepper corn

Roast for a few minutes and blend to a powder

Method
1. In a wide mouthed pan heat oil and when hot add the panch phoran and red chilies, when they start to brown
2. Add in the sugar mixed in water and let it come to a boil
3. Now add in the pineapple pieces, grated ginger, salt and lemon juice and let it continue to cook till the sugar syrup gets thick (it took about 40 minutes)
4. Now add in the powdered spices, the chili powder and more salt if required and mix it in gently
5. At this stage the pineapple pieces are still together (depending on the size of the pieces)
6. Turn off the heat, cool and store in a jar.

Serve as a side for upma, idli, dosai, chapathis or by itself.