My first taste of Chinese food back home was while in college. Chinese food was the only exotic foreign food available those days. Listed on the menu card would be items that Chinese restaurants goers in this country would not recognize.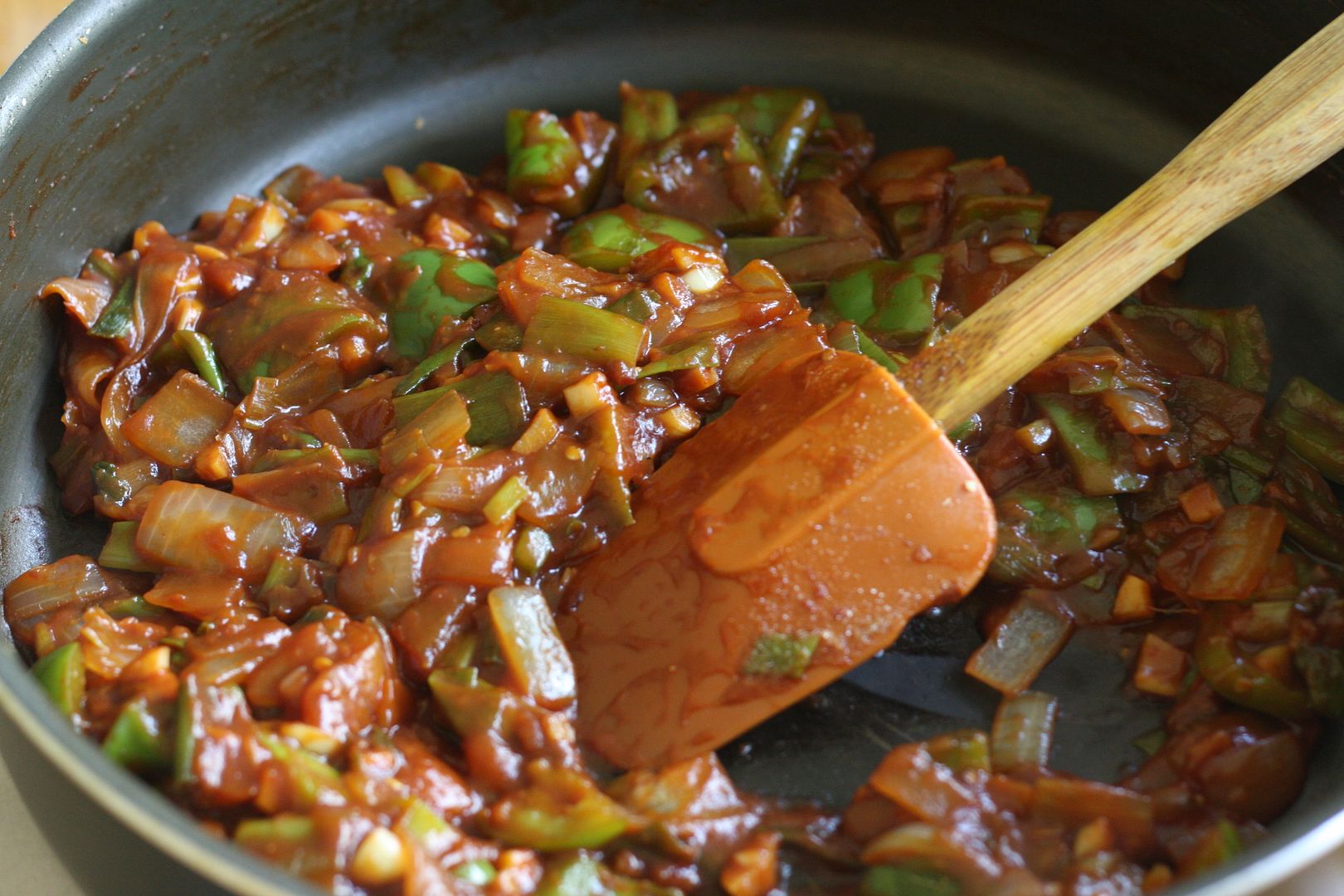 Starting with sweet corn soup, noodles, manchurian (gobi, chicken, baby corn) and the star the American chopsuey a meal at a Chinese restaurant was always fun. Fast forward a few years and a visit to a Chinese restaurant in the States was more like groping in the dark. There were none of the familiar sounding Chinese food items that we were used to seeing back home listed on the menu card. Too much of soy sauce, oily, with crushed chilies and weird sounding names like Kang Pao chicken, schezwan chicken, lo mein, and an assortment of other names that did not evoke the joy of the Chinese food I was used to.
After living here for a while now I have slowly gotten used to the taste of Chinese(American Chinese?) food available here and even venture to cook some of those dishes at home.
I also learned that Chinese back home has a name - Indo Chinese and what was offered were Indianized versions of food that bears little resemblance to mainland Chinese food.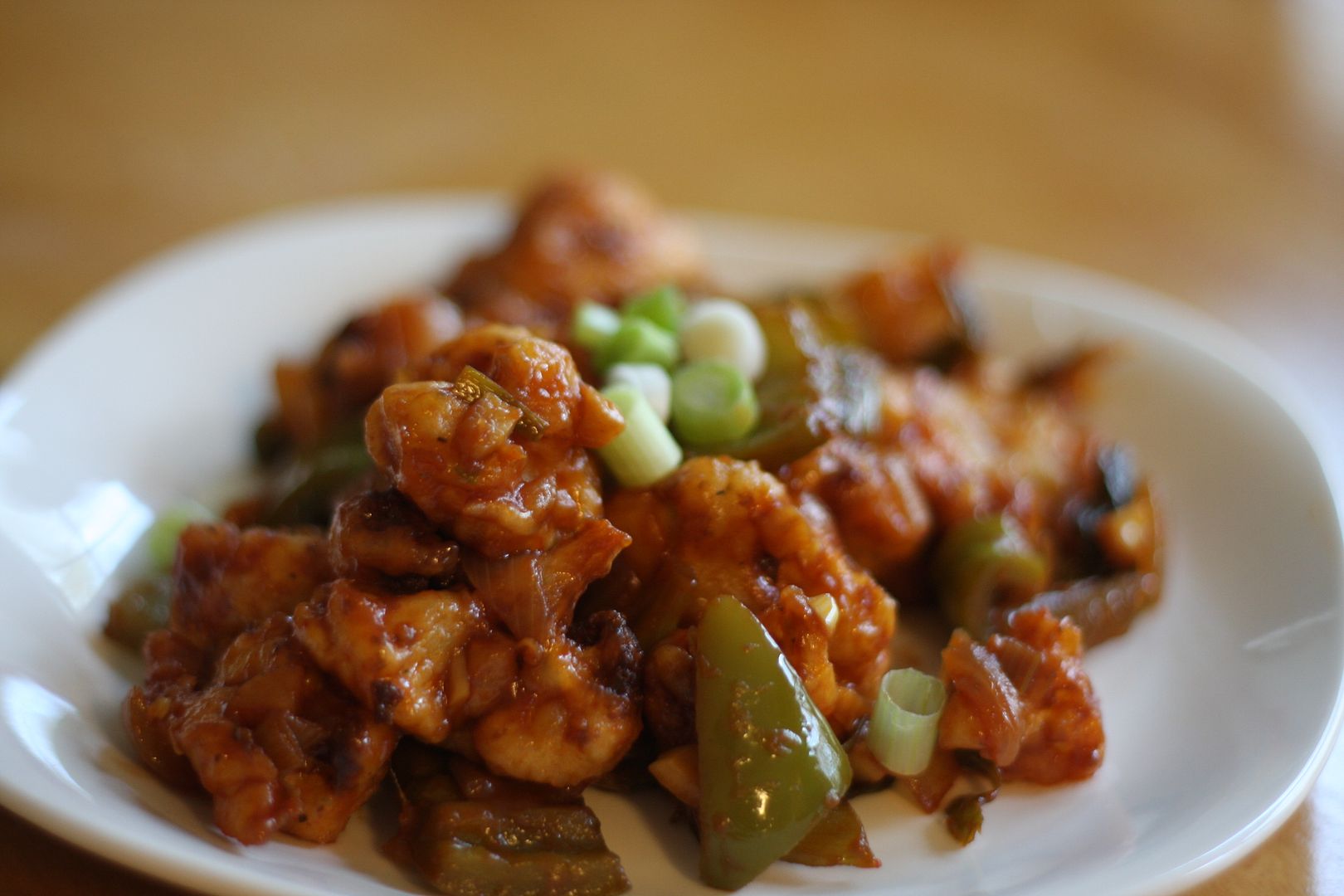 Cauliflower manchurian or any manchurian an Indo Chinese dish that is a very popular both as a restaurant and street fare. Served as an appetizer or a main course the blending flavors make it irresistible. Manchurian is made with cauliflower, chicken, baby corn or mushrooms. Besides tasting them on trips back home cauliflower manchurian has been elusive item in my kitchen. Last weekend a rainy Saturday and ample cauliflower provided just the impetus to try out this recipe.
Other than the deep frying part this is pretty easy and simple recipe. There are a lot of recipes online. I particularly liked this
one from Soma's ecurry.com
and
this one from Edible Garden
.
I made the sauce first and then proceeded to deep fry the cauliflower and add to the sauce.
Cauliflower Manchurian
Ingredients
1. 1 Cauliflower cut into florets, wash and set aside
2. 1 White onion cut into chunks
3. 1 Green bell pepper cut into chunks
4. 1 bunch scallions or green onions cut the green portion into inch sized pieces and the white portion into smaller size for garnish
5. 10 garlic cloves chopped fine + 2 tbsp grated ginger
6 1/2 tbsp of red chili powder
7. 1/4 cup of ketchup ( I used the unsweetened variety)
8. 1/4 cup of chili garlic sauce
9. 2 tbsp of soy sauce
10. 2-3 tsp of oil


Batter for deep frying
10. 1 cup of all purpose flour
11. 1/4 cup of corn starch
12. 5 garlic cloves + 2 inch piece of ginger
13. 2 tsp of pepper powder
14. 4-5 green chilies
15. salt to taste
16. 1/2 cup of water

17. Oil for deep frying



Method
1. In a wide mouthed pan heat the oil and add in the onions and saute till they are soft
2. Add in the garlic and ginger and saute for a couple of minutes
3. Add in the scallions and bell peppers and saute till they are cooked well
4. Now add the sauces, chili powder and let it cook, check for salt and spice and add more if required and turn off the heat. The sauce should be thick and coat a spoon
5. Set a pot of water to boil, salt it and when it comes to a boil, add the cauliflower and let it sit for 10-15 minutes. Drain and pat dry with a towel.

For the batter,
6. Blend the green chilies, ginger and garlic
7. Whisk the green chilies mixture along with the other ingredients listed in the batter section along with quarter cup of water to form a thick batter
8. Heat a frying pan with oil and when hot
9. Dip each floret in the batter deep fry till they are golden brown on both sides
10. Drain on paper towels
11. Once all of the cauliflower has been coated and deep fried add them to the prepared sauce
12. Let it heat through and make sure all the cauliflower are evenly coated

Serve as appetizers with tooth picks or as a side with rice