In the US every third person you meet is a published author. I might be exaggerating a bit but more books are published here than any other place on the planet. No subject is off-limits and with the network readily available to publicize the book and its author. Most make money I presume or so many books would not be published.
The more radical the writing the more air time devoted by radio and TV stations for the authors and their books. One of my favorite radio stations an affiliate of NPR has a Talk Show where mostly sensible and very civil discourse takes place. I had lot of respect for the
host
and also the staff who I thought I did a pretty good job of researching and promoting and giving air time to the mostly well written and historically correct books. This was until my opinion took a nose dive after lisening to this guy a Kashmiri educated in Delhi for free took to disparaging India to an extent that Indians and a few non-Indians called in to complain about the historical inaccuracies he was passing off as truth. This is scary especially because most of the world tends to believe what is written in a book to be true.
If a subject is confined to matters related to the US the text of a book rarely deviates from the truth unless it is an opinion piece. But most publishing houses, literary personalities, journalists all drop the ball when the subject matter moves beyond the border. For e.g. more often than not information presented about India has inaccuracies which is difficult to detect unless someone spent a considerable amount of time there and are familiar with the country. This perhaps is true for information presented about other countries as well.
Do all these books make Americans better informed than the others? Do they even know what is happening in their own country? When George W. Bush first ran for President he was asked who the PM of India and his answer was Benazir Bhutto!!!! What do you think? Or what has been your experience? Share your thoughts.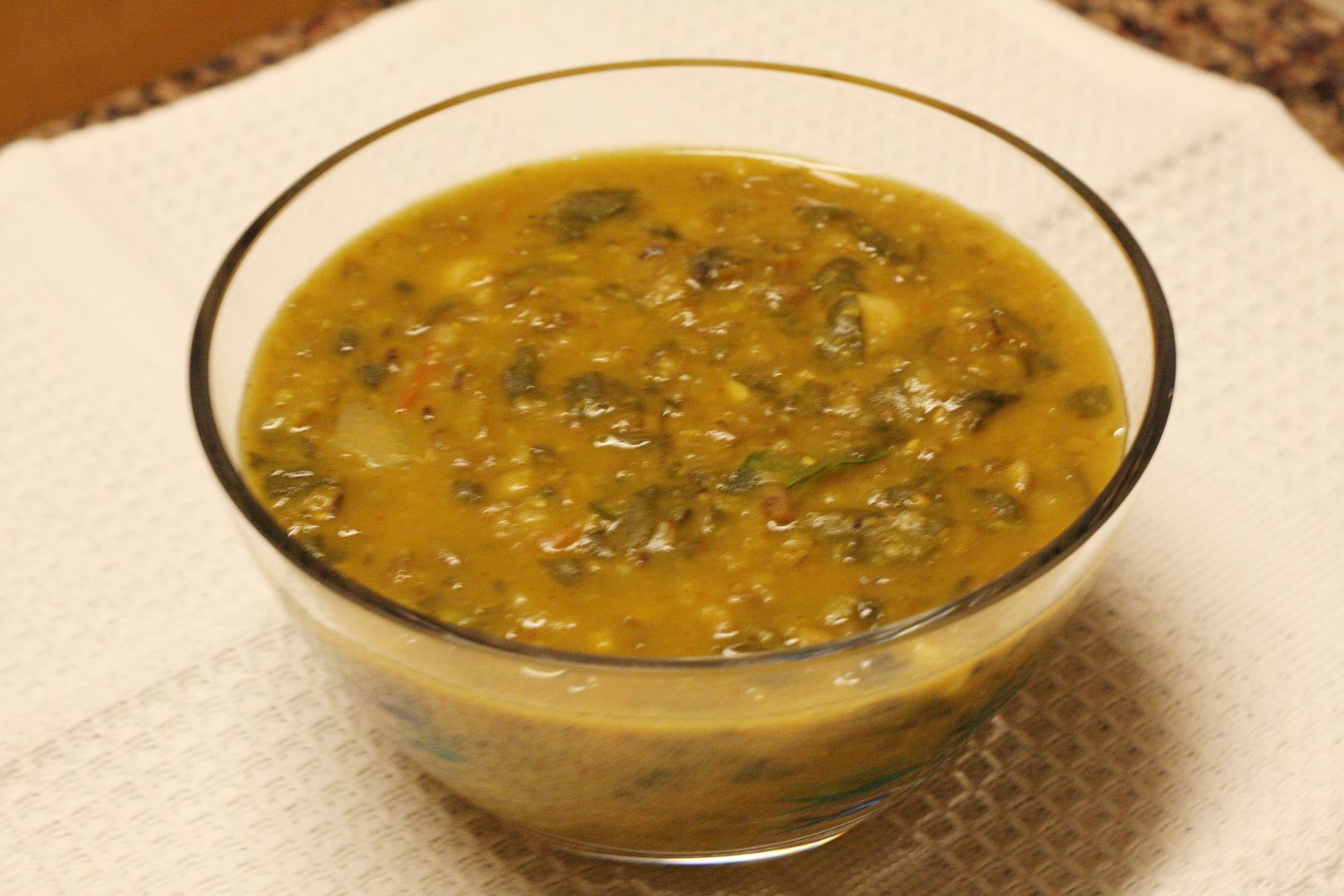 Now on to the the recipe,
This is another recipe garnered from the lunch room. Where I came from paruppu(mashed dals) is cooked toor/moong dal lightly seasoned with onions, green chilies, mustard seeds and curry leaves. Eaten with rice generally with a
spicy/tart puzhikuzhambu
on the side. Just across the border in Andhra I have learned exists a huge variety of paruppu or pappu as they call it and are generally cooked with different kinds vegetables or greens. Vegetables/greens and dal are cooked together with green chilies, tomatoes or tamarind, onions and garlic and lightly mashed and seasoned. This opens up a whole new array of dals to dazzle the pallette. One of my lunch room buddies rents a room from an aunty and lucky for her the aunty cooks great food and packs it for her.
One day was this aromatic spinach dal which was absolutely delicious. She had made it with toor dal. I have tried with both toor and moong and my preference is toor dal.
Andhra style Spinach Dal
Ingredients
1. 2-3 cups of fresh spinach washed and chopped coarsely
2. 1 cup of moong dal or 1 1/2 cups of toor dal
3. 3 tbsp of chopped shallots or red onions
4. 3-4 green chilies (I did not have any)
5. 4 garlic cloves minced
6. 1/2 tbsp of sambhar powder (if adding green chilies skip or reduce)
7. 1 medium tomato chopped (or 1 tbsp of tamarind pulp)
8. 1 tsp of methi powder (roasted and powdered methi seeds)
9. 2 tsp of turmeric powder
10. salt to taste
11. 1 tsp of sesame oil
12. seasonings: ghee, mustard seeds, cumin seeds and curry leaves

Method
1. In a pressure cooker add the dal, spinach, onions, tomato, green chilies, garlic, sambhar powder, turmeric powder along with 3 cups of water and cook for 2-3 whistles
2. Mash the dal gently and set it on low flame. Add more water if too thick and let it come to a boil (Do not over cook just gently heat for a couple of minutes if not adding extra water)
3. In a small pan heat the ghee and add the seasoning and pour over the dal and sprinkle the powdered methi powder on top. Add salt and turn of the heat

Goes best with rice.