The heart feels heavy. The shooting rampage of last Saturday is heavy on my mind with feelings ranging from sadness, anger to helplessness.
I would so like to lay the responsibility for this on Sarah Palin's feet. She has a big mouth and would probably talk anything to get a few popularity points. She and her other shouting, screaming, frothing Talk Show friends, all of them. They have lowered the civility and intelligence of the civil discourse and though they claim to have America's best interest at heart, sorry it is only their self interest that they care about most. So I am no way feeling sorry for the heat they are getting. But to lay the blame on them is perhaps a stretch.
It is rather sad that besides a few editorials nobody is talking about the root cause of most of these mass killing and shootings. Namely the predominant gun culture and the power and might of the NRA in making it almost impossible for meaningful gun control laws. Palin is an easy scapegoat but I would not say she does not deserve it. It is a perfectly easy way to gloss over the real problem. In most societies disagreements are settled with a few scuffles or loud words. But not here, we exercise our second amendment right.
None of the sad episodes would have happened if the access to guns are restricted like they are in other civil societies. The second amendment was written at a different time and age and to hide behind that is a shame.
I am shocked every time I witness the extent to which guns are woven into this culture.
I was speechless when I learned that for less than $100 I could be armed and dangerous. Almost too easy. It is much easier than admitting your child to a school.
Every time a mind numbing gun violence happens the country goes through a period of soul searching. We debate about civility, being good to our neighbors and those with views different than ours, the mental health system and the lack of access, but always a deafening silence about the ready access to weapons.
Come on, this is a country where a sitting Vice President shot someone thinking he was a duck and never found the need to report it until someone else did.
I live in perhaps one of the most liberal counties in the country and you'd think things would be different here. Nope. This obsession with all things guns starts at an early age. From toy guns kids graduate to real ones by middle school I suppose. I was at DD's school on a Saturday volunteering as a Math tutor. I was tutoring 2 boys and they were paying attention and learning. That is until another boy(the son of the organizer) walks in with a gun catalog. In less than a nano second my tutees had jumped out of their seat and were near the catalog.
Seeing a gun catalog brought to school was itself a shock to my system and then the Principal of the school walks past and sees the boys involved in the discussion of the merits of each model and she never baits an eyelid! I expected her to do something. She did not. Maybe it was not in her job description. The whole thing bothered me enough.
DH warns me every time I honk at someone on the road I am in danger of having my head glown off. Yes! my friends road rage is another popular reason to use the weapon.
Now that one of their own is a victim maybe Congress will wake up and get its act together and do something about it. Australia did it Scotland it but then again not so fast, this is America we are talking about.
None of the violent incidents - Columbine, VA tech and Tuscon would have happened if owning guns were illegal like it is in most parts of the world. You'd think any sane person would see the connection.
Talk about gun control and you are sure to be branded a whacko. No wonder no politician would not even touch the issue with a 10 feet pole.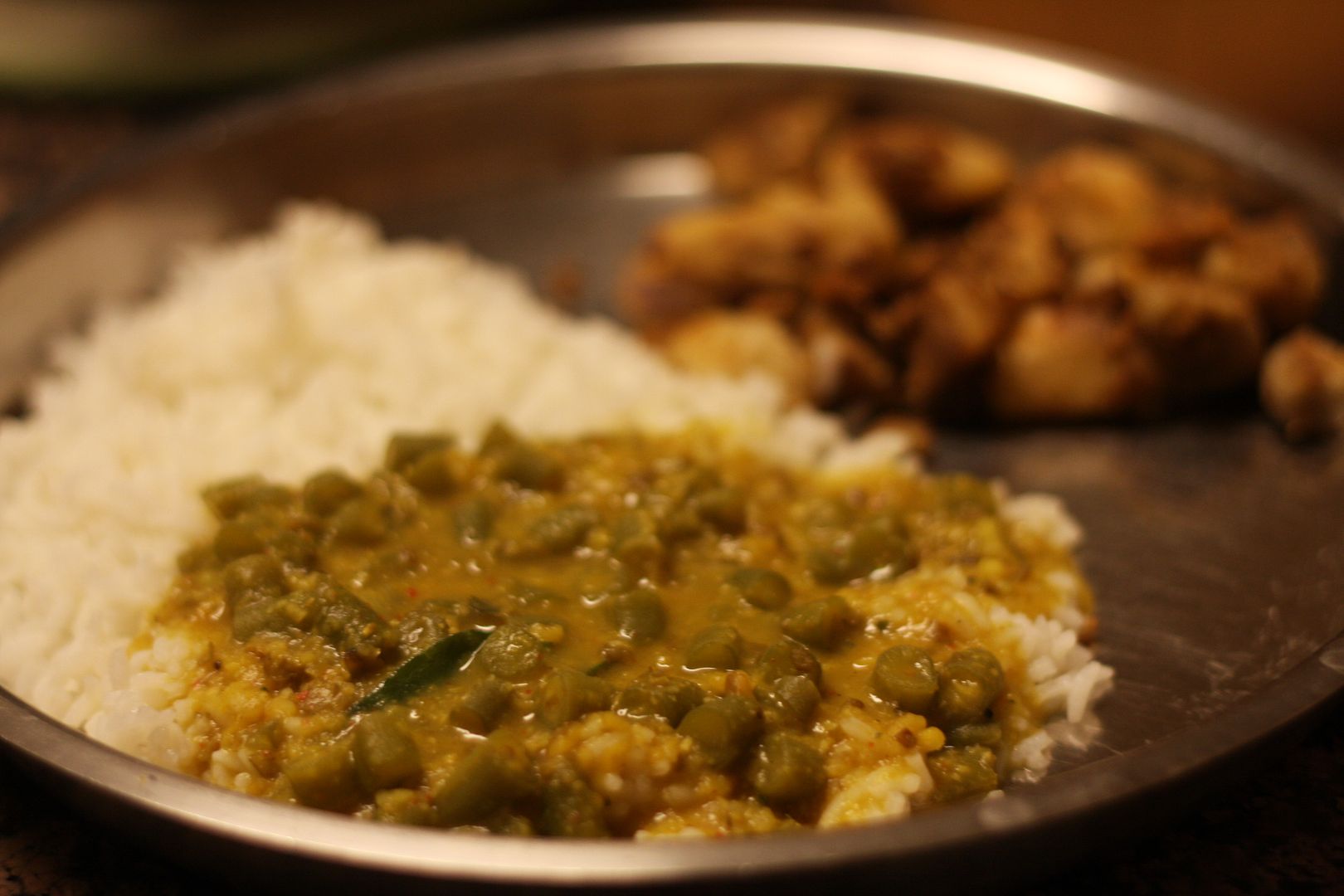 Let's move on to the recipe now that I feel a little lighter.
I fall back on kootu when I have had enough of sambhar for the week.
The recipe I follow is a standard one that I learned from my mother
. The spice paste is simple and is made while the dal is getting cooked and the whole process takes less than 1/2 hour.
I saw this recipe for
kootu on Akshayapaatram
where the spice mixture is different from mine. I tend to use green beans, cabbage and occasionally squash when I make kootu. Any of those vegetables or brussels sprouts like Priya has done in the recipe should all work.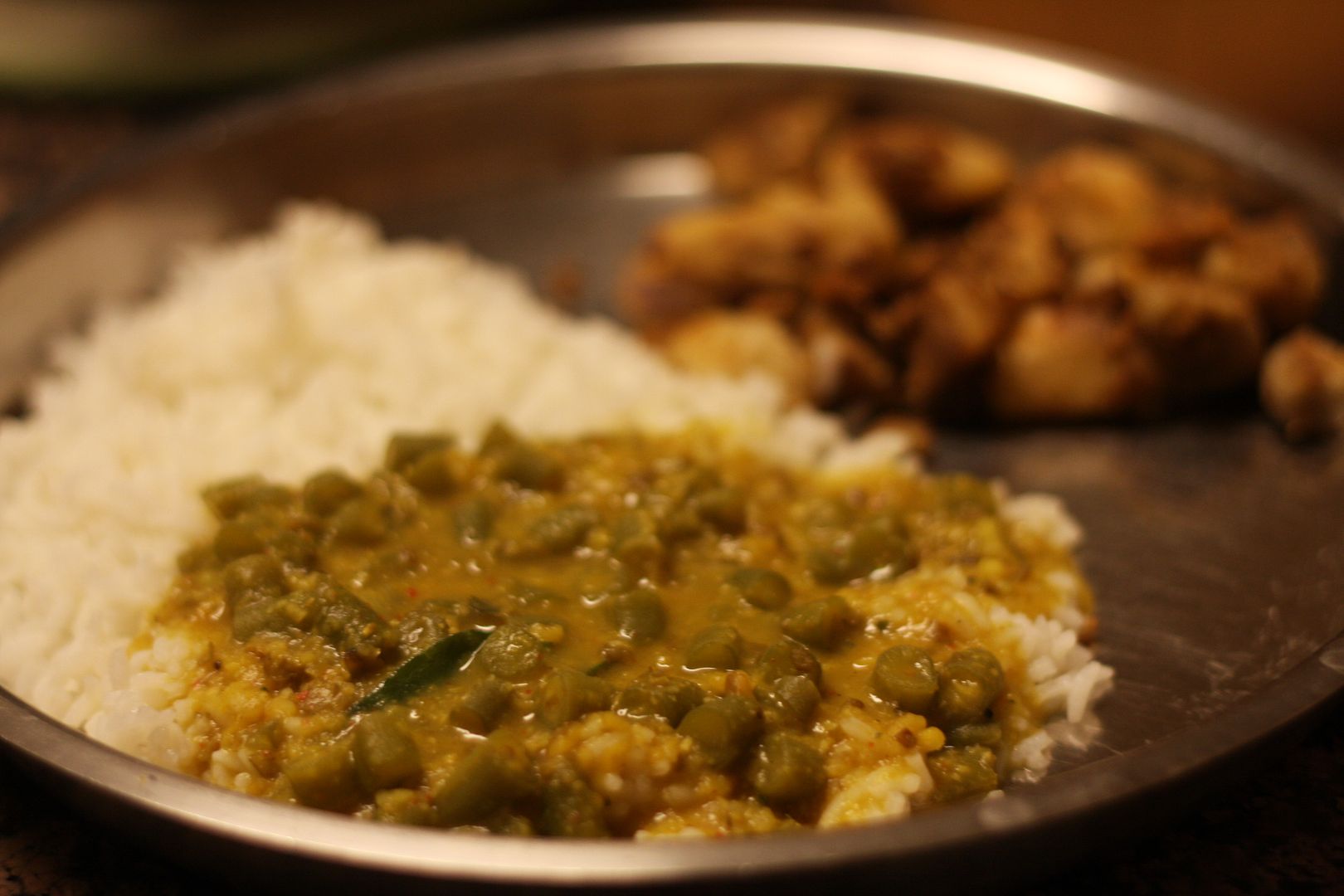 Ingredients
1. 1 cup of split moong dal
2. 1-2 cups of finely chopped green beans
3. 1 tsp turmeric powder
4. 3 green chilies slit
5. seasonings: curry leaves, mustard and cumin seeds
6. jaggery (optional, I did not use it)
7. salt to taste + 1 tsp oil

Spice Powder
1. 1 tbsp urad dal
2. 1 tsp channa dal
3. 1/2 tbsp coriander seeds
4. 1 tsp cumin seeds
5. 1/2 tbsp peppercorns
6. 3 red chilies
7. 1 sprig curry leaves
8. 1 tbsp grated coconut (I used frozen and thawed)

1. Roast the chana dal and when it starts to turn color add the urad dal roast for a minute and then followed by the coriander, cumin and peppercorns and red chilies. When the chilies get a slightly black tinge remove from heat
2.Now add the curry leaves and coconut and roast them on low flame till the coconut turns brown
3. Cool and powder in a blender without using water

Method
1. Pressure cook the moong dal with excess water with the beans with the turmeric powder and a drop of oil till mushy
2. Dissolve the spice powder in about 1/2 cup of water and add it to the dal and let it cook on low flame for 8-10 minutes
3. Meanwhile heat a tsp of oil or ghee in a small pan and add the seasonings and when the mustard starts to pop pour it over the dal
4. Add salt and the jaggery if doing and turn off the heat in a couple of minutes

Goes well with rice or chapati