I don't bake all that much but I gawk a lot at food blogs that bake I mean. It is much easier that way. No precise measurements, no oven temperatures to monitor, no rising or sinking to worry about. But it is the season, all this gawking gets to you and you are forced to give a few of them a try.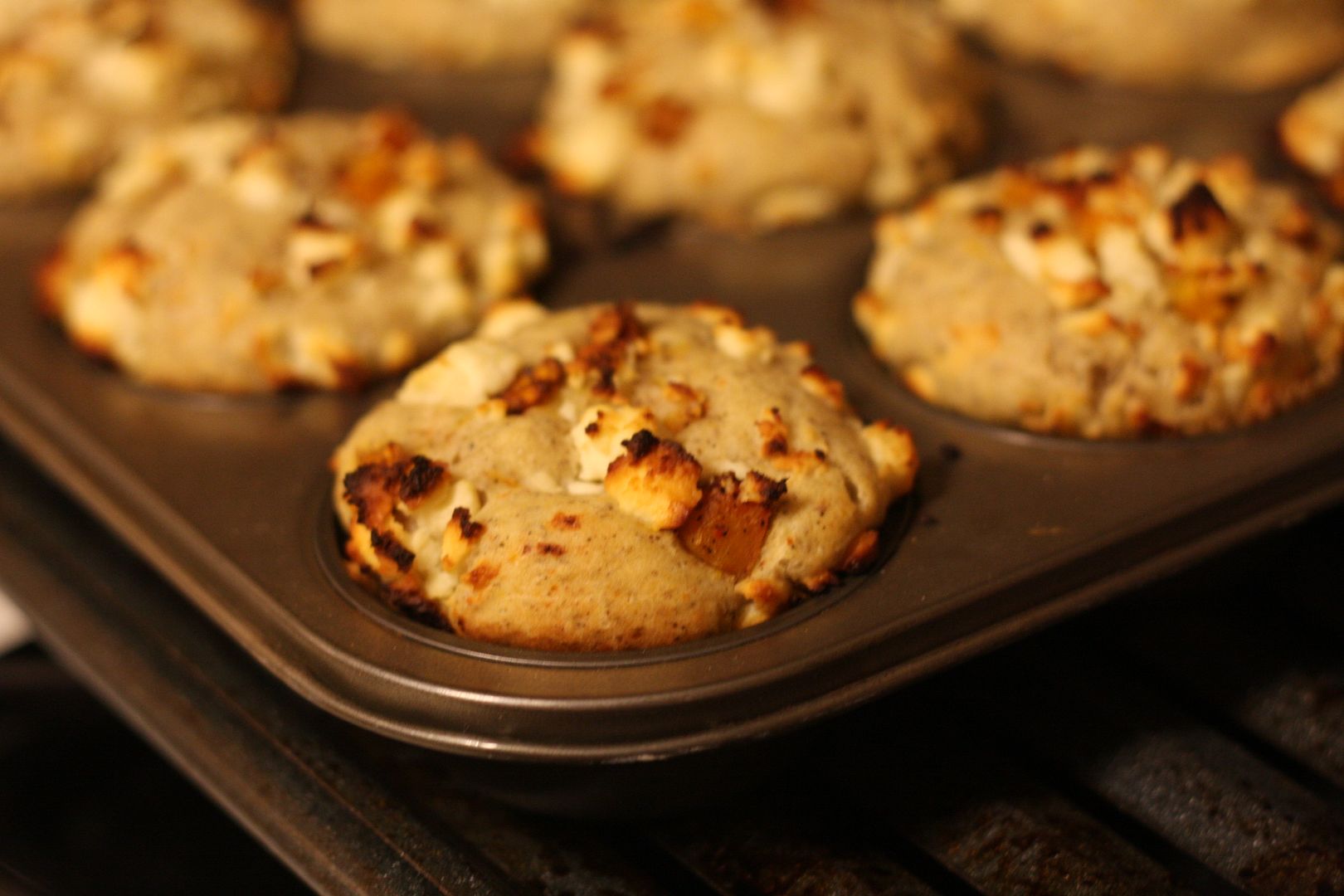 I have several bookmarked cookie recipes but I am not there just yet. Muffins on the other hand have not disappointed me yet. I caught sight of these
savory muffins
on 101 Cookbooks and they looked fantastic.
What impressed me most was the usage of butternut squash. I had one of them sitting on the kitchen counter that was harvested during the summer. Yes, squash, pumpkins and their like store for a long time in a cool dry place. Feta cheese was another winner and the big jar of flax seeds that needed to be used up. The recipe did not call for flax seeds but lot of you had mentioned that baking was a good way to use up the flax seeds and what better opportunity than these muffins.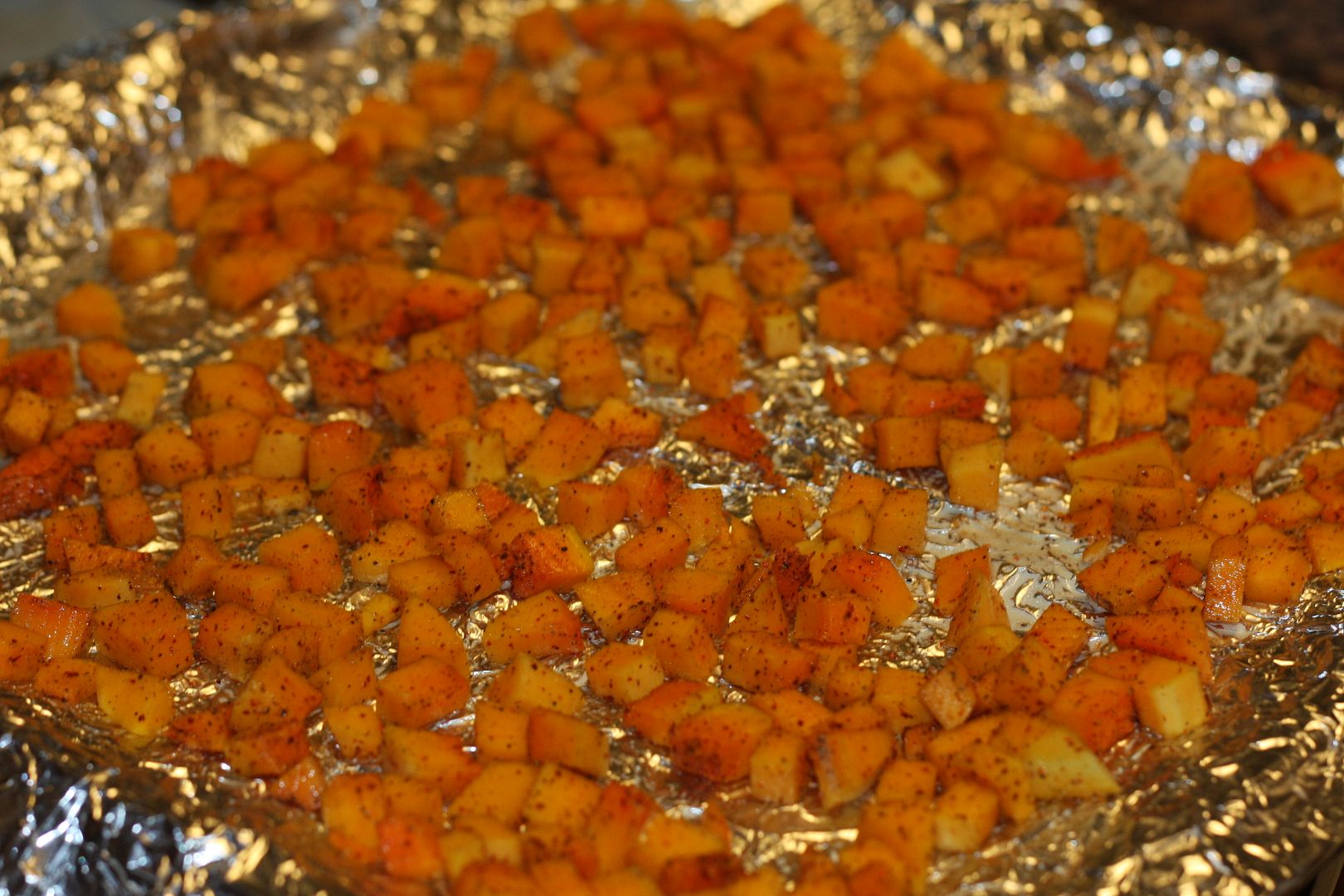 ready for roasting
Let me warn you, if you are going to roast squash be sure to roast twice the amount. They were under constant threat before they went into the batter. Roasted squash is too tasty to resist.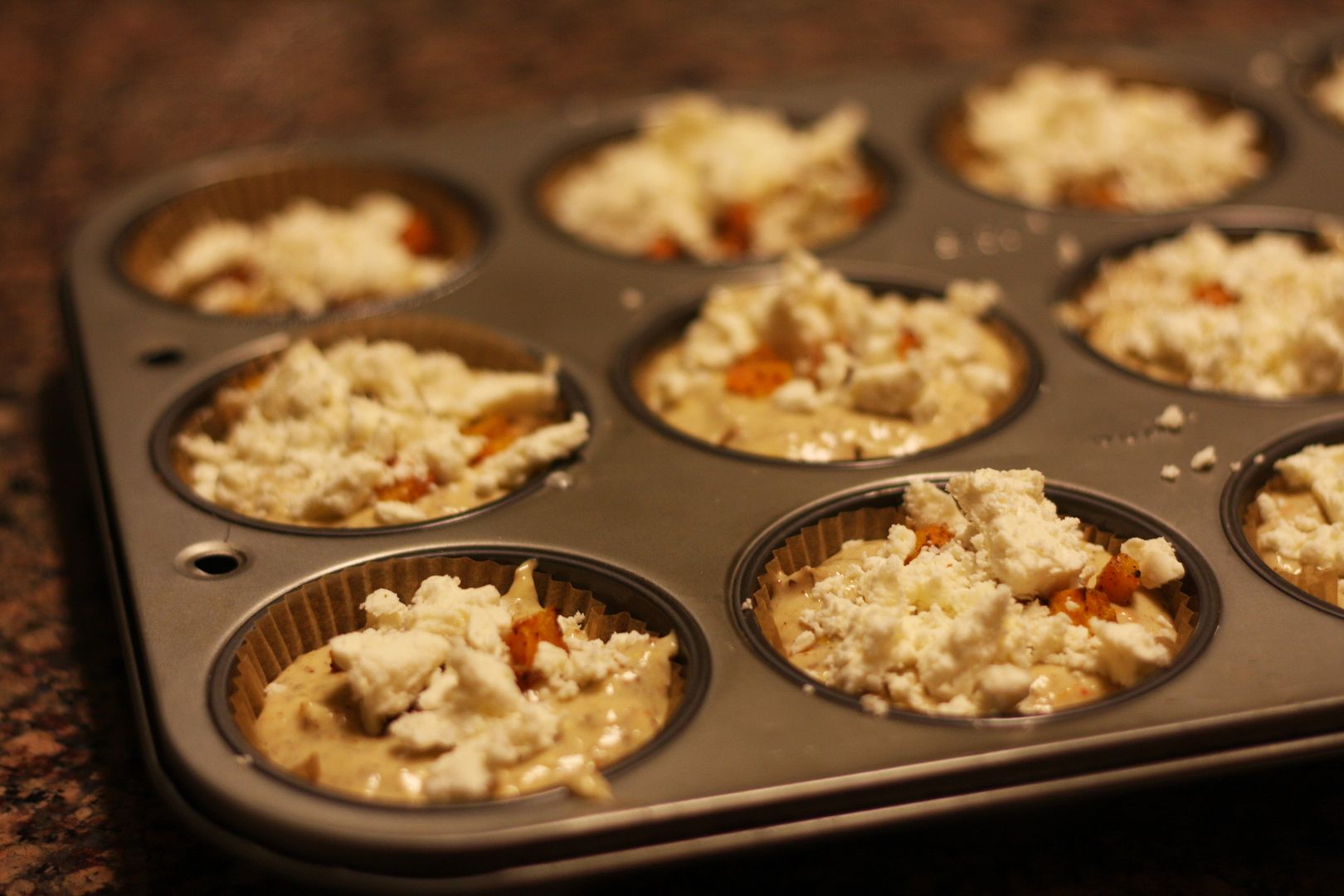 muffins ready for the oven
Recipe Source:
101 Cookbooks
Muffins with Butternut squash, Feta Cheese and Flax Seeds
Ingredients
1. 2 cups of butternut squash
2. 2 cups of unbleached all purpose flour
3. 1/2 cup of flax seeds powdered
4. 1 tbsp butter + 2 tbsp olive oil
5. 1 tbsp pepper (or to taste)
6. 1 tbsp of cayenne pepper
7. 1 - 1 1/4 cups of milk
8. 2 eggs
9. 2 tsp baking powder
10. 1 tsp salt or to taste
11. 1 cup of feta cheese
12. 1/2 cup of Parmesan cheese

Method
1. Peel and dice the squash, I made really small dice. Sprinkle them salt, olive oil, pepper(I used both cayenne and black pepper) and place on a cookie sheet in a sing layer and roast for 15 - 20 minutes till soft
2. Meanwhile sift the flour and baking soda
3. Whisk the eggs and add in half the milk butter and olive oil and whisk a bit more
4. Add half of the roasted squash (should be cool by now), Parmesan cheese, black pepper and cayenne pepper
5. Add the squash mixture to the eggs and add the flour a little by little and get it mixed into the liquid followed by the flax seed powder. Add more milk to get a moist batter.
6. Line the muffin tins, scoop in the batter, top with the roasted squash, feta cheese and bake for 20 minutes.

Perfect for a snack or a meal.