Season's Greetings! It is the holiday season alright and it is raining cookies all over. The blogs have been full of mouth watering attractive cookies.
Our newspaper
has been carrying recipes and pictures of cookies for a few weeks now. The kids have been behind me, imploring me to make atleast a few. I have a couple of recipes bookmarked.
Baking does not come naturally so any excuse comes in handy but with a resolution to get to it before the year end. Hopefully. I bet this rasam makes up for the lack of cookie baking :) Just kidding guys.
The only South Indian restaurant around our parts for a long time -
Udipi Palace
had this Rasa Vadai which became a huge favorite. I am going under the impression that was Mysore Rasam, could have been Udipi Rasam for all I know.
The rasam unlike the rasams I make is thick and serves as a combination of both rasam and sambhar. This is perfect remedy when you are under the weather and want to wake up your tongue with a zing.
What is also different about the Mysore Rasam is the addition of coconut and jaggery. I skipped the former and added a bit of the latter. The other ingredients to be roasted and powdered are very similar to this
hotel sambhar
. The more I read about the rasam I realize the origins of this rasam is not Mysore but somewhere in Tamil Nadu. But who cares it is tasty.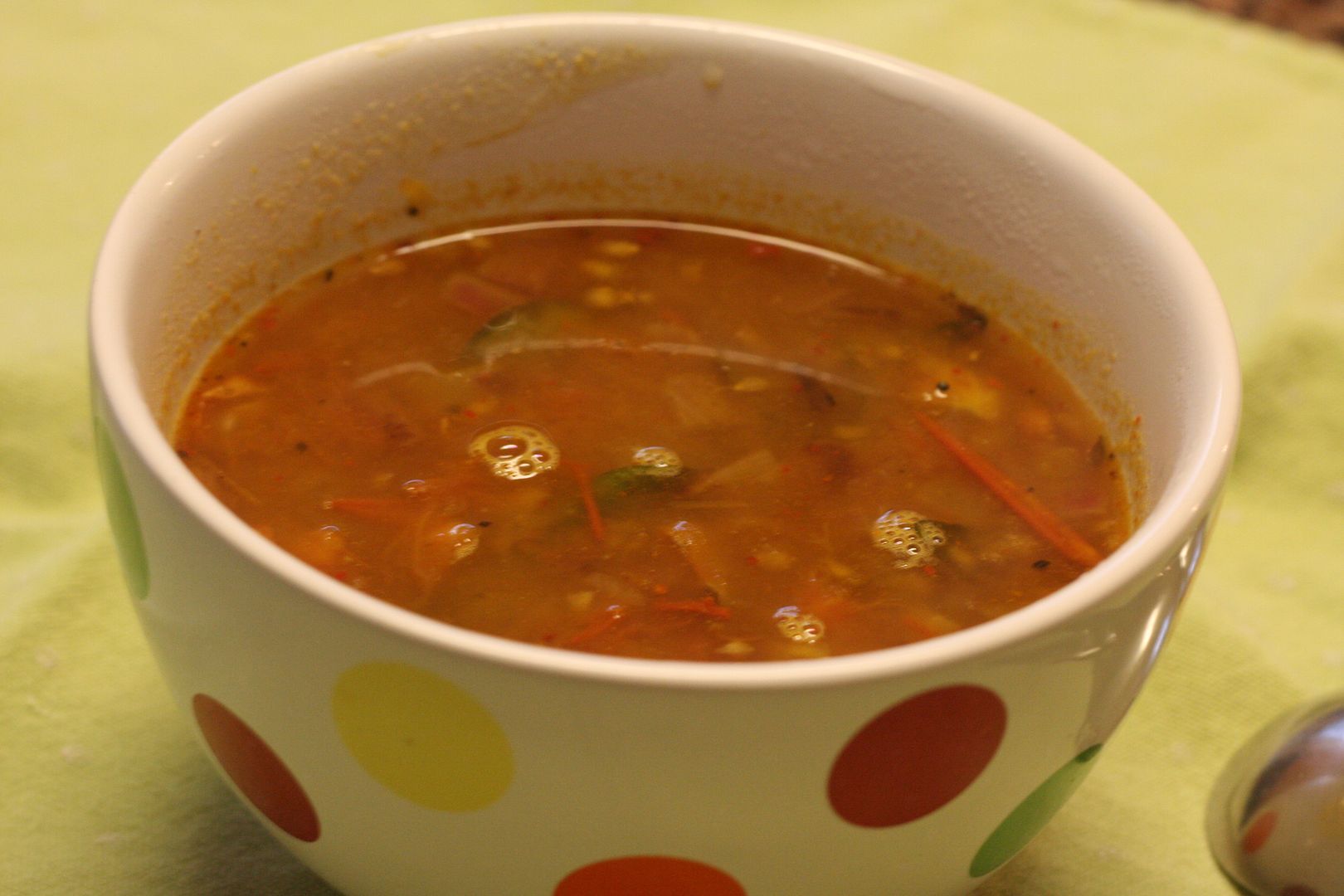 Mysore Rasam
Ingredients
1. 1/2 cup of toor dal cooked with 4 times the water till it is soft and mushy
2. 1 tbsp chopped onions or shallots
3. 2 garlic cloves chopped
4. 1 cup tamarind pulp from a small lime sized ball of tamarind
5. 2-3 tomatoes chopped (the redder the better)
6. salt to taste
7. 1 tsp ghee
8. seasonings: curry leaves, mustard seeds, cumin seeds
9. handful of chopped coriander leaves
10. 2 tsp of jaggery

For the spice powder
1. 1/2 tbsp channa dal
2. 1/2 tbsp coriander seeds
3. 1 tsp cumin seeds
4. 1/2 tbsp pepper corns (adjust to taste)
5. 1/2 tsp methi seeds
6. a small tiny piece of asfoetida
7. 1 tbsp coconut (optional, I did not add)
8. 1 tbsp dried curry leaves powder
9. 6-8 red chilies

Roast channa dal first till brown and the rest of the ingredient till they change color. Roast the coconuts last. Make a powder in a spice grinder or a paste in a blender

Method
1. In a wide mouthed vessel, heat the ghee and add the seasonings.
2. Add the onions and garlic and saute for 2-3 minutes
3. Add the chopped tomatoes and let it cook
4. Now add in the tamarind juice and the spice mix and let it cook for 4-5 minutes and the liquid comes to a boil
5. Pour in the mashed dal with as much water as required
6. Add salt, jaggery, coriander leaves and switch of the heat when the first bubbles start to appear

Serve with rice or eat as a soup.


Have a great holiday. Will see you all shortly.