The last
post
seems to have struck a chord and the comments are worth reading.
While reticence is the hallmark of relationships in the culture I grew up in, external displays of affection is a hallmark of the culture that I find myself in now. The first time someone extended their hand in the manner of greeting I reluctantly grasped. The manner of greeting very different from the way we greeted people back home, both hands clasped together in front in the manner one would clasp their hands for prayer. No touching and no transmission of germs during Flu season.
While shaking hands was one thing, the first time someone gave me a hug was something else altogether. I awkwardly tried to hug them back not being completely sure if one was to tap the shoulder of the other person or just let it stay there. Having long hands is not necessarily a good thing when hugging they fall down and touch the butt of the person being hugged. And very soon I realize I am not tapping the shoulders but the butt. Luckily none of them have called me up on it. Slowly but surely I learned to hug without any awkward touches. Who knew it was such a hard thing to do. From far it looks pretty easy.
This simple and the most genuine form of affection here would have caused a scandal back home. Say for example I had given a hug to one of my friends especially one of the opposite gender. It would have not only created a big drama, it would have been sufficient grounds for my dismissal from college.
Different strokes for different folks that is all. While in Rome be a Roman. Adapting to a different culture is not always easy but humor and good spirits gets you over the humps.
With Thanksgiving round the corner there will be a lots of hugs to go around along with great company and good food. Wishing you all a very Happy Thanksgiving.
During Navaratri and on Lakshmi Pooja day we are showered with plates of poori halwa and black channa as we happen to have two goddesses at home. The black channa with just a minimum amount of spice but very flavorful and tasty, a dish I wanted to recreate.
The recipe I used as guidance was from
Saffron Trail - Kaala Chana
. Though the recipe was different from the dry sookha style I had in mind, it was something I wanted to try sans the ubiquitous tomato.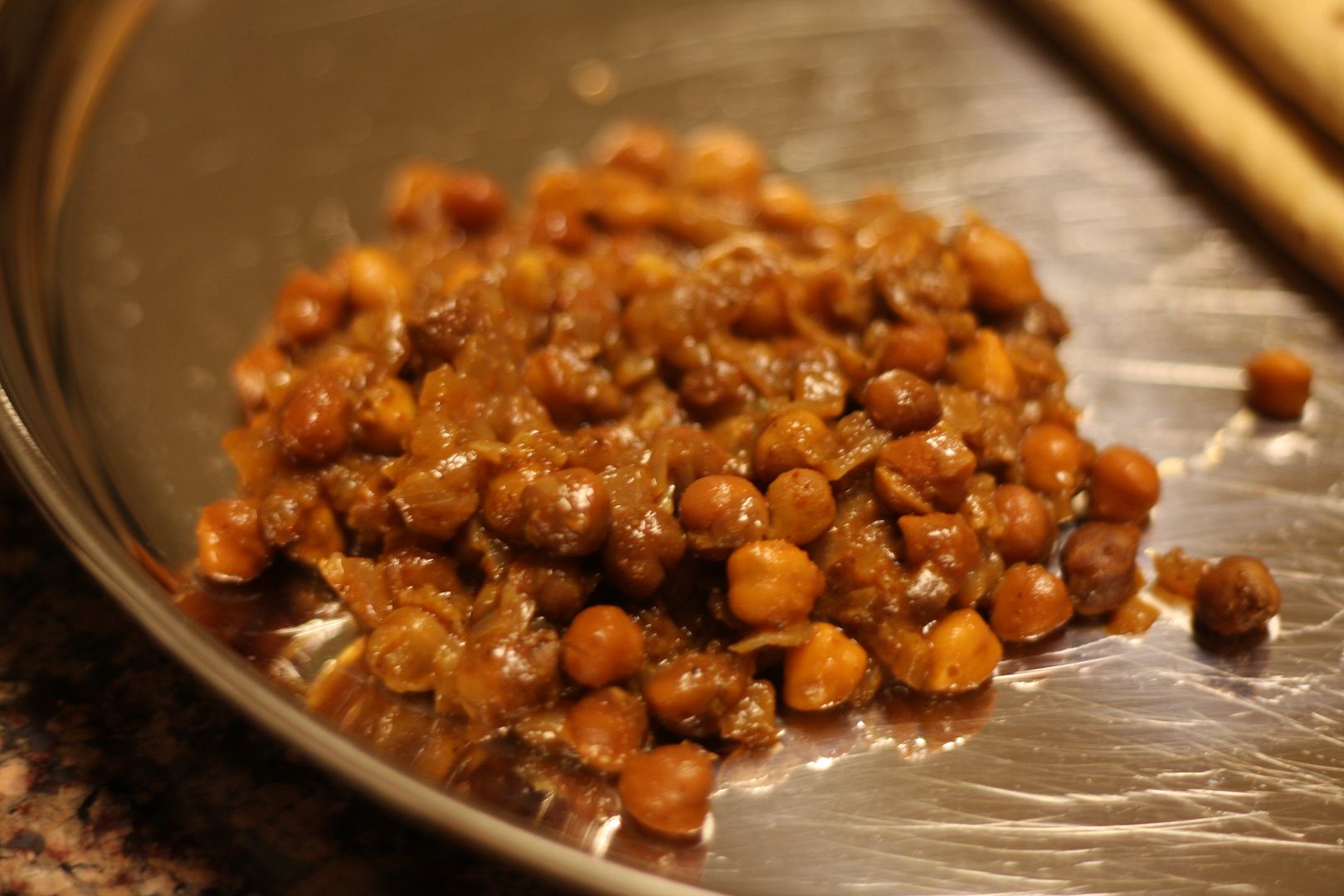 Black Chickpeas with onions and spices
Ingredients
1. 2 Cups of black chickpeas soaked overnight and rinsed completely
2. 2 red onions chopped fine (2-3 cups)
3. 5 garlic cloves minced
4. 1 tbsp of garlic grated
5. 4 green chilies slit
6. 1/2 tbsp red chili powder (adjust to taste)
7. 1/2 tbsp coriander seeds + 1 tsp cumin seeds roasted and powdered
8. 2 tsp amchur powder (optional)
9. salt to taste
10. 2 tsp oil
11. seasonings - cumin seeds

Method
1. Pressure cook the chickpeas for 8-10 whistles till soft
2. In a pan add oil and season with cumin seeds
3. Add the chopped onions, green chilies, garlic and ginger and saute till the onions are dark brown about 15-20 minutes. I added a tbsp of water every time the onions stuck to the bottom
4. Add the powdered coriander cumin powder, chili powder and give a good mix
5. Now add in the cooked chick peas with about a cup of the cooking liquid
6. Let it simmer for 10-15 minutes, add salt towards the end when the required consistency has been reached

Serve with chapatis or rice