Gossip! What is the instant reaction when you hear the word? Over the years my opinion about gossip has undergone several iterations and as of now the predominant feeling about it is one of well being.
The dictionary meaning for the word,
gossip - idle talk or rumor about the private affair of others
gossip - light familiar talk or writing
It is the second meaning I am talking about here.
Don't jump to the conclusions that I am some sort of gossip queen in the mold of desperate house wives as in the first meaning. I am not just about to convince everybody that vicious, hurtful gossip is a good thing.
On other hand, harmless friendly gossip gives a sense of belonging and happiness. It is social networking the old fashioned way. In societies where socialization gets top billing (read Indian society) people are healthier and generally more happy and less prone to getting sick. I am not making this up, there is research to back it up. In the same vein people with extended families are less prone to depression and isolation.
I heard on the radio (where else but NPR) that touching decreases stress hormones and increases the hormone oxytocin which is supposed to calm people. And rightfully also called
cuddle hormone
.
I have rarely heard of people feeling depressed in India especially women compared to the West where everyone has feelings of depression in some form or the other. The loneliness is what gets people here in the West methinks. I might be completely wrong about the prevalence of depression in India due lack of mental health counseling and the reason perhaps why it is not obvious.
Seeing a friendly neighbor on the way to the door, stopping and chatting (or gossiping) about what is going on with folks - whose daughter or son is getting married, going off to college, who is expecting a child or grandchild. Talk that helps release yes you got it the cuddle hormone. It has definitely made me feel better. The happiness when your friend stops by for an impromptu chat? Is there anything better?
We all know of the well connected friend whom we call to get information about where to get the tastiest and the cheapest samosas for the upcoming party, the best dance teacher or the best voice coach or whatever. How do you think she gets her information?
What is your opinion about gossip? Do you think I am completely bonkers or there is some truth to it? Please do share, we are all ears :)
Now to the recipe,
Let me let you in on a gossip, keeping sambhar powder handy a tasty curry is never too far. If you do not have sambhar powder handy feel free to use red chili powder. Tomatoes give a slightly sour and moist feel to the curry you, leave it out if you do not want it.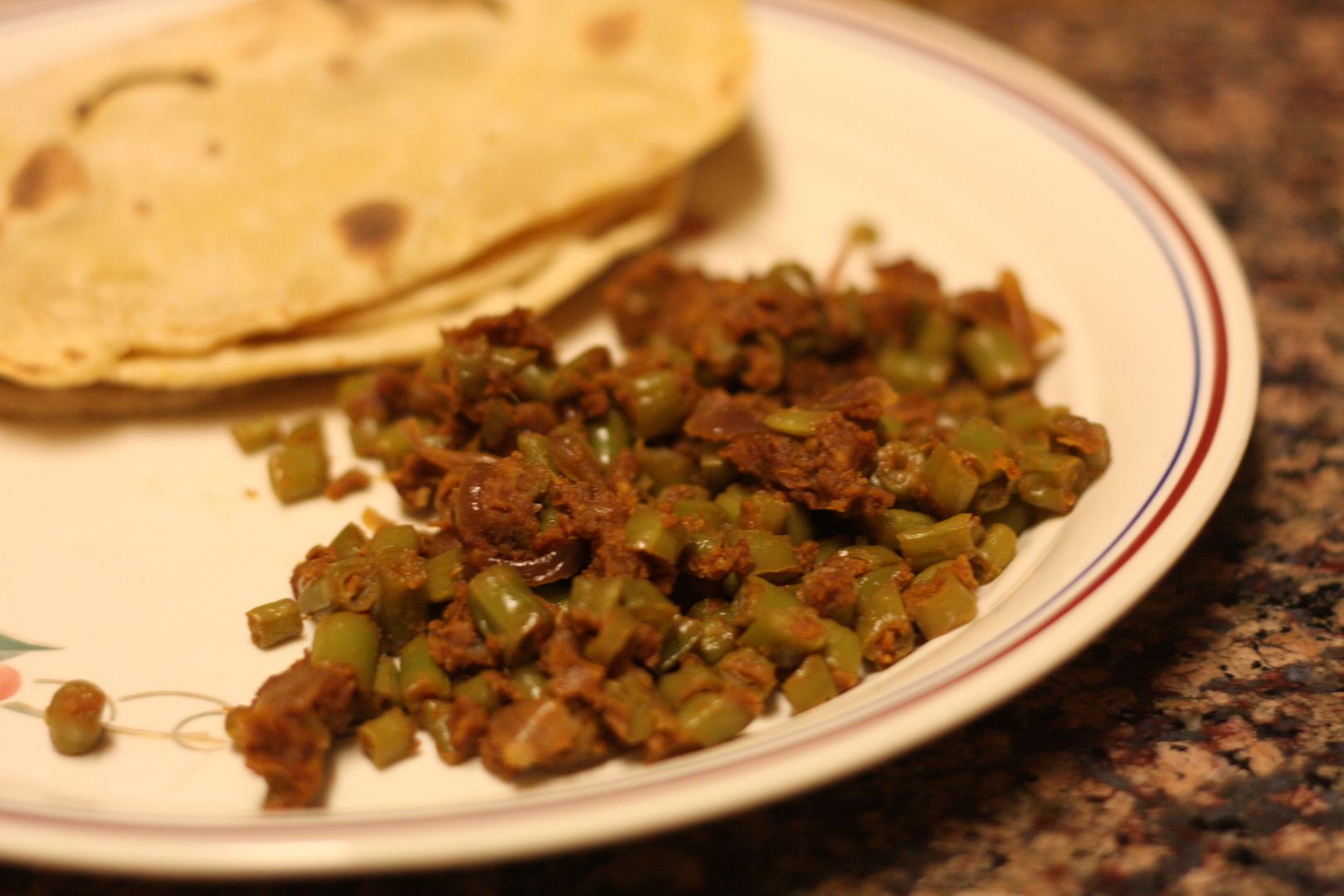 Green beans with besan
Ingredients
1. 2 cups of green beans chopped
2. 1/2 cup of finely cut onions
3. 1 tbsp of grated ginger
4. 3 slightly tart tomatoes chopped (or + 1/2 tbsp amchur powder)
5. 1 tbsp sambhar powder
6. 2 tbsp besan
7. 1 tsp ajwain
8. seasonings: cumin seeds, curry leaves, mustard seeds
9. salt to taste

Method
1. In a wide mouthed pan add a few drops of oil along with besan and roast till it becomes golden color, set aside to cool
2. I a pan heat oil and add the seasonings and ajwain, let the mustard seeds splutter
3. Add in the onions and let it turn translucent
4. Add the sambhar powder and saute for a second
5. Add the tomatoes and cook till they turn mushy
6. Now add in the beans and salt, saute for a few minutes and if required add a 1/4 cup of water, cover the lid and let it cook for 8-10 minutes till the beans are soft
[Here it depends on personal choice if you like the beans to be crunchy cook for a little less time if you like it softer cook for a bit longer)
6. Open the lid and let the water evaporate completely
7. Sprinkle in the roasted besan and let it coat the beans, add another tsp of oil at this stage and saute for 4-5 minutes till well roasted

Serve as a side for rice or chapathi.