Couple of weeks ago was primary election day in the DC area (VA,MD &DC). DD had volunteered to help out in the polling booth which is usually a local elementary school. During the summer she had attended a 2 hour training session and was looking forward to working. The day before the election day she had to go meet the election judges, help them setup and get acquainted with her tasks. When I went to drop her off , I was shocked to find the parking lot of the school overflowing with cars. I never saw so many people even during the last general election(Obama election) when the turnout was expected to be high. That many people to volunteer? As we walked in wondering we were informed an open house for Sunday school of a church was also being held. That made sense!!
The next day I went to pick up DD around noon time when her shift was coming to end. The place was empty but for me and another lady, more along what I had expected after the shock from the previous day. The lady was very appreciative of DD volunteering and getting to know her most important civic duty at a very young age. She added that most people fail to take part in the electoral process and start complaining about their elected representatives when it is too late. How true! It seems the whole country is disappointed if not downright angry at what our representatives are doing in their workplaces while a large portion of the country has no workplace to go to. While the kids have the day off (schools are used as polling places), their parents have to go work unfortunately and that perhaps explained the near empty polling place?.
When I first came of voting age in India, I was in the midst of a vacation and enjoying myself and reluctant to go vote braving the crowds. My dad insisted that I go and vote along with the lecture that is the single most powerful way to express one's rights in a democracy. I have not forgotten that lesson.
Most people voting in a primary election are members in one of the political parties and are voting to choose the candidate that can best represent their party in the general election (in case of multiple candidates). If you are not registered to either party you are not eligible to vote.
Now on to the recipe,
Occasionally, when I am overwhelmed with too much stuff to do, I ask a cook to come and cook a few dishes that can last a few days. She is in such demand that it is hard to get her to come every week. Anyway, the last time she came she had cooked some bell pepper with besan a Gujarati specialty?. Bell pepper with besan was a perfect combination along with a hint of ajwain. Ajwain I have decided is a must for this recipe. I wanted to swap out the bell pepper and use some fresh snake and bitter gourds in the same recipe. What do you know, it indeed was a great and tasty combination if I can say so myself. Do not attempt the dish without ajwain, it is a must.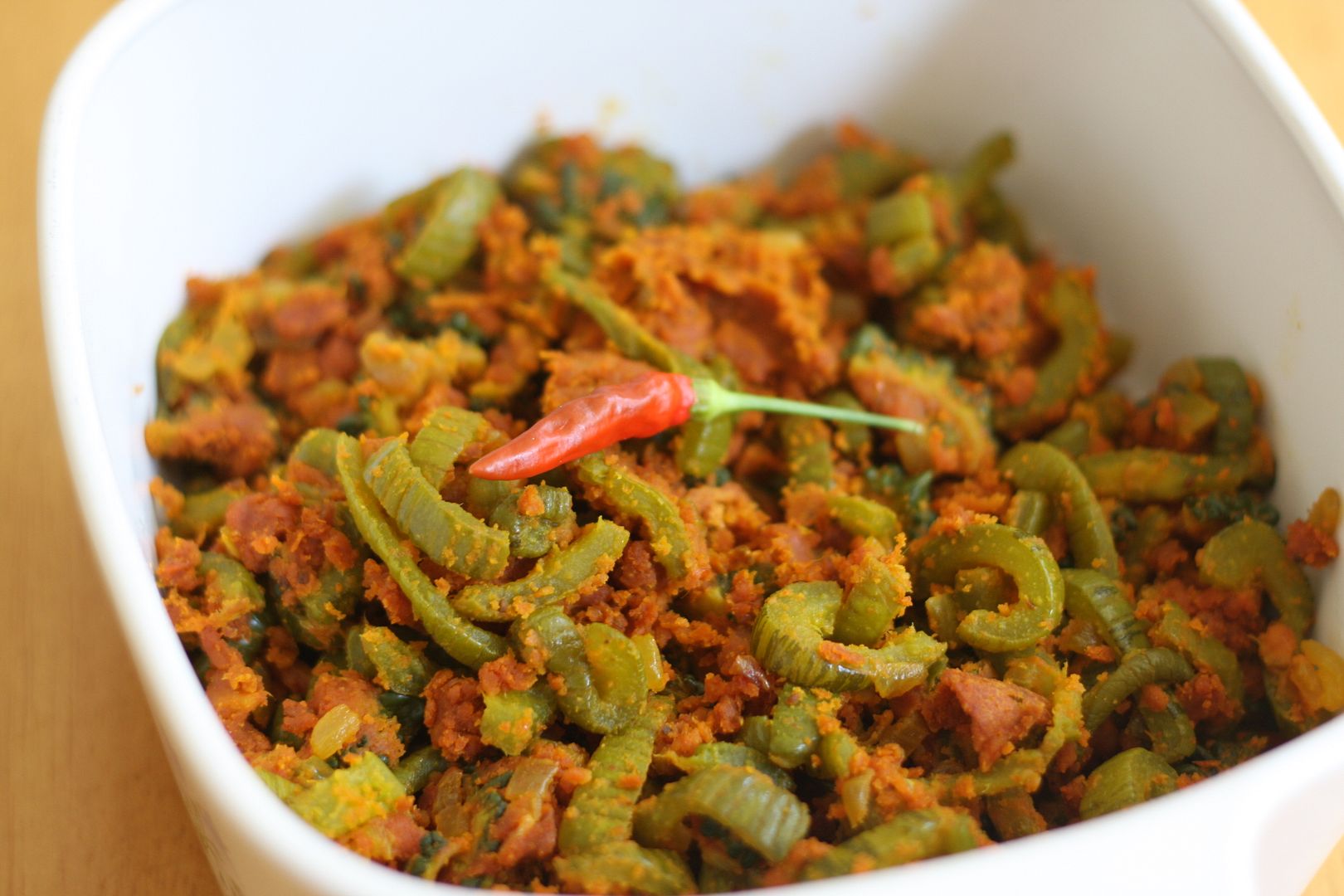 Snake and bitter gourds stir fry with chick pea flour
Ingredients
1. 1 1/2 cups of snake gourd sliced into thin half moons
2. 1/4 cup of bitter gourd sliced into thin half moons
3. 1/4 cup of finely chopped onions
4. 1 1/2 - 2 tbsp of ginger grated
5. 1/4 cup of besan flour
6. 1/2 tbsp of ajwain
7. 1 tsp of cumin seeds
8. 1/2 tbsp of red chili powder
9. 2 tsp of turmeric powder
9. salt to taste
10. 4 tsp of oil

Method
1. In a flat saute pan add 3 tsp of oil and the besan flour and saute till it starts to turn color - from pale yellow to a darker nuttier shade of yellow but do not let it brown it will turn bitter (do not fail to do this step, the flour will clump up in the stir fry otherwise). Set aside.
2. In a wide mouthed pan add a tsp of oil and when hot add the cumin and ajwain seeds. After a minute,
3. Add the onions and ginger and let them saute till soft
4. Add the sliced gourds, chili powder, turmeric powder and a tbsp of water and let them cook till they are soft and cooked (close the lid to speed the cooking process)
5. Open the lid add salt and heat till the moisture completely evaporates
6. Sprinkle the roasted besan flour and saute for 6-10 minutes till the required texture is reached - this depends on how dry you want the dish. Preferably the besan flour should be fine grained and separate.

Serve as a side for chapatis or with rice.