In the
last post
while talking about the exploding cost of higher education I forgot about one important fact.
Sandeepa's comment
brought it to sharp focus. Being enrolled in college keeps kids out of trouble and in some cases big trouble. As parents we get a bad rap for over scheduling kids. On the other hand lot of parents vouch for the fact that being enrolled in after school activities keeps their teenagers out of trouble.
Moreover I have watched at close quarters the sadness and denial when a child gets into a situation that cannot be rewound and no amount of regret can set right. One of my neighbors son's was sent to prison when he and a group of his friends beat to death a high school student. This happened a couple of years after the offender had graduated from high school. The parents run a very successful business probably negating the need for sending their children to college. I do not deny the thought that went through my head when we heard of the news - "It never would have happened if he was busy in college". No amount of regret or denial is going to give the boy back his old life. Would college have prevented the incident? There is no way to tell.
Gone are the days when sending to college was an easy decision. In today's scenario paying for college means big time sacrifices for parents.
Community colleges, technical schools, online schools, apprenticeship,trades are all alternate means to regular brick and mortar colleges.
Just wanted to mention this fact as well.
As for the recipe it is another one that uses the bumper tomato harvest. I have my own love affair with Beans and any recipe that uses beans and lima beans at that is going to be bookmarked. This recipe was inspired by
a recipe
on Mediterranean Cooking in Alaska found while going through the
MLLA archives
.
I have learned through experience not to cook lima beans in a pressure cooker. They remain whole and do not turn mushy when cooked on stove top. As the recipe here required some slow cooking time, it fit neatly into the cooking method for this one.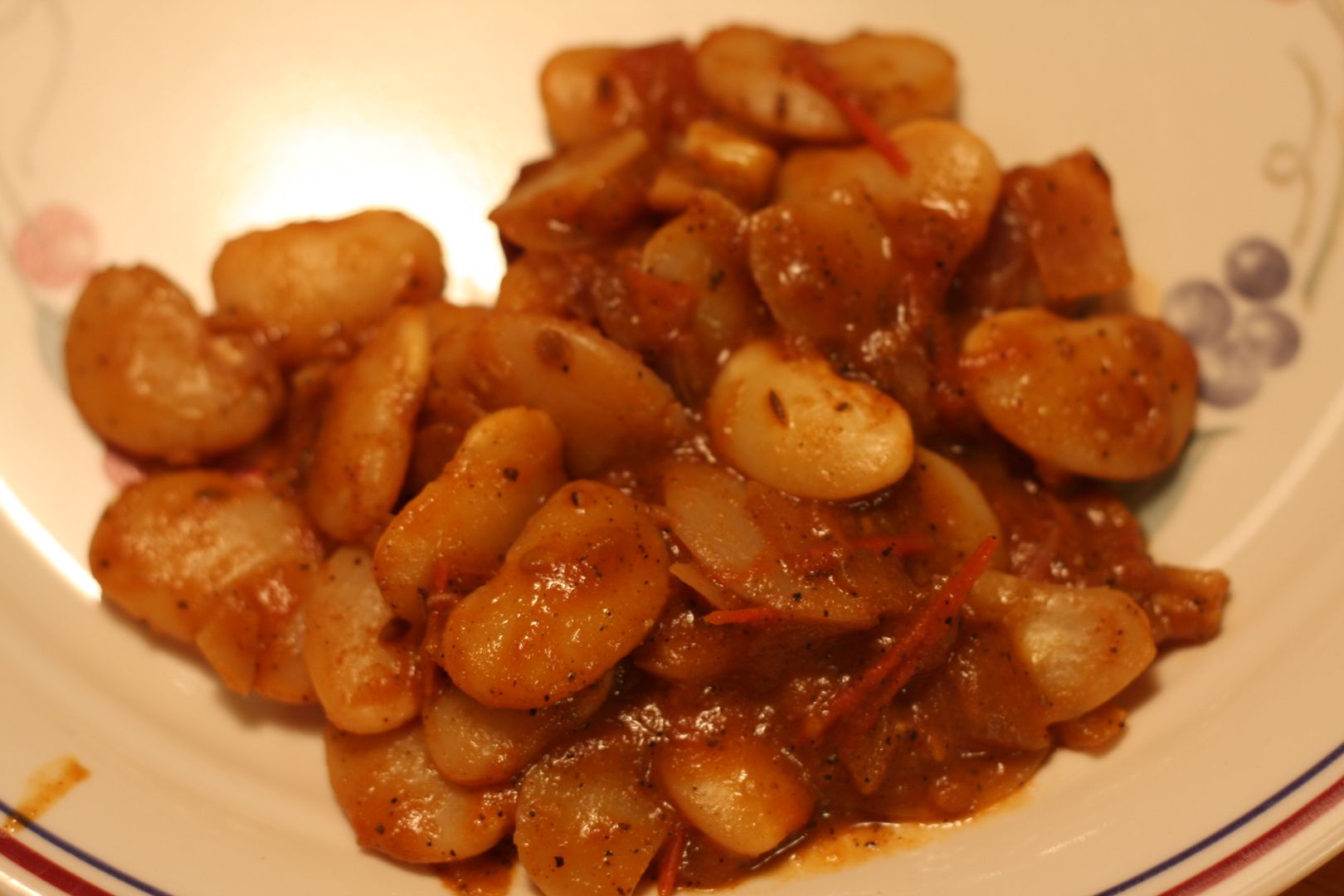 Ingredients
1. 2 Cups of dried lima beans (butter beans) soaked overnight in plenty of water
2. 2 Cups of chopped tomatoes
3. 1/2 cup of chopped onions
4. 1 tbsp - masala powder or (3/4 tbsp roasted coriander powder + 1/4 tbsp cumin powder)
5. 1/2 cayenne pepper (adjust to taste)
6. 1 tbsp grated ginger
7. 4 cloves of garlic chopped
8. seasonings: cumin
9. 2 tsp of oil
10. salt to taste
11. handful of chopped coriander leaves (optional)

Method
1. In a heavy bottomed pan with a lid, heat the oil and add the cumin seeds
2. Add the onions and let them saute till soft
3. Add the tomatoes and saute for 5 minutes, close the lid and let cook for another 5 minutes
4. Add the garlic and ginger and saute for a couple more minutes
5. Add the rinsed, soaked lima beans and the spice powders and mix it in will
6. Add a cup of water, close the lid and let cook for 10-15 minutes, check to see if the beans are cooked, if not let cook for another 10 minutes or more.
7. Add salt (coriander leaves if using) and mix it in well. Let cook for 2 more minutes.

Serve with rice or rotis.