What is it with Indian food? You go without the stuff for a few days and you start to crave it real bad. It certainly happened to us on our trip. Our folks are with us and you can imagine how it is for them. Luckily one of the hotels we had booked on the trip had a kitchen. After a few days of eating Chinese for the heat
our
my tongue started revolting. In the middle of a national park it is pretty difficult to find lunch so we tended to pack. Packing lunch meant bread, spread and some easy to use veggies. The stuff starts to get to you after a few days.
We are not picky eaters but even then spice - specifically Indian spice is what your tongue craves after a few days.
The easiest to cook in these situations is chicken curry. It is also one of those dishes that works very well for novice cooks and for those who cannot spare too much time for cooking. Drop by a grocery store and pick up a pack of chicken, a few onions, tomatoes, garlic, ginger, pepper powder and chili powder. The grocery store we happened to stop by had Pathak's brand curry paste. Good to have if you can find but not absolutely necessary.
For a vegetarian option, swap out the chicken and use any type of beans,cauliflower or any veggie you fancy. If using beans precook the beans and drain. I cooked the beans and cauliflower combination a day later and it tasted just as good.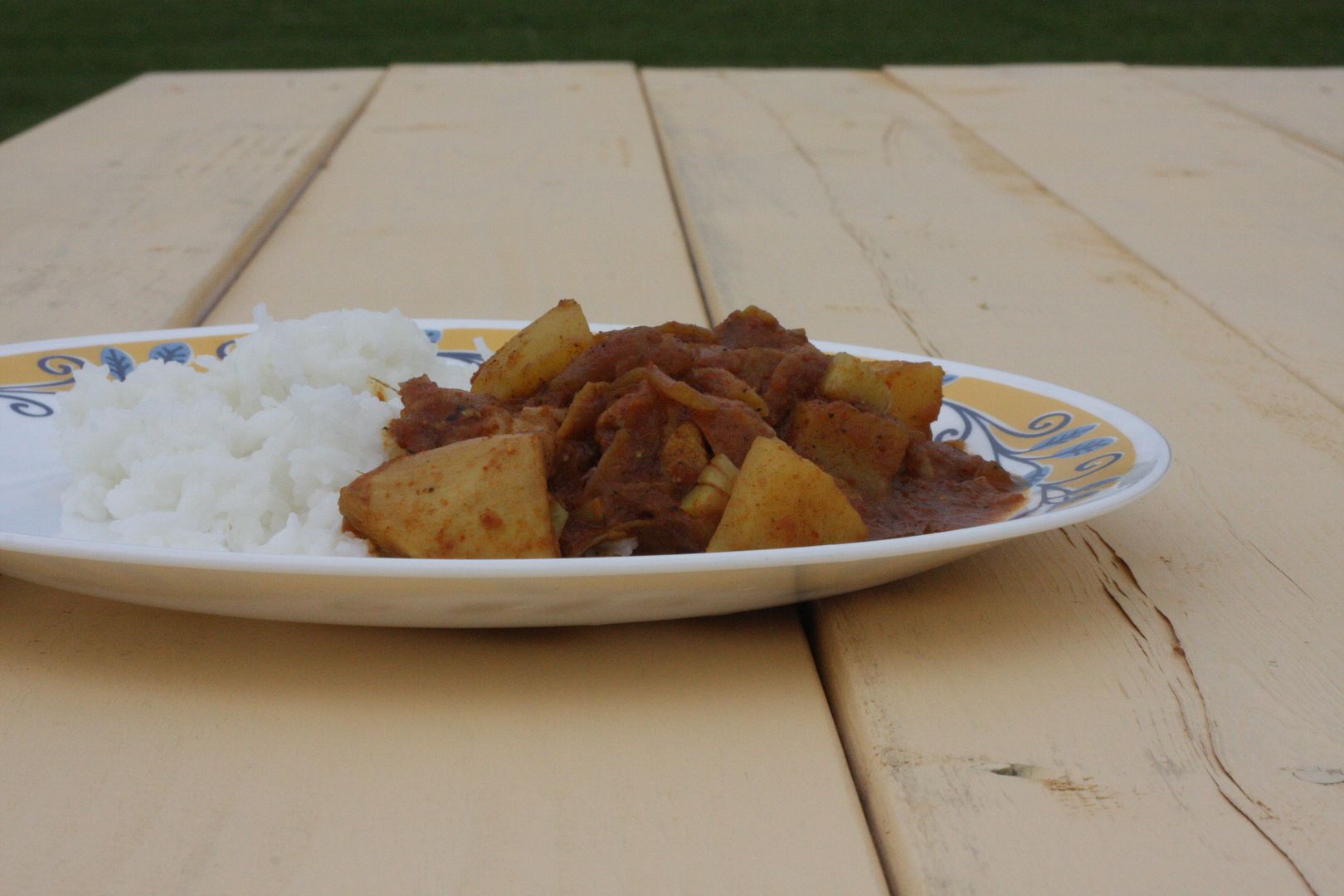 Quick and Easy Chicken Curry with potatoes
Ingredients
1. 1 1/2 lbs chicken (I used boneless skinless chicken thighs) OR beans of any kind for a veg. version
2. 2 potatoes peeled and diced
3. 3-4 medium sized onions sliced
4. 4 cloves garlic chopped fine
5. 1 inch piece of ginger chopped fine
6. 1 1/2 tbsp curry paste/powder (optional) (* see Note)
7. 1 tbsp cayenne pepper (adjust accordingly if the curry powder or curry paste has chilies included)
8. 2 tsp pepper powder
9. 4 medium sized tomatoes pureed (chopped fine works)
10. salt to taste
11. oil

Method
1. In a pan heat oil and add the onions and saute till translucent, add the ginger and garlic and let them saute for a couple of minutes
2. Add the curry powder or paste if using and give it a good mix (2-3 minutes)
3. Add the chicken pieces (or beans) and potatoes and let it brown for a few minutes (6-8 minutes)
4. Add the chili,salt and pepper powder and mix it in. Add salt to taste
5. Add the pureed tomatoes and 1 cup of water if required and give a good mix
6. Close the lid and let cook for 8-10 minutes, chicken and potatoes should be completely cooked (increase cooking time if chicken is not fully cooked)
7. Check for salt and heat and turn off the heat

Serve over steamed rice

* Note:
Curry Powder or curry paste is a blend of spices - cloves, cinnamon, black pepper, red chilies, cardamom. In case of curry paste garlic,ginger,tomatoes are also included in the mix