With the dog days of summer upon us and temperatures in the upper 90s it is hard to get any enthusiasm to go on a day trip especially one that involves a lot of physical activity. Sitting in the cool confines of your own family room or in front of the TV, all seem fantastic ideas compared to going on a hike or walk in the park during the hot day time hours.
My family is weird. After a day of inactivity over the weekend they start to get stir crazy. Starts with DH who just can't confine himself indoors for 2 days in a row and this attitude has started to affect DD and DD2. There are a number of parks close by which we frequent but we also try to visit parks with less than an hour's drive. We are lucky in a way with the river close by and many activities all well within an easy driving distance.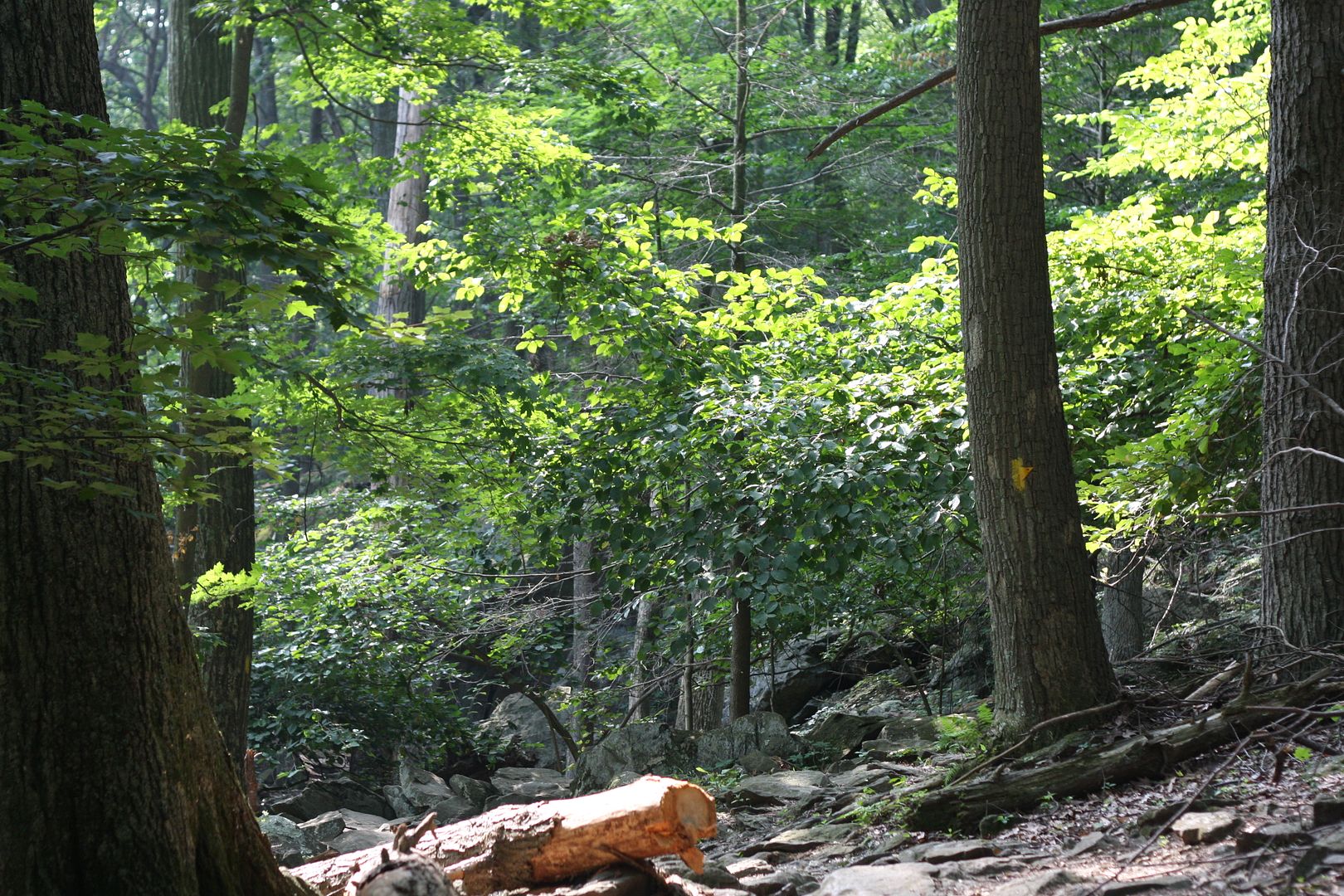 One thing we try to do is to leave early before the sun gets too harsh. Leaving early is a good thing on many levels. You can get to admire the sites and sounds before the crowd hits, get the preferred parking spots and those ever elusive picnic benches and grills.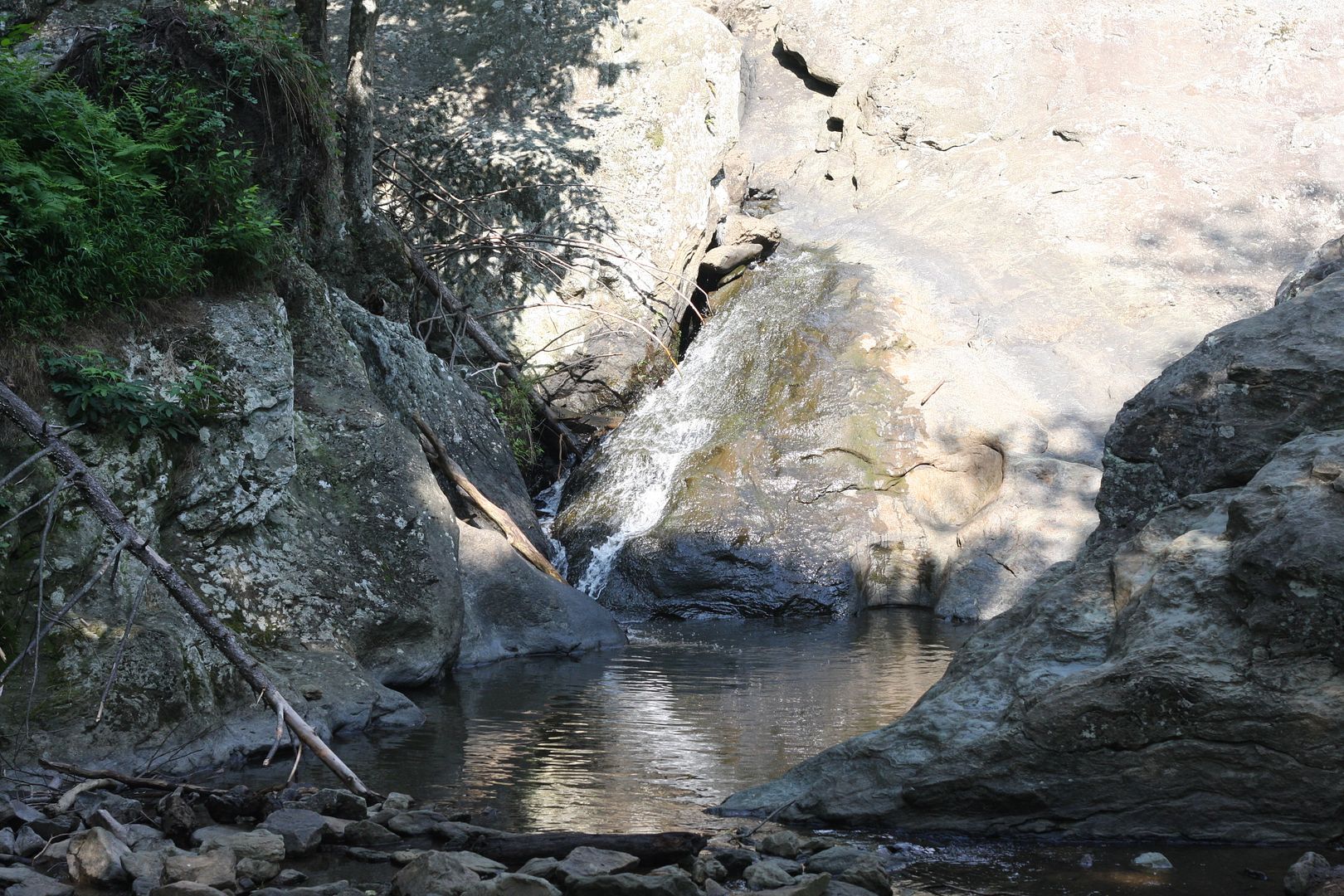 If you live close to DC,
Cunningham Falls
is a place that you might want to consider. Within an hour's driving distance from DC this is a perfect place for a day's getaway. The attractions include a waterfalls, a lake to swim and boat and opportunity to rock climb if you are so inclined.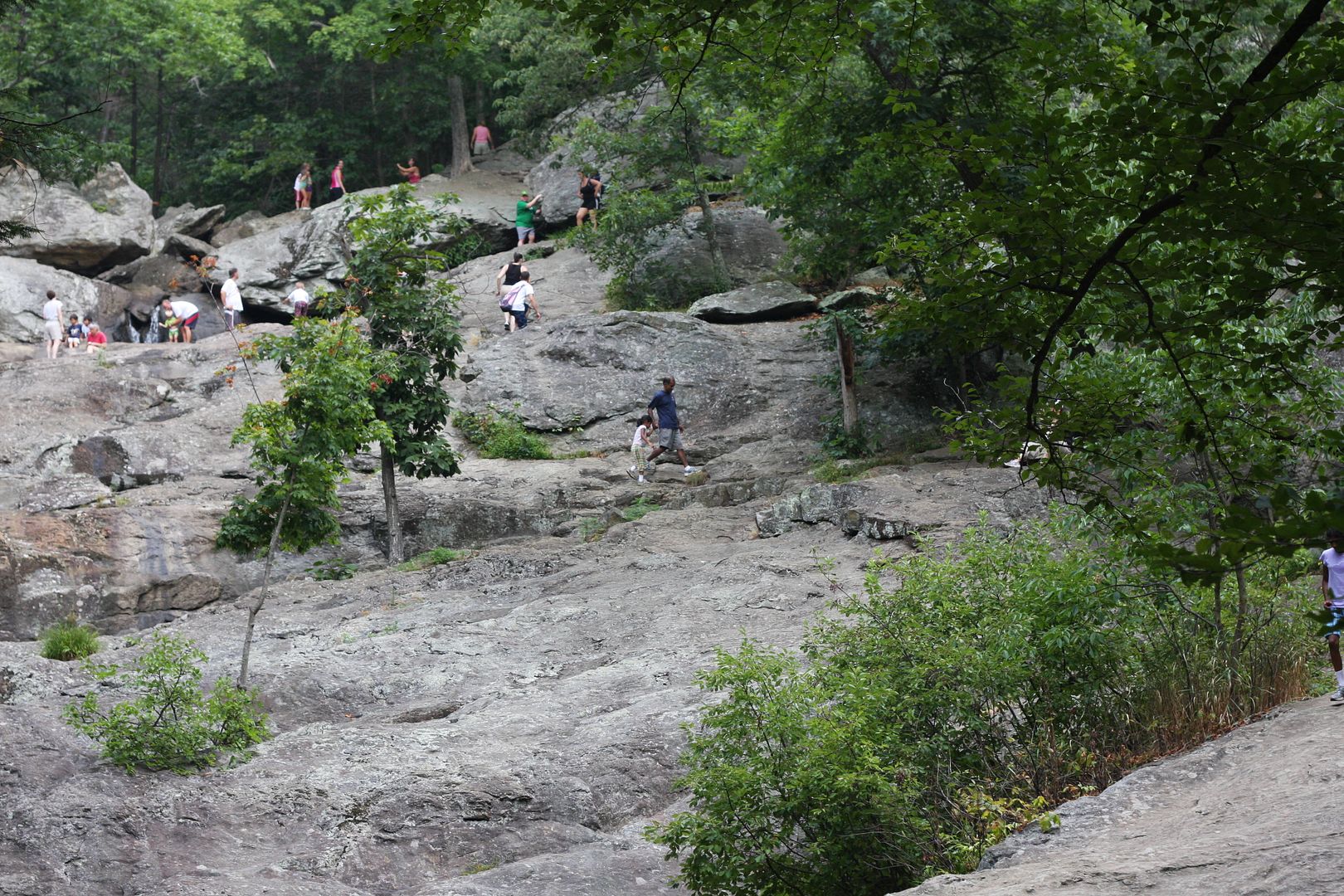 This is what we did, left early in the morning but not as early as we had hoped to but we reached the park by 8:30AM giving us plenty of time to hike to the Falls. The trails range from easy to hard. With not much water in the falls the rocks offered a perfect climbing opportunity for kids and adults. The path leads to the lake area/beach for a dip to cool off. Boat and canoe rentals are also available for some boating fun.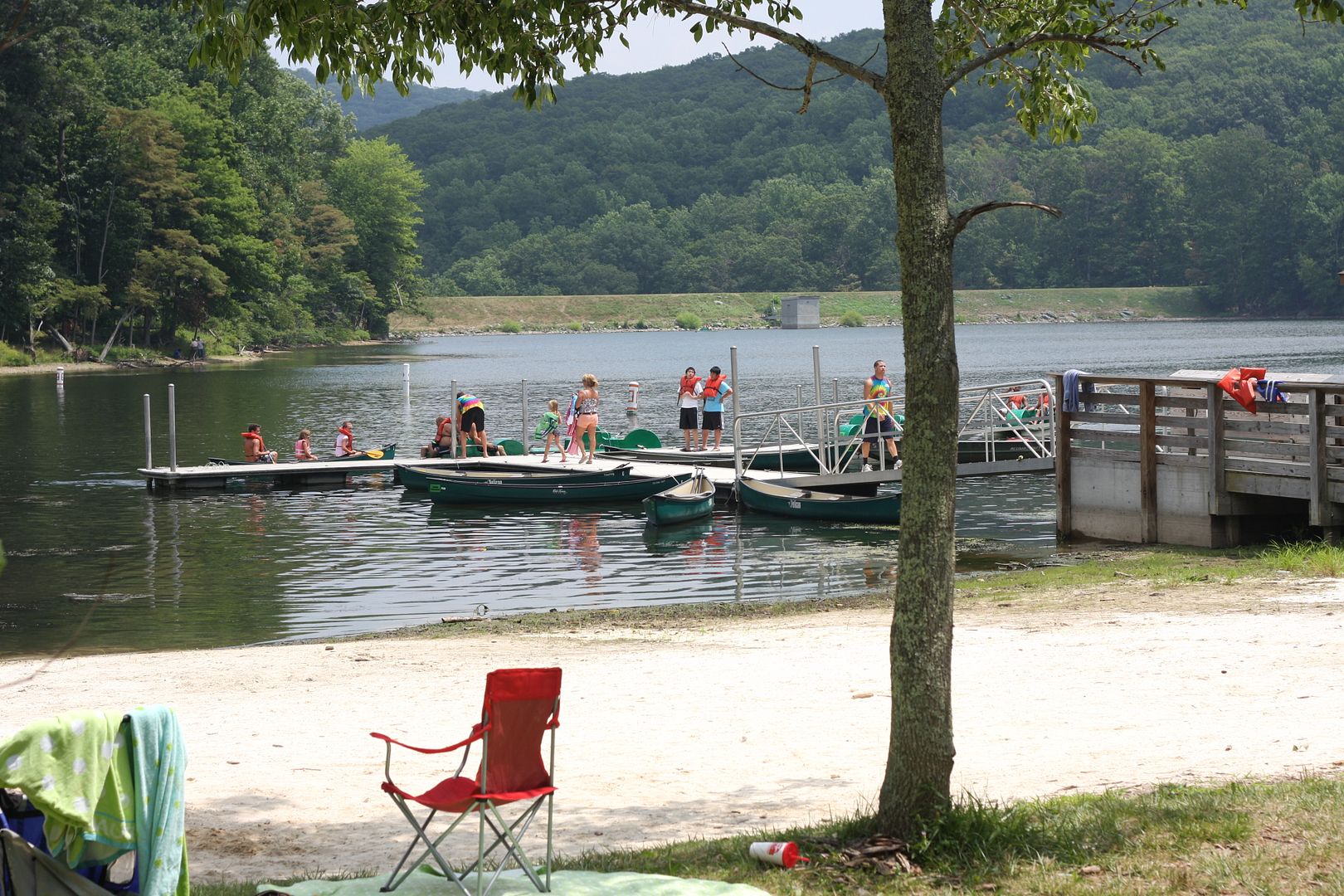 The most important reason to reach the park early is to reserve the grills. These tend to be all occupied if you don't get there early enough. We packed idlis with
tomato mashers
and yogurt rice. Not exactly exciting picnic fare but on an impromptu trip there was not enough time for planning for grilling. We were out of the park by 2.30PM with the sun's rays getting harsh and our eyes greedily looking at the hammocks.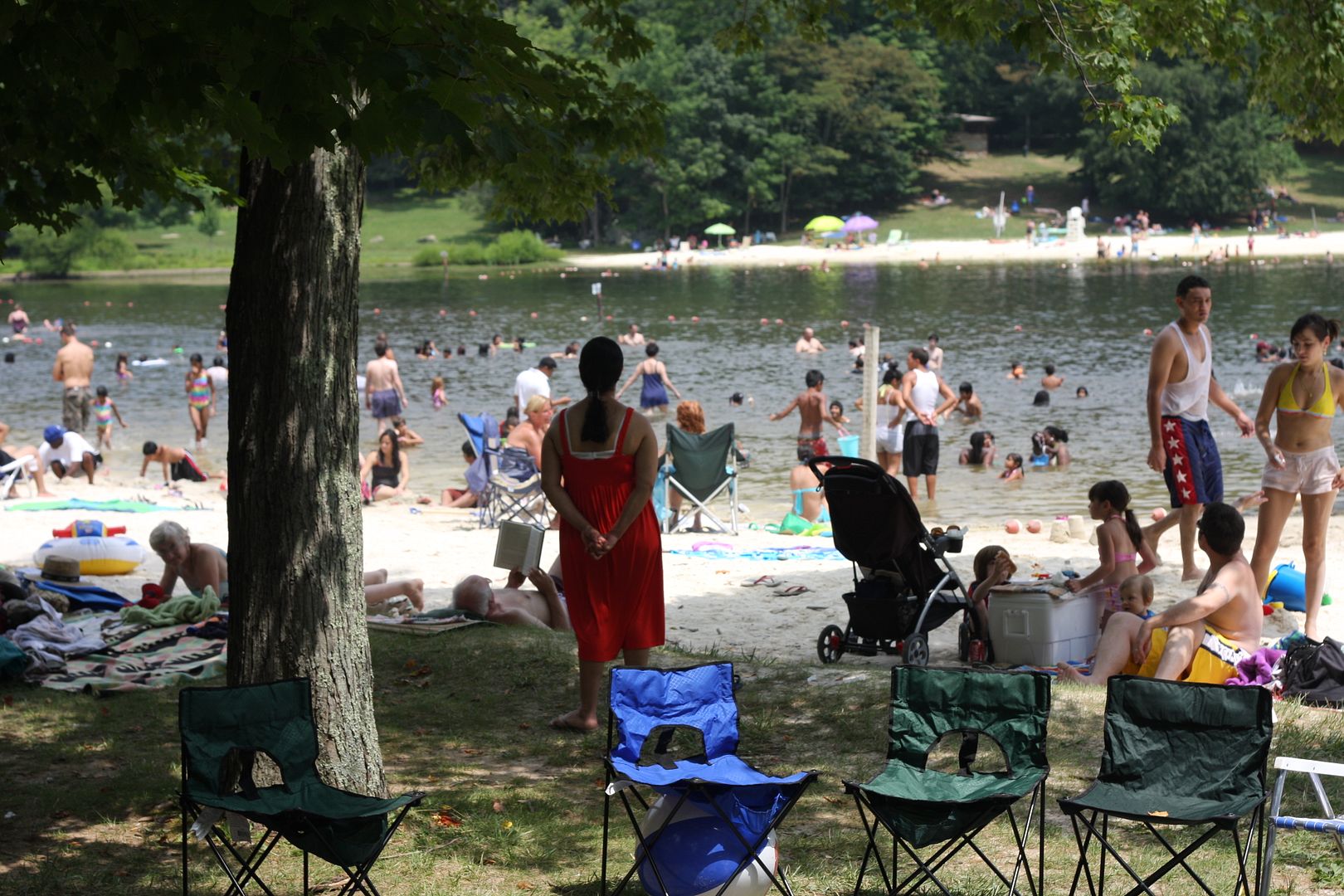 Now on to the recipe,
Fresh and young bitter gourd would make even the ardent haters of this vegetable give it a second chance. DD2 who by DH's orders has no choice but to eat them throws a huge fuss and cry and most instances gets away with it. DD actually likes the vegetable. Even DD2 gave a thumbs up to this curry and said that the bitter gourd tasted really good, not bitter at all.
Bitter gourd when paired with beans also mask the bitter taste, not completely but enough to dull the extreme bitter taste, the slight sweetness of the beans make them a perfect foil. Feel free to use any beans - red kidney beans, cow peas or whole moong beans.
Ingredients
Bitter gourd with Black channa
1. 2 cups of dried Black Channa soaked overnight
2 4-5 Bitter gourd (2 cups sliced)
3. 2 tbsp chopped onions
4. 5-6 whole garlic cloves
5. seasonings: cumin, mustard and curry leaves
6. 1/2 tbsp grated ginger (optional)
7. 1 tbsp jaggery
8. 1/4 cup of tamarind extract from a grape sized piece of tamarind

For the Paste
1. 3/4 cup of chopped onions
2. 1 1/2 tbsp coriander seeds
3. 1 tsp cumin seeds
4. few pepper corns
5. 5-6 red chilies

Saute the above in a tsp of oil, first the onions till they are starting to turn brown, add the rest and saute till they start to turn color. Cool and blend to a smooth paste

Method
1. Cook the black channa for 2 whistles in a pressure cooker or till soft
2. Slit the bitter gourd into two, remove the seeds and slice them into thin pieces
3. In a thick bottomed vessel heat a tsp of oil and add the seasonings and when they start to turn color, add the onions and saute till they are pink
4. Add the garlic cloves and ginger followed by the sliced bitter gourd
5. Saute them in low medium heat till they are soft and cooked
6. Add the ground masala and mix it in well, add a cup of water if required
7. Add in the cooked channa, jaggery, salt and tamarind water
8. Let them cook for 8-10 minutes

Serve with rice or chapatis