Over the long Memorial day weekend, with the enthusiasm that only a long weekend can bring I woke up early only to realize I had run out of salt. Decided to walk to the nearest grocery store instead of driving, DD joined me, she ran and I walked. There are several fruit trees along the way and as is the case here in the US nobody ever touches these fresh fruit edible or not. We tasted these
gorgeous fruits
from each of the 3 trees we saw along the way. Some very sweet and some not so much. Making a mental note to come with a basket to collect them.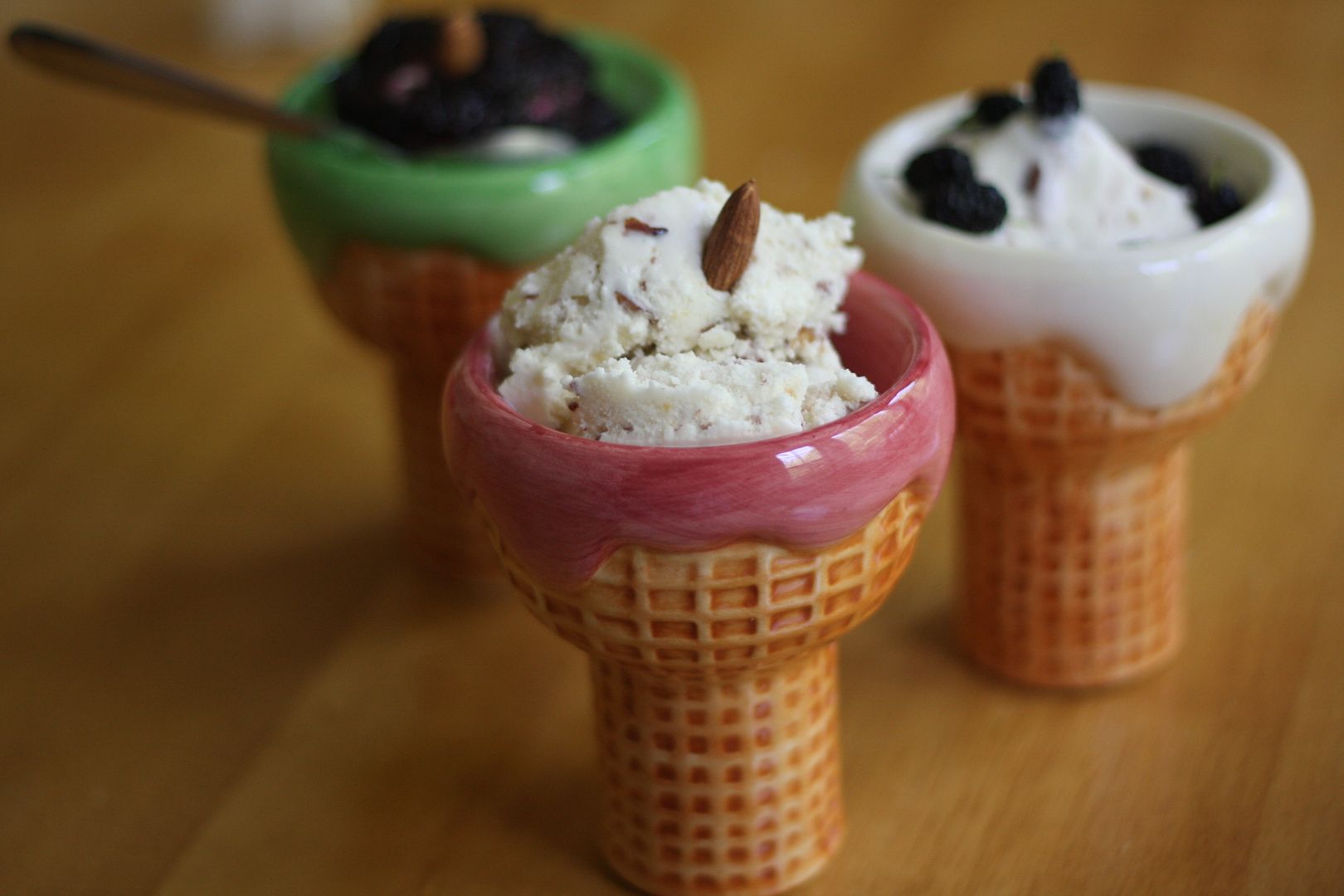 Something else happened the kiddies and DH bought a KitchenAid mixer for Mother's Day. I was not too enthusiastic, I had already revealed my wish for an ice cream maker. Last week DH returned the mixer and bought home an ice cream maker and the bonus, it was just one fifth the cost of the mixer.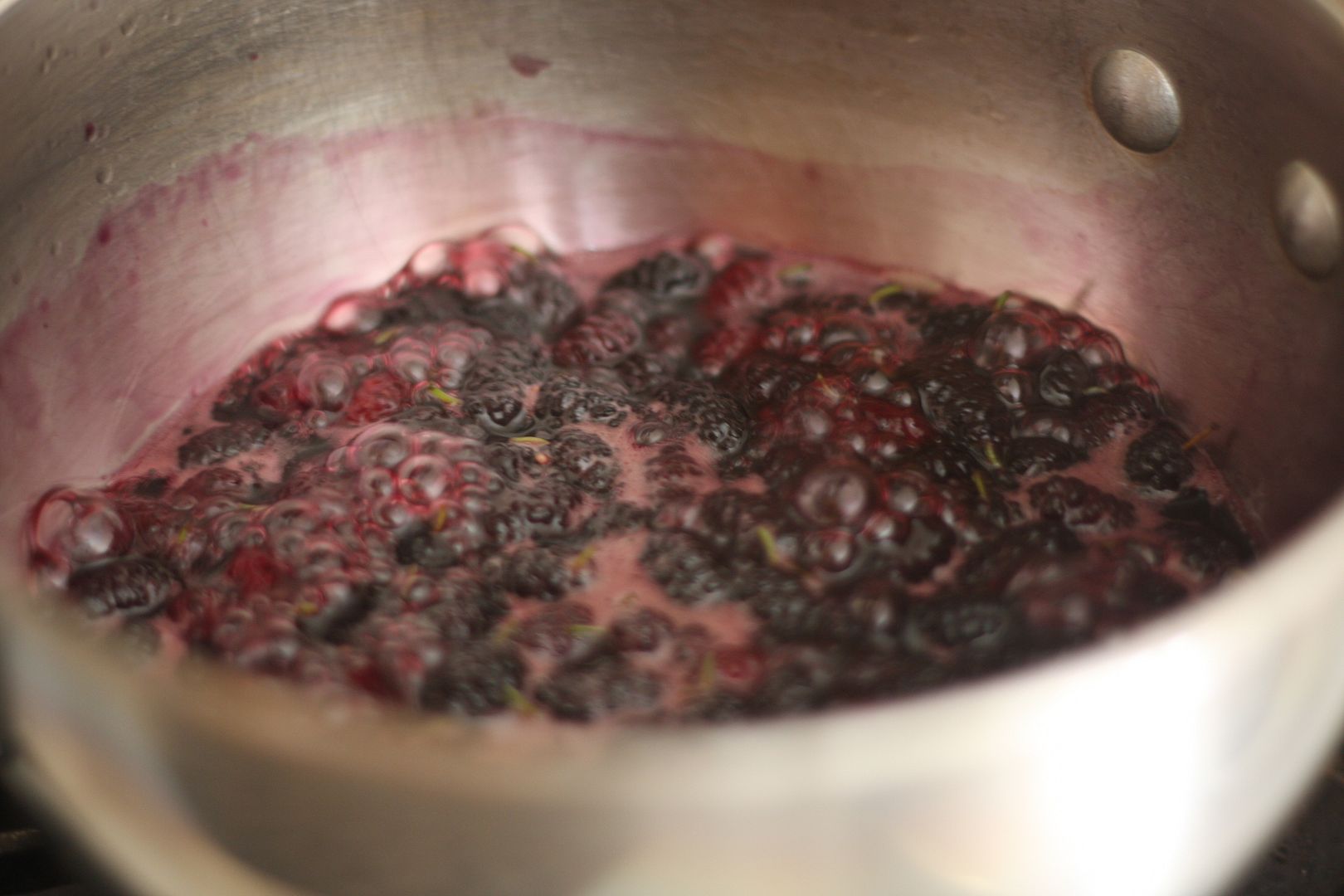 cooking mulberries
This galvanized our interest to collect those berries soon. I was still in doubt about the identity of the fruit and then this
news appears in the Washington Post
leaving no doubt as to what those berries where.
Mulberries they were!
Applause to all of you who got it right. Couple of months back my Afghani English student brought along some dried fruit and said they called them "tooth". And guess what my search revealed they were mulberries.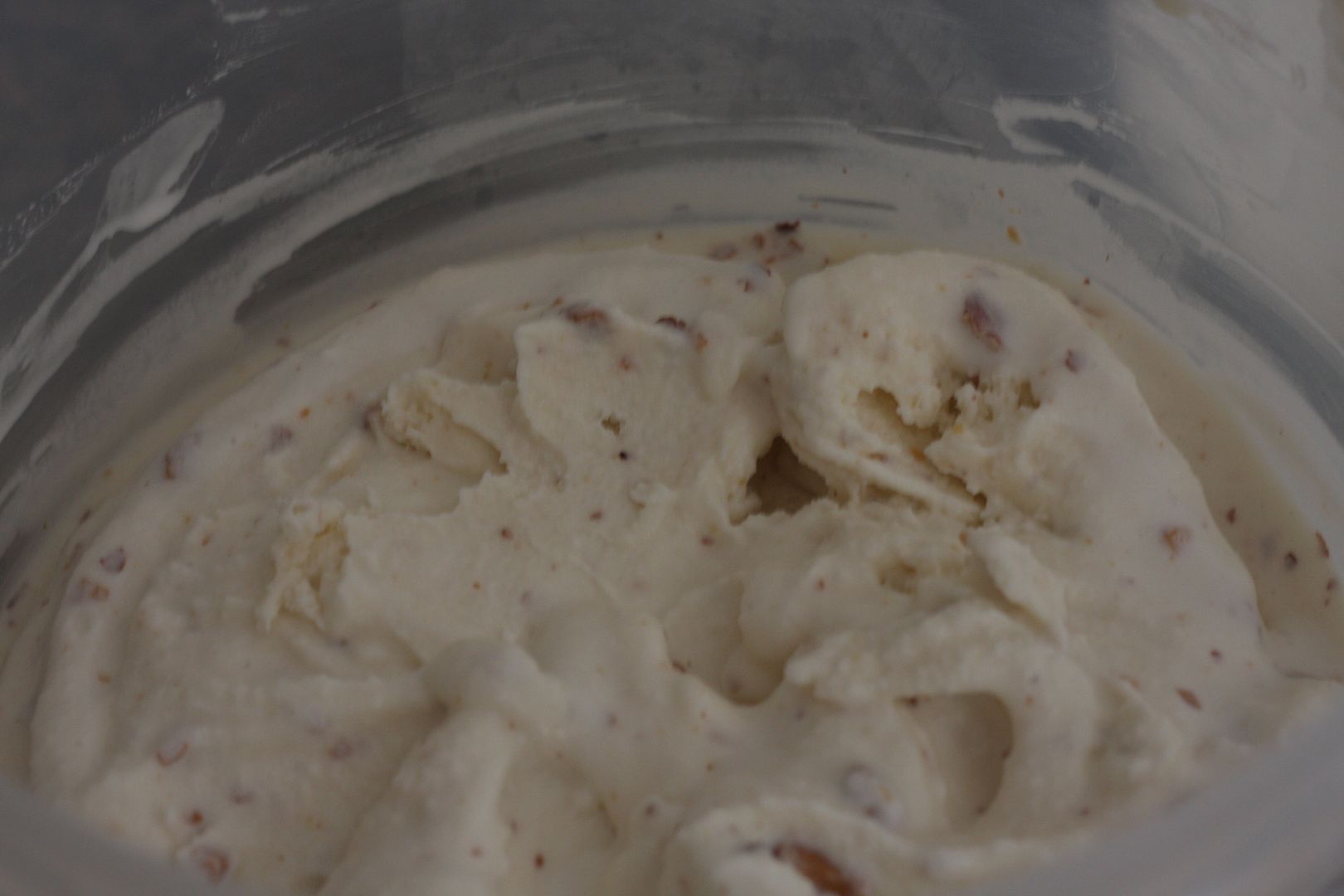 freshly churned ice cream
Off went DD, DD2, MIL and FIL with a basket she fashioned (visible in the previous post) and collected a good 3 cups of fruit. She did not fail to mention that people gave here weird looks. If you read the article linked you will be sad to note the fruit is considered a nuisance. Sad! They are delicious and free to boot.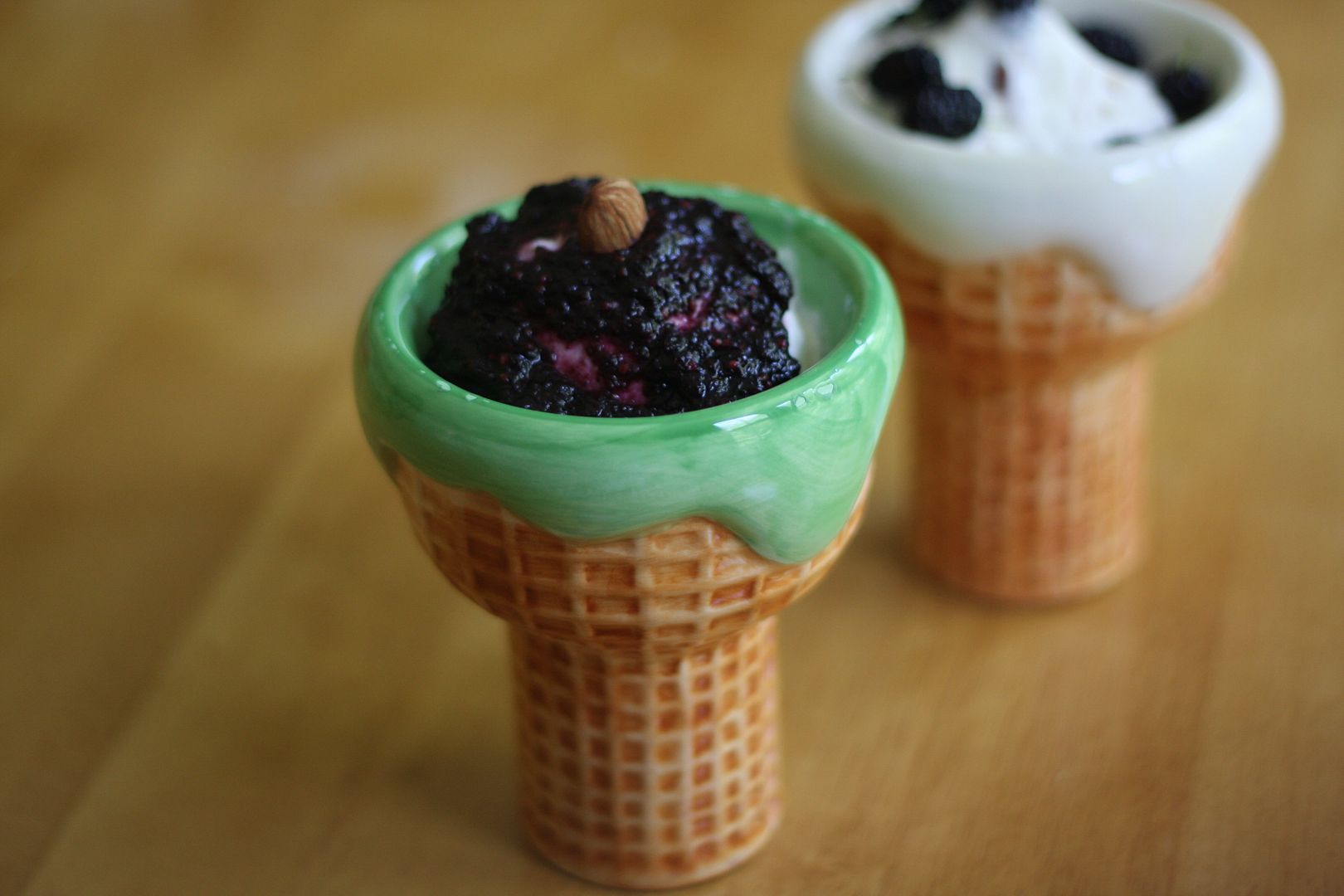 Not knowing how they will taste in a ice cream decided to make a sweet sauce to serve the ice cream. Had to try the ice cream maker first without introducing another unknown into the mix.
Like a lot of you had suggested smoothies are a great idea! Next time.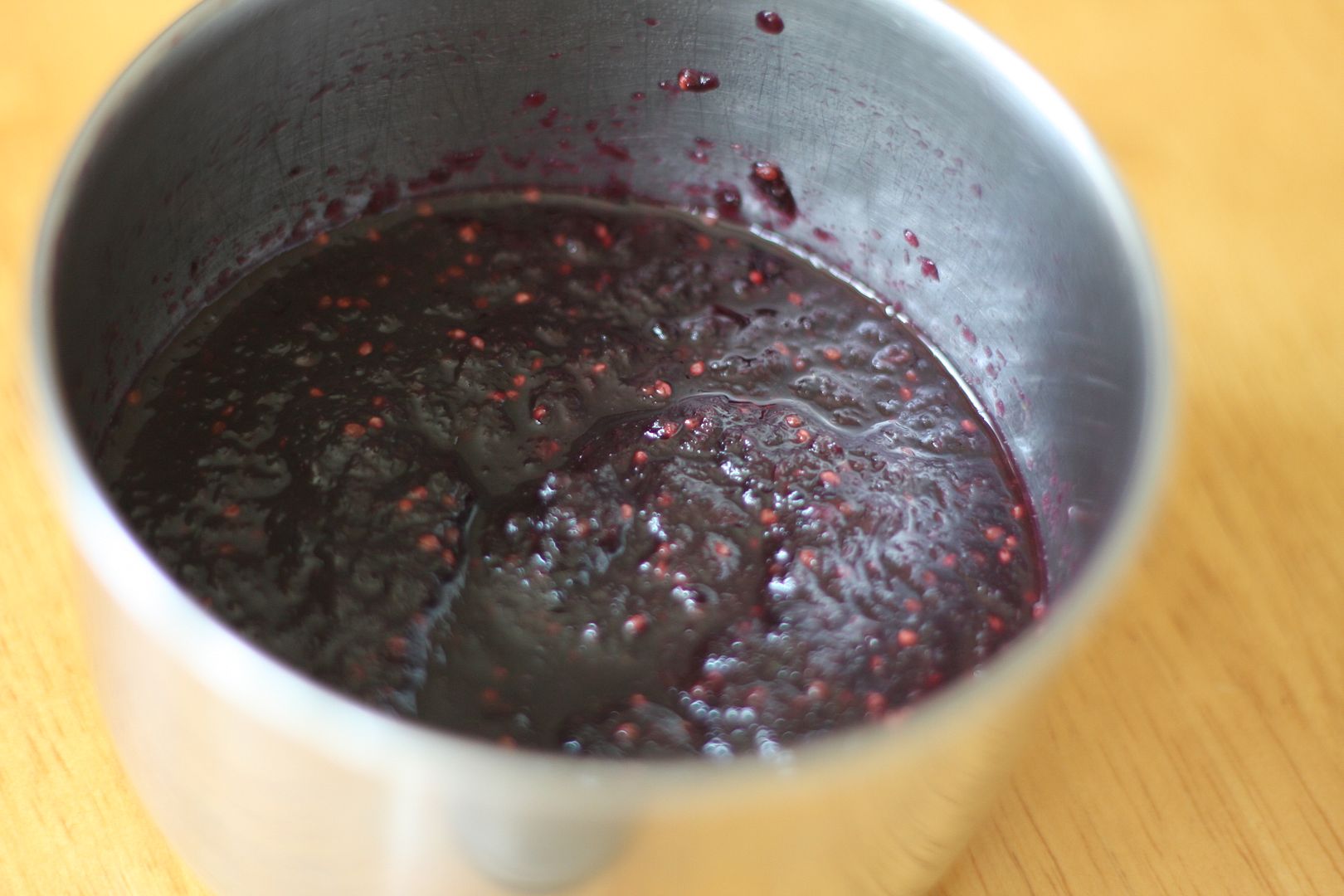 mulberry sauce
If you are on the fence about buying an ice creamer, think no further it is well worth it.
The mulberry trees are on a very busy road, so multiple washings were
required.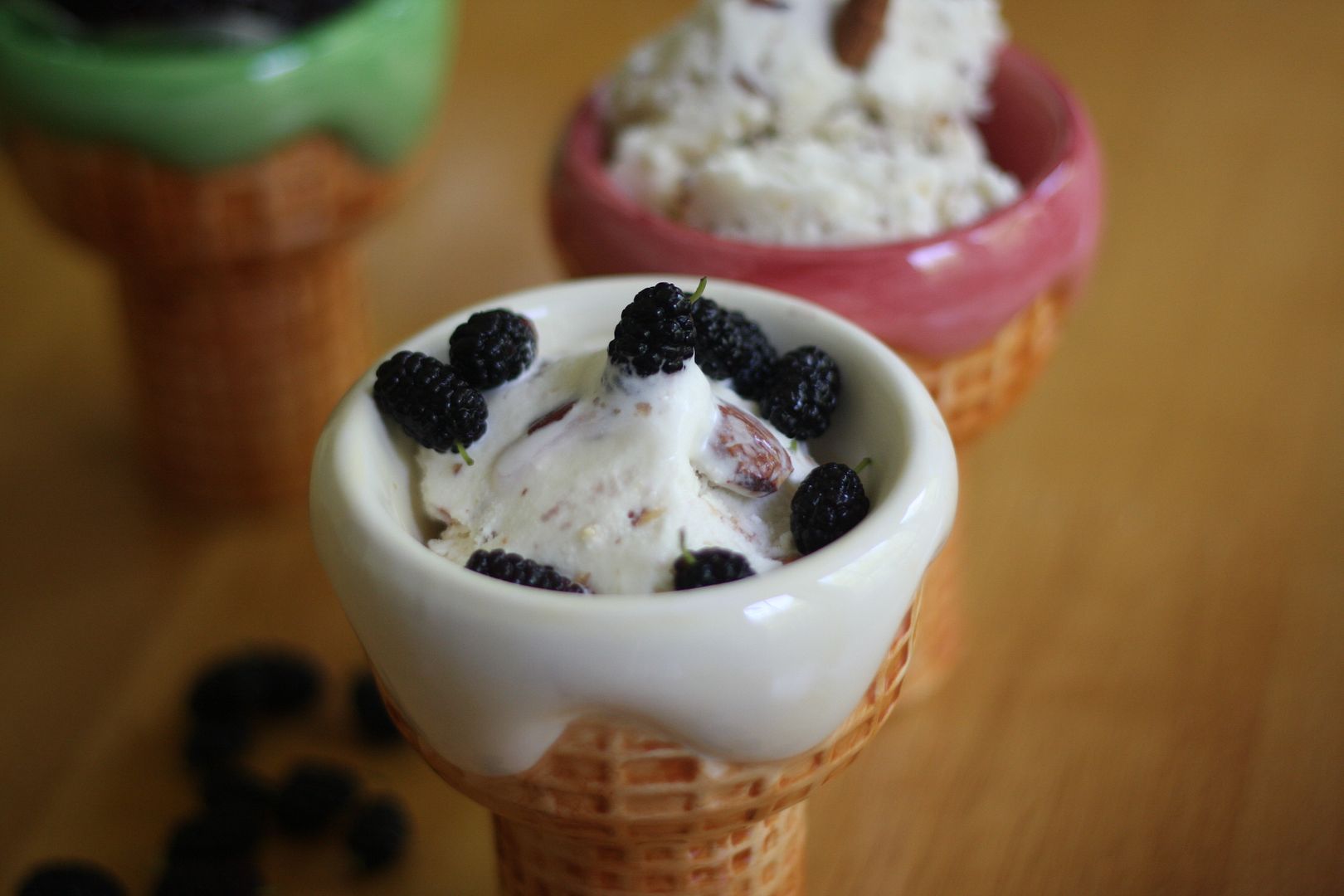 Vanilla and roasted almonds ice cream
1. 1 1/2 cups of 2% milk
2. 2 cups of Heavy Whipping Cream (1 1/2 cups should be sufficient)
3. 3/4 cup of sugar (I used raw sugar)
4. 1/2 cup of roasted unsalted almonds roughly crushed

Method
1. Whip together the milk and sugar and mix in the whipping cream
2. Pour into an ice cream maker, mine required 30 minutes, in the last 5 minutes mix in the chopped almonds.
3. Set in the freezer for 2 hours to mature


If you are not using an ice cream maker you use these instructions by David Lebovitz. I have made ice cream without an ice cream maker and it was not too bad, just remember to break up the crystal every few hours for 3-4 times.


Mulberry sauce
Ingredients
1. 2 Cups of mulberries
2. 2 tbsp of sugar
3. 1/4 cup of water.

Method
1. In a sauce pan mix the sugar and water and let it come to a boil
2. Add in the berries and let it cook till the berries are soft
3. Puree the berries with a hand blender and chill in refrigerator