From when I can remember pickles have always been a big favorite. I look upon favorably on anyone who presents me with pickles. You will be my friend for life no questions asked. Such is the fierce following that pickles generate. My maternal grandparents house was made more attractive with the availability of mangoes of all sizes and shapes and the pickles that were made from them. My fondness for mango pickles ranked higher than eating the juicy ripe ones.
During higher secondary I was in a hostel that housed both working women and students and the best part was there were residents from all over the country. This means there was specialty food items from several different states. I am sure I enjoyed all of them but the one thing I remember vividly to this day is the avakai pickle that a Ayurvedic college student from Andra brought with her. Bright red, very spicy with a slight hint of sweetness, even the memory of the pickle still has the ability to make my mouth water. Most of us just mixed the pickle in rice and ate it, the slight sweetness mitigated the heat of the fiery red chili pepper. I had assumed all avakai pickles had some sugar added to it.
Once I left the place memories of the avakai pickle faded only to be rekindled when I saw some small pickle mangoes in our grocery store. I was determined to give it a go and see if I could recreate the taste memory. Almost all the recipes I saw had no mention of sugar, so the pickle I tasted was probably just how it was made by the friends family.
DD and DD2 also like their pickles, though they do not devour them like I do, DD2 likes me to spread a layer of pickle on her quesadilla before I spread the cheese.
These mangoes were not very sour but they were sufficiently raw to give this pickle a chance. I had some pickle powder masala leftover so I used that. Red chili powder would have made the pickle even more spicy. The general ingredients are what my grandmother uses to make
garlic pickle
.
I used a couple of recipes for reference
1.
Andhra Aavakaaya with Green Mangoes
2.
Avakai Pickle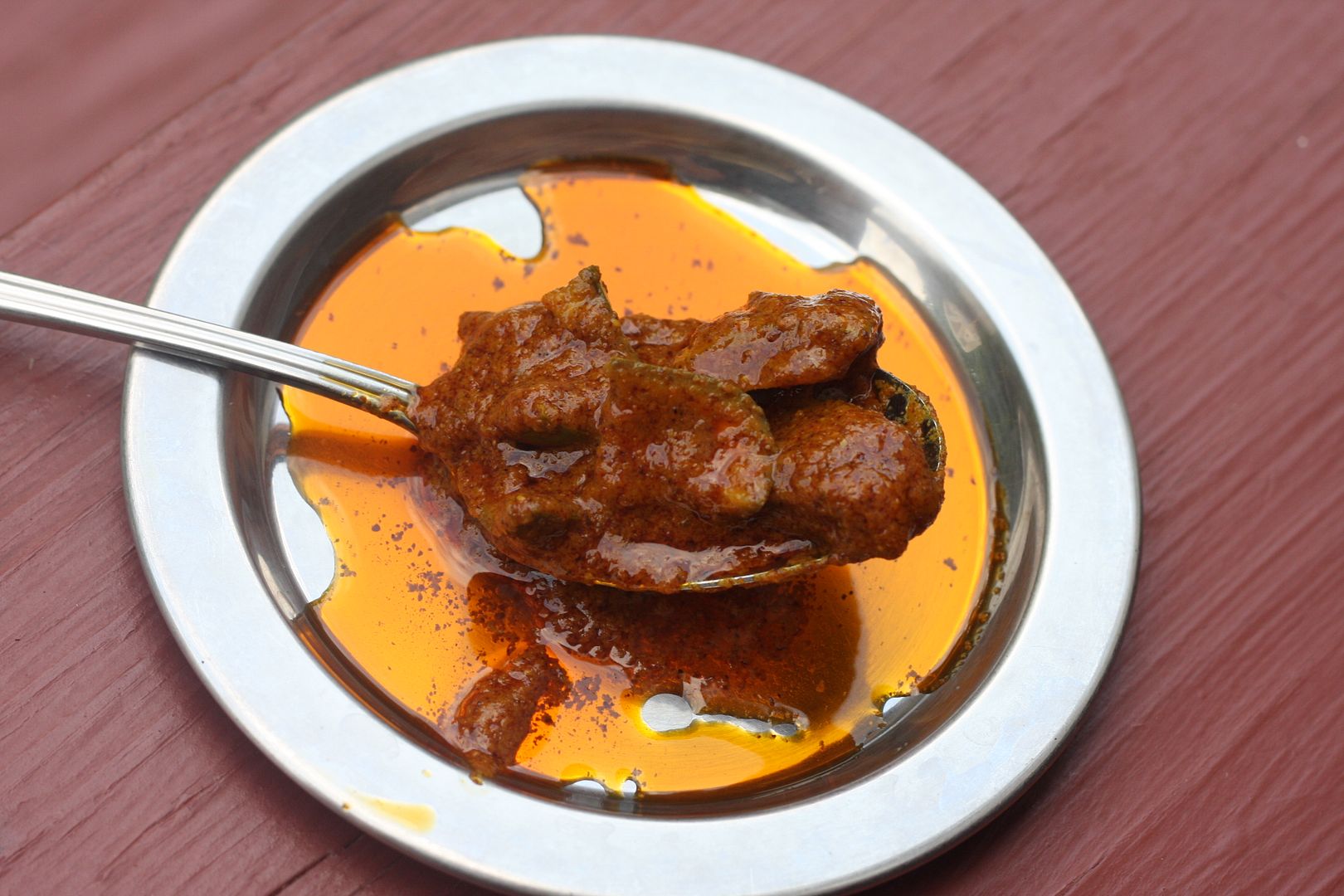 Mango pickle - Avakai
Ingredients
1. 9-10 small green mangoes (cut in half seed removed and chopped into cubes) about 4 cups
2. 3 1/2 tbsp of mustard seeds
3. 4 tsp of methi seeds (fenugreek)
4. 2 tbsp of kosher salt (add more if not enough)
5. 1 1/2 cups of sesame oil (Indian variety not the dark colored one)
6. 8 tbsp of pickle masala or 6 tbsp of red chili powder
7. 3/4 tbsp of raw sugar
8. 1 tsp of powdered asfoetida

Method
1. Spread the cut mangoes on a kitchen towel and let it dry overnight or leave it out in the sun for a day
2.Roast the mustard seeds till they start making popping sounds, roast the methi seeds till they start to change color. Powder both to fine (I used a coffee grinder)
3. In a stainless steel bowl or the glass or ceramic jar that the pickle is going to rest in, add the mango pieces and all the powders, salt and sugar and mix it in well ( If using a bowl transfer to the bottle or jar after the powders have been mixed in)
4.Heat the oil in a pan when hot add the asfoetida in and let it cool. When it comes to room temperature add the oil to the jar
5. Cover with a cheese cloth, secure with a rubber band and let it sit in the sun for 4-5 days or even a week, give it a good mix every day.

Notes: Make sure there is no moisture in any of the utensils that are used for making pickle

The consistency of the pickle was not like that of the pickle tasted so long ago. I could have added a bit more chili powder and mustard, methi powder. But sugar did mellow the pickle and the mango was not all that bad.