Not to milk this laundry horse for all its worth but listen this once and I will stop. I saw
Asha's comment
on the previous post about Bombay Ghat and then later in the day turned to Al Jazeera TV to get my dose of World News and what do you know they are talking about this exact same place. We do not subscribe to cable and what the four broadcast channels call World News is confined to the continental US. Well anyway we get a few international channels which are free including France 24 and Al Jazeera our source for real World News that is.
Like the Bombay dhabba walahs, it is amazing the volume of clothes that this place and of course the dhobis handle and how everybody's stuff gets to the right people after it is washed. Dhobis interviewed there were of the firm belief that machine washed clothes can never compete with the clean of a dhobi wash. I for one am not offering a bet against that statement.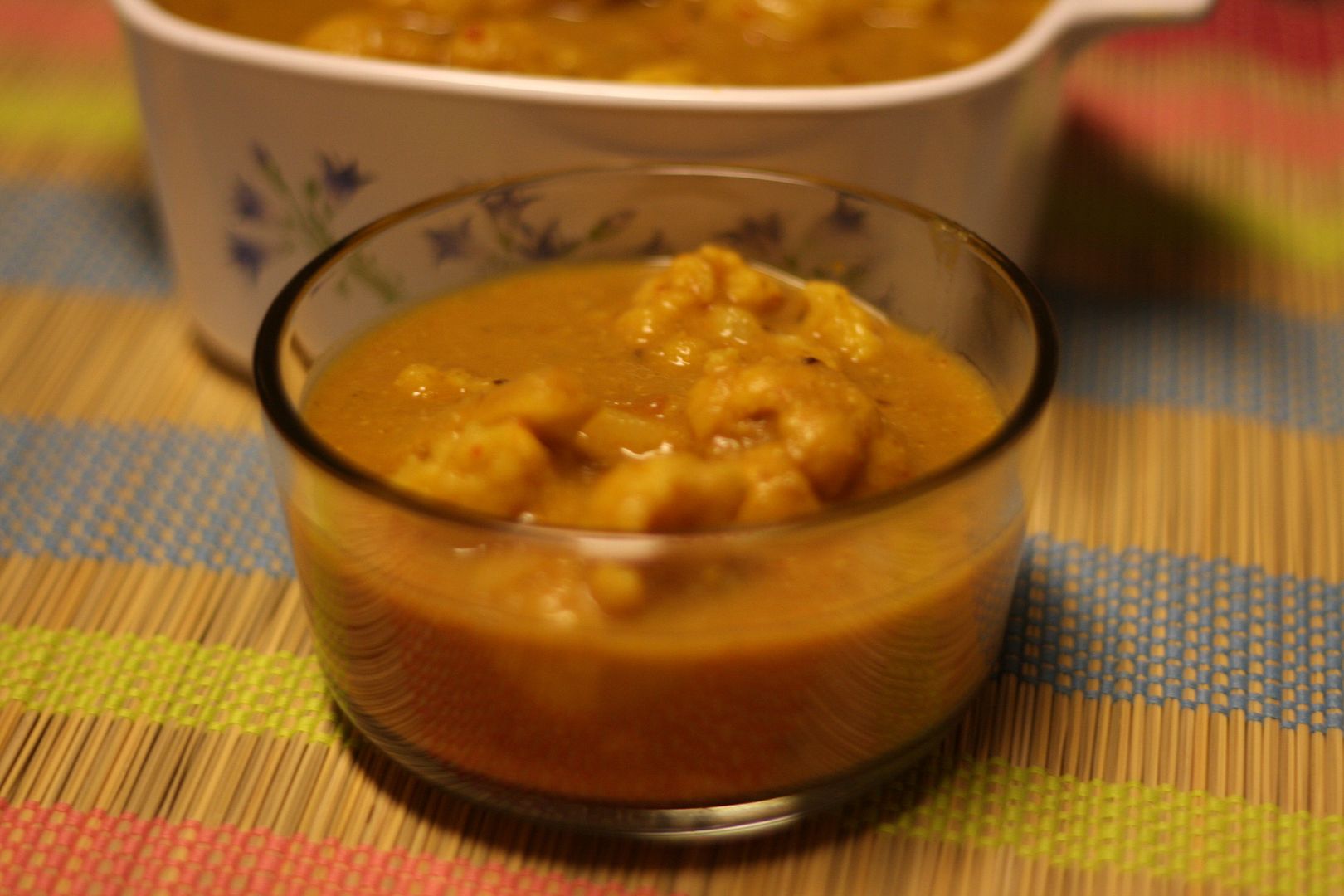 It seems like this news is following me. I could not get a link to this show on the web site. But do a search for Bombay Ghat and there is tons of information, that is if you are interested.
This will end the laundry series.
Moving on to the recipe. My mom makes a cauliflower which is by far our favoirte with dosai. It goes well with chapatis as well. I added coconut, roasted channa dal (pottukadalai) and poppy seeds paste to make the kurma slightly creamy as we were primarily eating this with chapatis. Give this a miss and it is still good. My mother cooks this in the pressure cooker but if I do that with the cauliflower I get here, it will turn into a mush. So make your choice accordingly.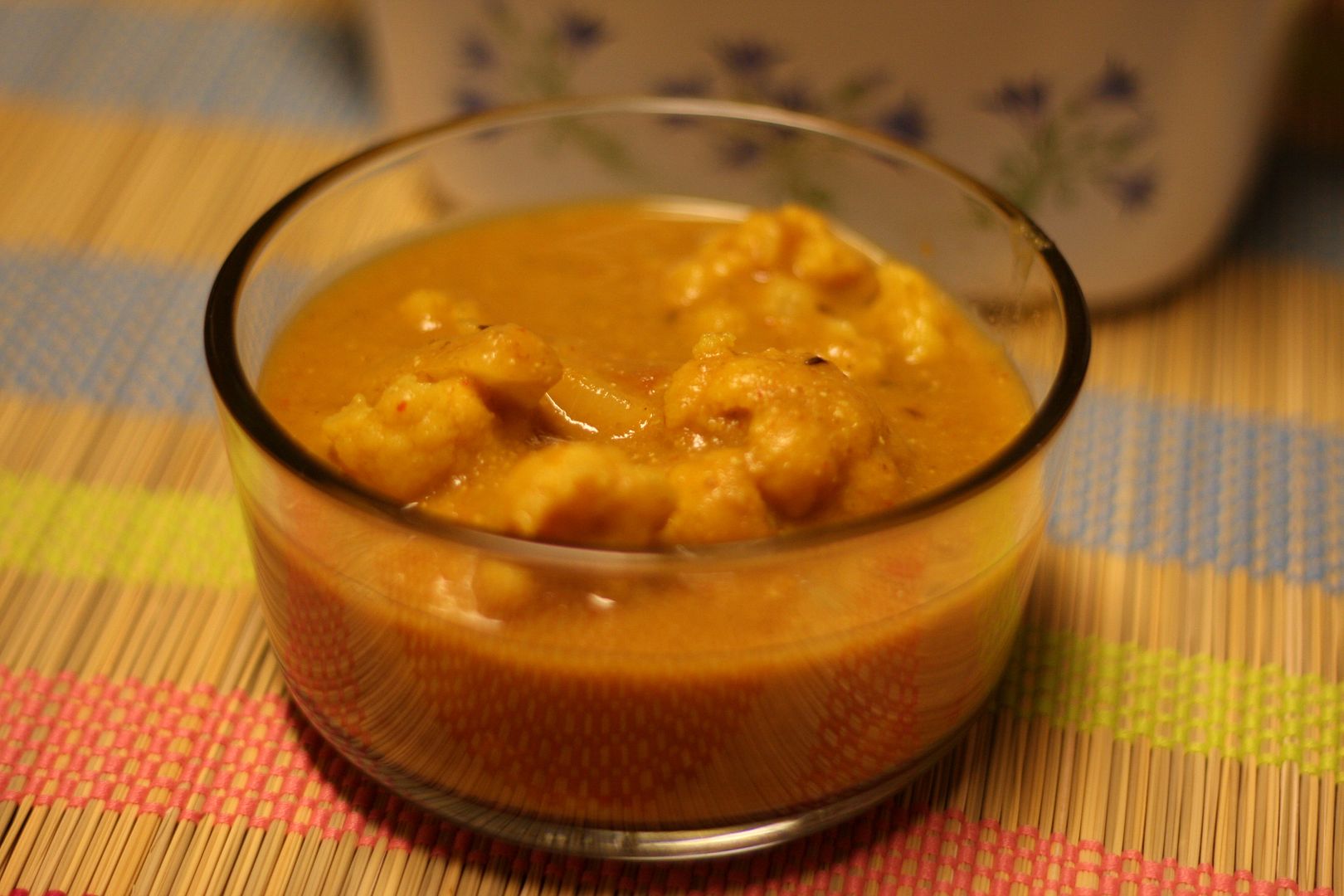 Cauliflower Kurma
Ingredients
1. 1 Medium sized cauliflower separated to florets - 3 cups
2. 1/2 cup chopped onions + 1/2 cup finely cut onions
3. 2 inch piece of ginger
4. 1 tomato chopped fine 1/4 cup
5. a handful of coriander leaves
6. 8 green chilies (adjust to taste)
7. 1 tbsp coriander seeds
8. 1 tsp turmeric powder
9. seasonings: cumin seeds, fennel seeds and curry leaves
10. salt to taste

For Paste (optional)
1. 1 tbsp grated fresh/frozen coconut
2. 1 tbsp roasted channa dal (pottu kadalai)
3. 2 tsp poppy seeds (soak in water for an hour)
blend to a paste and set aside

Method
1. In pan add a few drops of oil, saute the onions when brown add coriander seeds green chilies, ginger and saute for a few more minutes, cool and blend to a paste along with coriander leaves.
2. In a pan heat a tsp of oil add the seasonings, followed by the chopped onions and saute till translucent.
3. Add the tomatoes and saute till they are soft, add the cauliflower, turmeric powder and saute for a minute or two.
4. Now add the onion paste along with 1 1/2 - 2 cups of water, salt and let it cook for 5-6 minutes or till the cauliflower is cooked. (stop here and let it be watery if using for dosai.
5. If adding the coconut paste, add now, mix it and let it come to a boil. Switch off heat.

Serve with chapatis, goes well with dosai or idli.