I had watched bits and pieces of the documentary Food Inc. at a friend's house and also a program on PBS about the documentary and wanting to see it fully in the comforts of my couch. My local library has a copy but I have been on hold for more than 4 months and about 40th in the list. Despair not, the documentary will be on
PBS, April 21.
It seems like not too long ago the talk was about our record snow fall and now it is the record heat. How hot? The idli batter fermented without putting in the oven. That hot.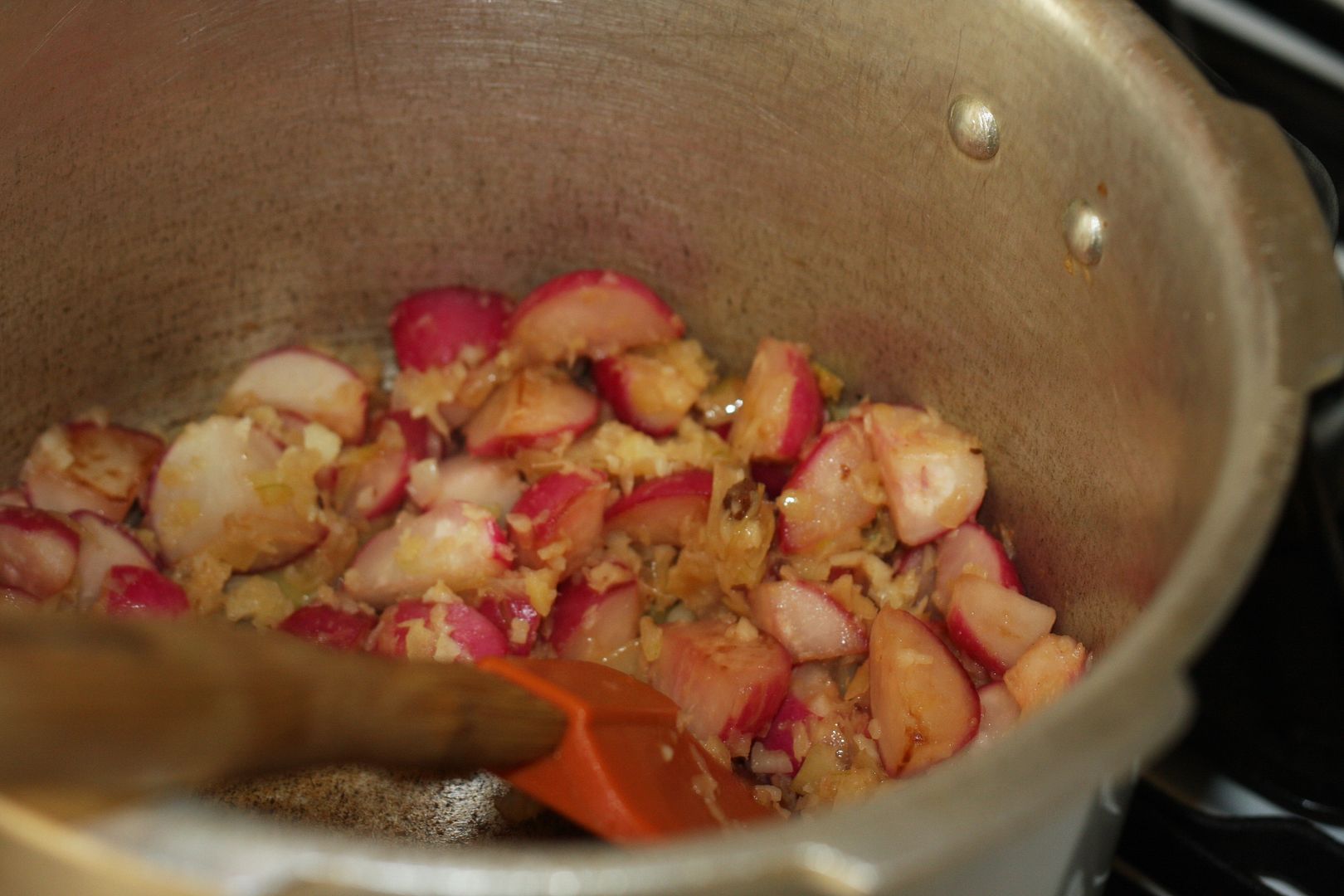 Meera's Blog Bites recipe for
Nimona
was the inspiration for this dish. I had green peas, fresh spinach, radish but no potatoes. Nimona does not have spinach, I decided to use it in place of the minced peas.
No potatoes can you believe that? So a nimona, sort of was made with the ingredients on hand. It is not as attractive as it would have been if you had stuck to the recipe and DD asked me correctly if I had made a healthy curry.



Ingredients


1. 1 1/2 cups of fresh green peas
2. 1 cup of chopped red radishes (10) - (use potatoes instead)
3. 1 bag of spinach - 6 cup loosely packed, chopped (optional)
4. 1 onion chopped
5. 3 tomatoes - 1 1/2 cups chopped
6. 5 garlic cloves
7. 1 1/2 inch knob of ginger
8. 3/4 tbsp red chili powder
9. 3 tsp cumin powder
10. 2 tsp turmeric powder
9. seasonings - cloves, cinnamon and asfoetida
10. salt to taste
11. 1 tsp oil
12. 2 tsp ghee



Method


1. In a pressure pan heat the oil and saute the onion, ginger and garlic till brown. Set aside.
2. In the same pan saute the tomatoes for a minute or two.
3. In a food processor blitz the onions,ginger and garlic till coarsely chopped. Remove.
4. Puree the tomatoes, set aside
5. Now add the ghee to the pan and add the seasonings.
6. Add the radish and saute till they start to brown.
7. Add the onion mixture and saute for a few minutes
8. Add all the powders and give a good mix
9. Add the chopped spinach and let it cook on high heat till they wilt.
10. Add the tomatoes and if required 1 cup of water and salt.
11. Let it boil together for 8-10 minutes.