Silence speaks volumes! This phrase simply explains my inability to coherently explain even to myself what this new health care bill is all about. I have tried keeping abreast of what is afoot by reading newspaper/magazine/blog articles on everything pertaining to it but have become none the wiser.
Picnic lunch
That does not directly translate to total failure considering my knowledge of Congressional inner workings as far as vocabulary has been greatly enriched - parliamentary maneuvers, deem and pass, appropriation, bait and switch (maybe not?) have all become everyday words. Nancy Pelosi apparently has done something no other speaker has done getting the health care bill passed not once but three times. The other side has been screaming about death panels, tea partying, ballooning deficits and socialism but no one truly has taken the time to explain clearly what is in the bill that is so bad or good for us the people.
One good thing about this bill that I do understand is that insurance companies cannot deny coverage for a preexisting condition but wait a minute that does not kick in till 2014?
Tort reform, single payer system all essential for keeping costs low have not been touched. Both sides are being disingenuous.
The vitriol from the tea partyers or tea baggers or whatever they call themselves is the hardest to understand. question. Perhaps they don't get sick or have pre-existing conditions!
So i won't yak any more about a subject that I have but the bare minimum knowledge. When has that kept me back you ask?
Fish cutlets - I was introduced to them by a friend 10 odd years ago at my then workplace. Until then I had tasted cutlets yes the vegetarian kind but not a non-veg kind. She brought a few over for me to take home with me. Having cooked one too many fillets of fish she had used the excess to make cutlets. She added potatoes and some spices and voila they became cutlets. They have been on the to cook list ever since. As for the friend, I am sad I lost touch with her but I do think of her whenever I see a fish cutlet. Shouldn't be hard to get back in touch, maybe I will soon. A restaurant served some tasty fish cutlets so every Sunday when we felt like some fried food we were there to taste some of those cutlets but it was time to give them a try at home.
These
Srilankan fish cutlets
on Maninas was the final push I needed.
add the onions,ginger and chilies to the potatoes
add the crumbled fish, salt and the powders
add the bread crumbs, squeeze in the lemon juice and mix everything together
shape the cutlets and coat them with the egg
dredge them in bread crumbs and deep fry in oil till golden brown
For these fish cutlets I used canned Wild Alaskan Salmon (Costco brand). Fresh salmon can be poached and used. Break the fish loose with your fingers. I have taken to adding ginger to almost anything cooked with potatoes or beans. Helps the gastro system.
The fish cutlets were cooked up for a backyard picnic on one of those amazingly warm and pretty spring days.
Fish and mustard paste
are made for each other(yes Bengalis have known about this fact for a very long time) a slathering of dijon mustard on the bread slices goes a long way to enhance the taste.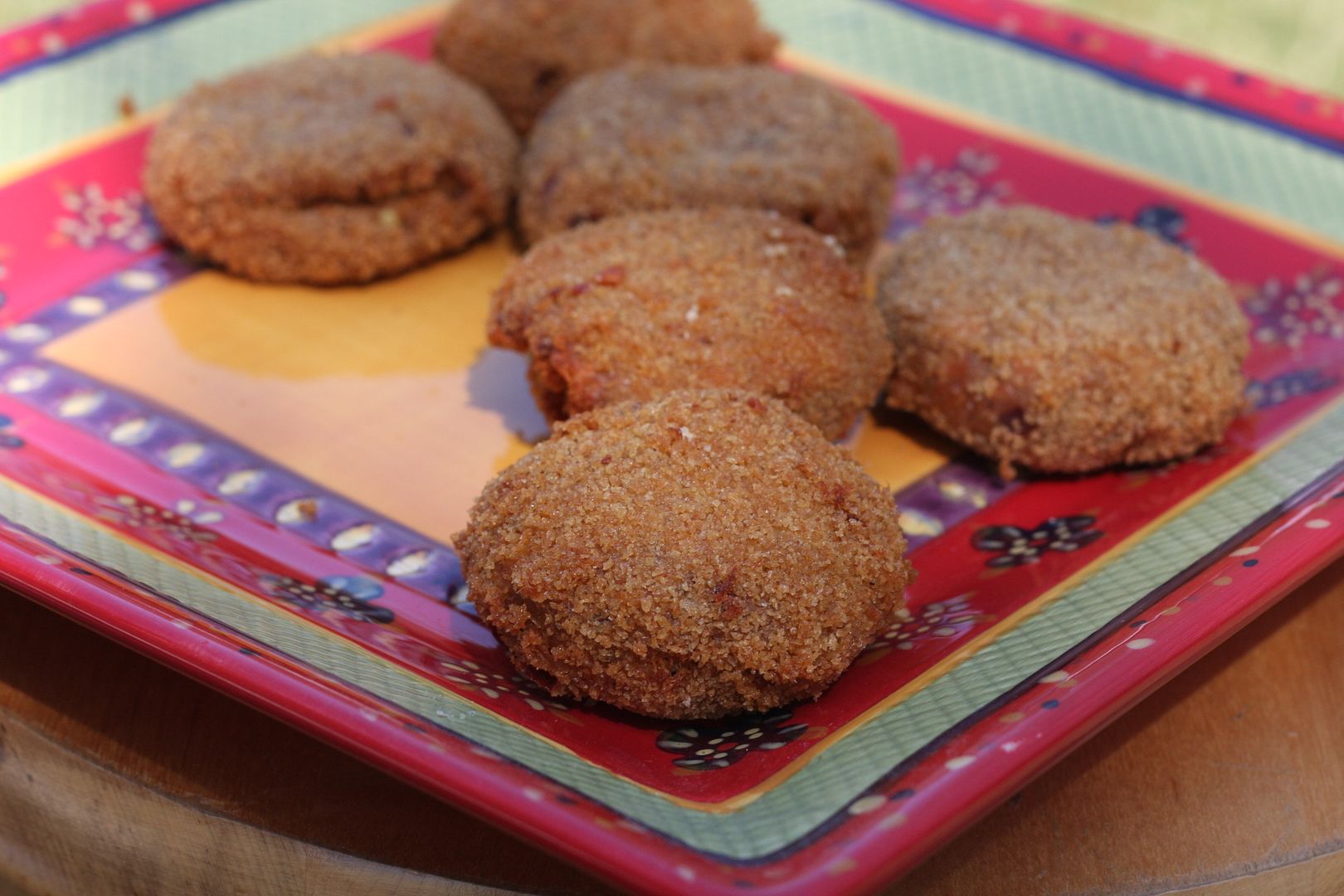 Recipe Source:
Srilankan fish cutlets



Fish Cutlets




Ingredients


1.Salmon fish flakes - 3 Cups worth - 18oz
2.4 Medium sized potatoes - 1 Cup
3.5 green or red chilies deseed and chopped fine
4.1/2 cup finely chopped onions
5.2 tsp cumin powder
6.1/2 tbsp curry leaves powder (fresh curry leaves chopped fine)
7.1 tbsp chili powder
8.3 tbsp bread crumbs and more (1 cup) for coating
9.1 tbsp ginger grated
10. 1 tbsp lemon juice
11. salt to taste
12. oil for deep frying
13. 2 eggs whisked



Method


1. Boil the potatoes, drain, peel and mash (make sure to boil the potatoes whole so they do not retain too much water)
2. Add the salmon, followed by the onions,ginger and chilies
3. Add the powders chili, cumin,curry leaves powders and salt, squeeze in the lemon juice
4. Add the bread crumbs in and mix them all together
5. Beat the eggs and set aside, heat the oil in a frying pan.
6. Take a lemon size ball of the fish mixture and shape them in the palm of your hand to about 1/2 inch thick circles
7.Dip the cutlets in the egg and coat them with the bread crumbs.
8.When the oil is hot enough, fry them in the oil till the outside is golden brown. Drain on paper towels.

Note: Be careful with the quantity of salt if using canned fish.

It occurred to me that this could be a perfect entry for
Blog Bites #2 : The Copy Cat Edition
hosted at One Hot Stove.