Every country we know of has an oil problem either too much of it or too little of it. Wars have been fought over it, uneasy partnerships have been forged, governments have been brought down but with nary an easy solution is in sight. Every conceivable form of sustenance as we know it would grind to a halt without this unending supply of oil.
Let's replace countries with kitchens and oil with cooking oil and the problems would still be the same. Too many options but none the perfect choice. Mountains have to be moved, perceptions had to swallowed to get on with life.
I am beginning to think that living life like an ostrich maybe a good thing else a conundrum of some kind is sure to visit you, it seems pretty frequently these days especially if it relates to food. The more you know learn about food and how it is sourced the more you want to avoid very many of them, some ubiquitous that it proves to be all the more difficult.
I started reading about GMO and I knew almost immediately I had to make some pretty big changes. The three most common GMO crops are soybean, corn and canola. Soybean and corn seem almost impossible to avoid if you buy processed foods of any kind. Even seemingly health foods(?!) like breakfast cereals have them in large doses. If you follow 'Pollan's grandma shopping rule' you just might be able to avoid them. The one other GMO matter that my kitchen had in abundant quantities in unadulterated pure form was the Canola oil. I am still struggling to get rid of it completely because the alternatives don't seem like perfect solutions.
When I first came here I hadn't cooked a proper meal by myself once. I had some general ideas having watched food being cooked and some tried and trusted cook books. I also knew one of the first things I needed to have was cooking oil. With an array of shiny bottles available to be picked up ranging from corn,vegetable, canola to olive oil I picked one not for its calorific or fat content but by which one had the most pleasing yellowish sheen. The choice mostly worked well, if you want to know it was vegetable oil that I first picked I think.
Then came the canola craze in the 90s which the purported claim that it was the best oil in the market, I switched to it and have never looked back until now having been hit with an insurmountable road block..
I had this unnecessary perception that cooking Indian food with olive oil was somehow violating the sacrosanct tenents of the ancient cooking methods. When a few of my friends tried to impress upon me the benefits of olive oil I simply failed to listen to them. I wish I hadn't been an ass and listened to them. PJ, reminded me of why I was reluctant, like she mentioned problems with heating the oil to a high temperature.
Wiki Smoke Point
. I have used olive oils to cook pasta sauces, stir fries etc and they taste just fine. So here I am in this late date trying to decide which oils to cook with.
By the way if you haven't head over to this
excellent comprehensive post on Jugalbandi about oils
and you would save yourselves a ton of time.
I have eliminated corn oil and vegetable oil, the other readily available supermarket alternatives and you know why. I am left with using sesame oil (nallennai), olive oil or peanut oil. I am leaning more towards olive oil more for convenience than anything else. The organic and all other forms are readily available in almost all grocery stores. I will be using peanut oil for deep frying because that is what my grandmother uses. Don't ask me why I forgot this in the first place. Sra's comment is a good reminder to use a variety of oils than stick to any particular one. No more bulk oil buying for me which means Costco is out.
I was smart to keep away from the "you won't know it is not butter" stuff because love of ghee is in my gene. We had containers of freshly made ghee sent by my grandmother and the taste is something that you never forget. But it is not feasible to cook everything in ghee, so ghee will continue to be used in the same quantities it has always been that is in dishes that it is meant to be.
Sadly I never developed a taste for coconut oil and it is hard to miss the smell of foods cooked in coconut oil so for now I won't be cooking with coconut oil.
From what I read sunflower oil is good to use as well. Atleast it is made from sunflower seeds which cannot be said of canola (canada oil?).
I do not use more than a couple of tsps of oil in cooking anyway. Just enough to season with mustard and cumin, so any oil used should not be a big deal right?
It is very easy to be carried by the recent fads and health claims. The health claims proportionally increases with the acreage of the same under cultivation. soy bean for example. Moreover the old world foods and for that matter oil and fats that do not have the muscle of the food industry behind it gets the short shrift.
Now that I have a plan for dealing with my cooking oil conundrum we shall move on to tasty matters like this brinjal pulikulambu for instance. This particular pulikulambu is made specially as a side for ven pongal. There are many a time I have tolerated ven pongal just for this reason. One important ingredient is to have small onions or shallots while making this. I wouldn't use big onions for this but if that is all you have no worries. A good amount of ginger is what makes this pulikulambu special so don't leave it out. Mine turned out a bit on the thicker side but it is best when the kulambu is runny so adjust water accordingly.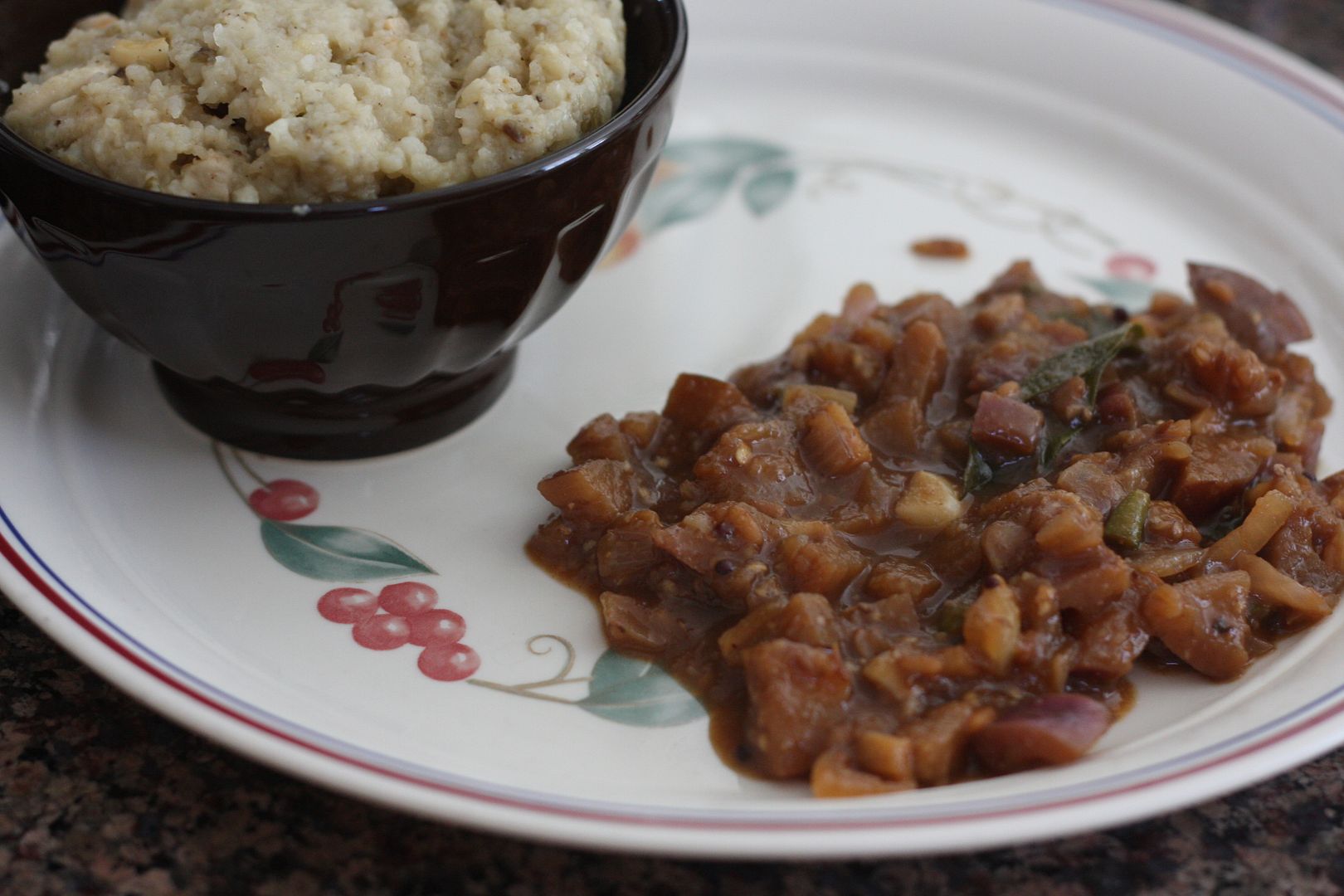 Brinjal pulikulambu




Ingredients


1. 6-8 brinjals chopped into small pieces and drop them in water
2. 4 medium sized shallots or a handful of small onions chopped
3. 2 inch size knob of ginger minced or grated
4. 3 garlic cloves chopped
5. 5 -6 green chilies chopped
[all of the above should be chopped to more or less the same size with the exception of ginger which can be grated if you don't like biting into them]
6. tamarind pulp for a small lemon sized ball [about 2 cups liquid]
7. 2 tsp sambhar powder or chili powder
8. 1/2 - 1 tbsp jaggery or unprocessed cane sugar (karumbu sarkarai]
9. salt to taste
10. seasonings - mustard seeds, curry leaves
11. 1 tsp oil



To powder


1. 1 tsp rice
2. few methi seeds
3. tiny piece of asfoetida
roast the above and make a powder



Method


1. In a pan heat oil and add the mustard seeds and when they pop add the curry leaves followed by the onions, saute till they start to turn color.
2. Add the garlic, green chilies and ginger and saute for a minute or two
3. Add the chopped brinjals and saute for a few more minutes. Add the sambhar powder and give a good mix.
4. Pour in the tamarind pulp [extracted to 2 cups] and 1 cup of water, salt and let it cook for 10-12 minutes till the brinjals are soft.
5. Add the roasted powder and the jaggery, let boil for a minute more.

This is best paired with
Ven Pongal
.
Updated: Sra's and PJ's comments