Having these winter snow storms once in a while is not always a bad thing. Like cooped up chicken, the minute the snow lets up folks are out and about cleaning and shoveling. This provides an occasion for some neighborly chat and it is kind of nice to see the whole street outside and people helping each other out. I bet folks up north who see the white stuff almost every day would not have the same view but for us who do not get snow that often it still is an occasion to celebrate and close schools over.
Remember the episode with my neighbor that I talked about in
this post
? The lady of the house who is still my neighbor studiously avoids having even eye contact with me, leave alone conversation. I don't blame her, rightly or wrongly she believes I was not on her side.
On this occasion she was also outside shoveling snow with her son. As I was enjoying(you heard me right) the physical exertion of shoveling snow I saw my neighbor walk towards me. DH has just walked over to my other neighbor's house to help with their snow blower. I was not in a mood for confrontation especially with the whole street watching. I must have had the most sheepish look on my face and had this thought running in my hand "what have I done now?". I scratched my head to remember what nasty deeds I might have done and wishing fervently that DH was next to me. Any way she walked over and thanked me for dropping her son off at home on a particularly bad thunderstorm day. I heaved a sigh of relief. Actually I have picked him up a few times all the while hoping this won't cause a war of words and I am more than glad to know that she appreciates it.
Come to think of it, that was pretty big of her. Anyway the episode is exactly why I like to have good relationships with neighbors, never know when we might need their help. I bet most of you would agree.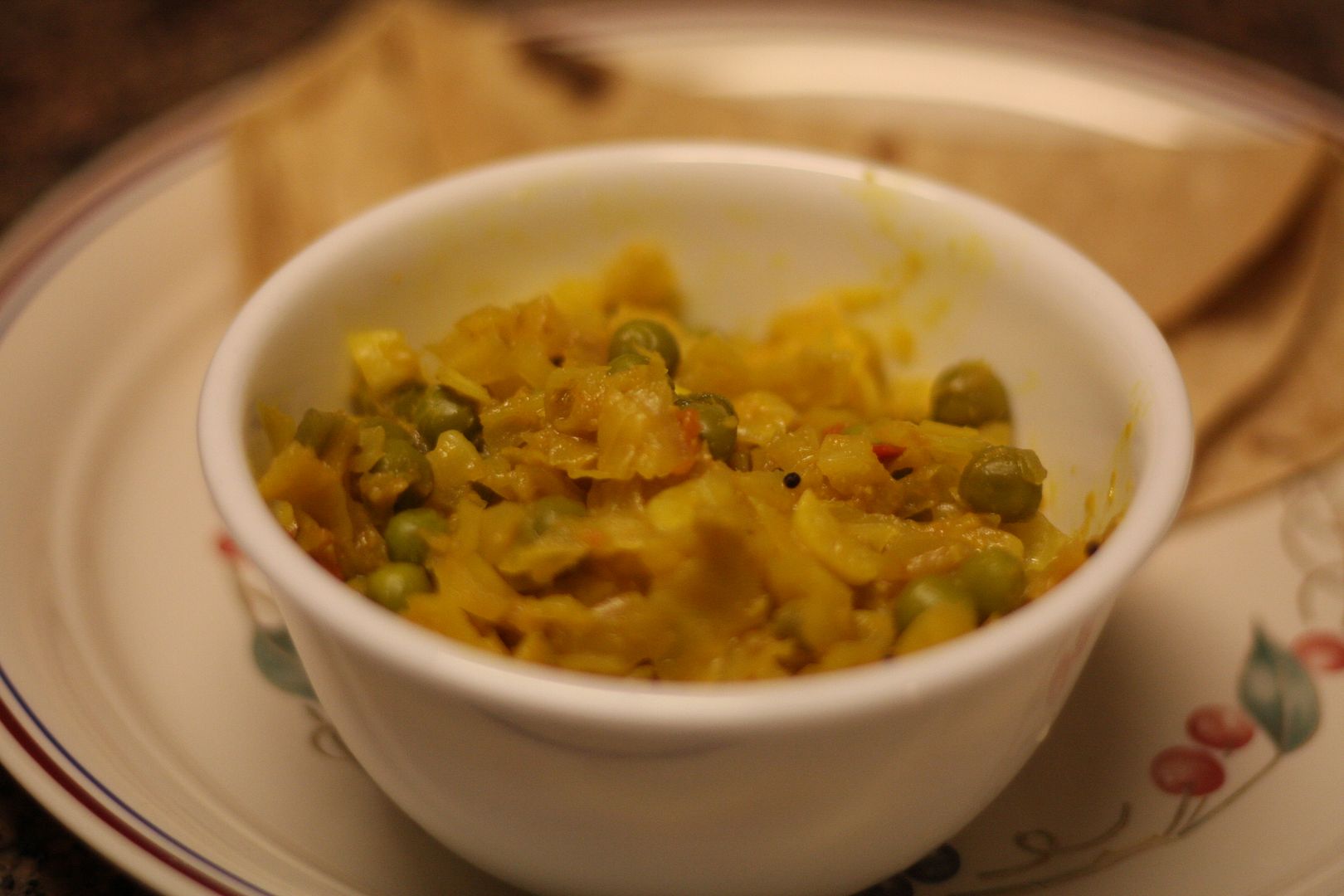 Cabbage is one vegetable that is easy to hate. The smell, the very few recipes that actually turn out good and so on. I had a head of cabbage that was begging to be used on one hand and Malika Badrinath's book on the other. These recipe books were a life saver and still are when I am hard pressed for something quick and easy to make. In my early cooking days I would not have been able to dish anything if my mom had not packed these books along.
It is very important when cooking with cabbages to not prejudge the dish even before it is completed and tasted. Even with my best efforts I did prejudge the dish before tasting and once I did it was a revelation and great side for chapatis.



Cabbage with Green Peas




Ingredients


1. 3 Cups shredded cabbage
2. 1 - 1 1/2 cups of green peas (fresh or frozen)
3. 1 cup chopped onions
4. 1 cup chopped tomatoes
5. 2 tsp turmeric powder
6. 5 garlic cloves
7. salt to taste
8. seasonings: cumin and curry leaves



for the paste


1. 2 tbsp coconut
2. a pinch of fennel seeds
3. 5-8 green chilies (the recipe called for red chilies)

blend the above into a paste



Method


1. In a pan heat a tsp of oil and when hot add the seasonings.
2. Add the onions and saute till translucent, add the garlic and saute for a minute followed by the tomatoes and saute till they are mushy.
3. Add the cabbage and peas and let them cook till cabbages are mostly cooked
4. Add the ground paste and salt with a cup of water and let them cook till desired consistency. I let the water completely evaporate.

Note: Do not close the lid while the cabbage is cooking. It take the cabbage a bit longer to cook and the unwanted cabbage odor can be avoided.