If a business gives a person in power money to get something done it is called a bribe. If the Nobel committee offers the peace prize with an expectation of a certain type of behavior is it still called a prize? BHO after accepting his
bribe
prize delivers an impassioned speech about being a war president. Didn't we vote for him to be the peace president? Don't miss the article on
Jugalbandi
and the article linked there -
this piece in Rolling stones
. As people who voted for him it is also our responsibility to keep tabs on what our President is really up to apart from the sound bites.
The weather has turned noticeably colder and we have had the season's first snow already. The mouth craves for foods that are spicy and hot. The kids relish the snow and watch the melting of snow with great sadness, as for me the faster the snow melts the better. But one thing that offers solace is the availability of beets. I know beets are found all year round but the best ones I think are found in winter. Beets is one vegetable that I remember eating with great pleasure. This
beet raita
was made often. We had a cook who used to make a dry beet root curry which was also a big favorite. I have to recreate the recipe from memory. The recipe presented here was given by a dear friend, amazing in its simplicity but really tasty.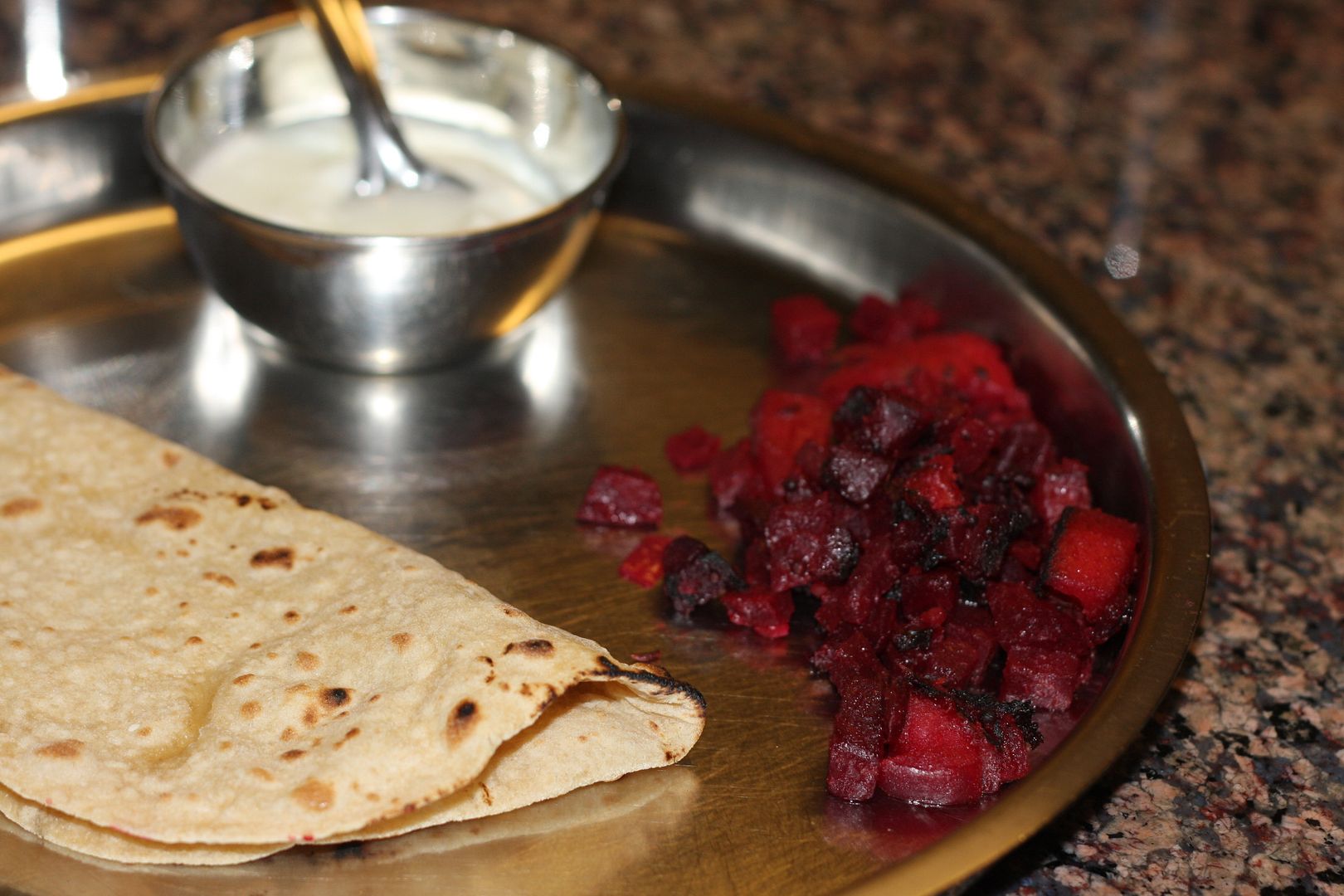 Beets and Potatoes stir fry




Ingredients


1. 3 Medium sized beet roots chopped into cubes, 2 cups
2. 1/2 - 1 onion chopped
3. 2 Potatoes peeled and cubed into slightly bigger size than the beets
4. 4-5 green chilies slit (optional)
5. 3/4 tbsp sambhar powder or chili powder and coriander powder
6. seasonings: mustard seeds, urad dal - 1 tsp, cumin seeds and curry leaves



Method


1. In a pan heat a tsp of oil and add the seasonings followed by the onions and green chilies and saute till the onions turn translucent.
2. Add the beets and potatoes and saute for a few minutes, add salt, sprinkle 3-4 tbsp of water, close the lid and let it cook for about 8-10 minutes.
3. Open the lid, add the sambhar powder and saute for 3-4 minutes.

Serve as a side with rice and sambhar or with chapatis.