It is so easy to fall of the wagon where exercising is concerned or for that matter anything that is done out of no compulsion I guess. I missed it for a couple of weeks because of the kiddies sickness and I had to battle the 'take it easy' vs 'good for you' forces. I have vaxed eloquent about the benefits of the morning exercise and I know this idling is no good. Daily exercise keeps the spirits high, gives more energy to get through the daily stuff so it is shameful that I have been giving into the take it easy forces. Well now, I think I am back on the
track
wagon. Doing it rather than thinking about it too much is what worked best. After a couple of days I have started to realize how good it really is and how important.
So I understand all over again (never forgot in the first place) how difficult it is where food is concerned, where falling off the wagon is so much more easier. I read somewhere that junk foods are as addictive as drugs. So kids who get hooked on to the junky sugary stuff will find it very hard to detox. I should know. Here is my daily indulgence: 3-4
almond roca
(have you tasted those? they are so damn addictive!), couple of cookies (shortbread or Oreos or anything else the kiddies have lying around) and a small cup of ice cream or a piece of cake. It is more or less the same for the kiddies as well but they don't get the almond roca, they eat their Halloween loot. Somedays I eat a bit more on somedays a bit less but I don't feel like a loser if I am active. Any activity be it walking or swimming compensates for the sweet stuff lack of which makes it real heavy. I need both to keep my equilibrium.
What is your indulgence and how do you keep your equilibrium?
I had a colleague who never mixed potatoes with rice or wheat, according to him that would be overdose of carbs. It is true but I tend to not follow it at all it seems , the side dishes I most love are the ones with potatoes in it. The semi dry kind of dishes that go well with rotis, usually have potatoes in them. This potatoes and bell pepper combination was done as a side for chapatis. The resulting texture is what I thought the name subzi symbolizes. I always thought that subzi meant a semi-dry side dish or does it mean any side dish. Is that true or is it a figment of my imagination? (you will all recognize here that I am Hindi challenged)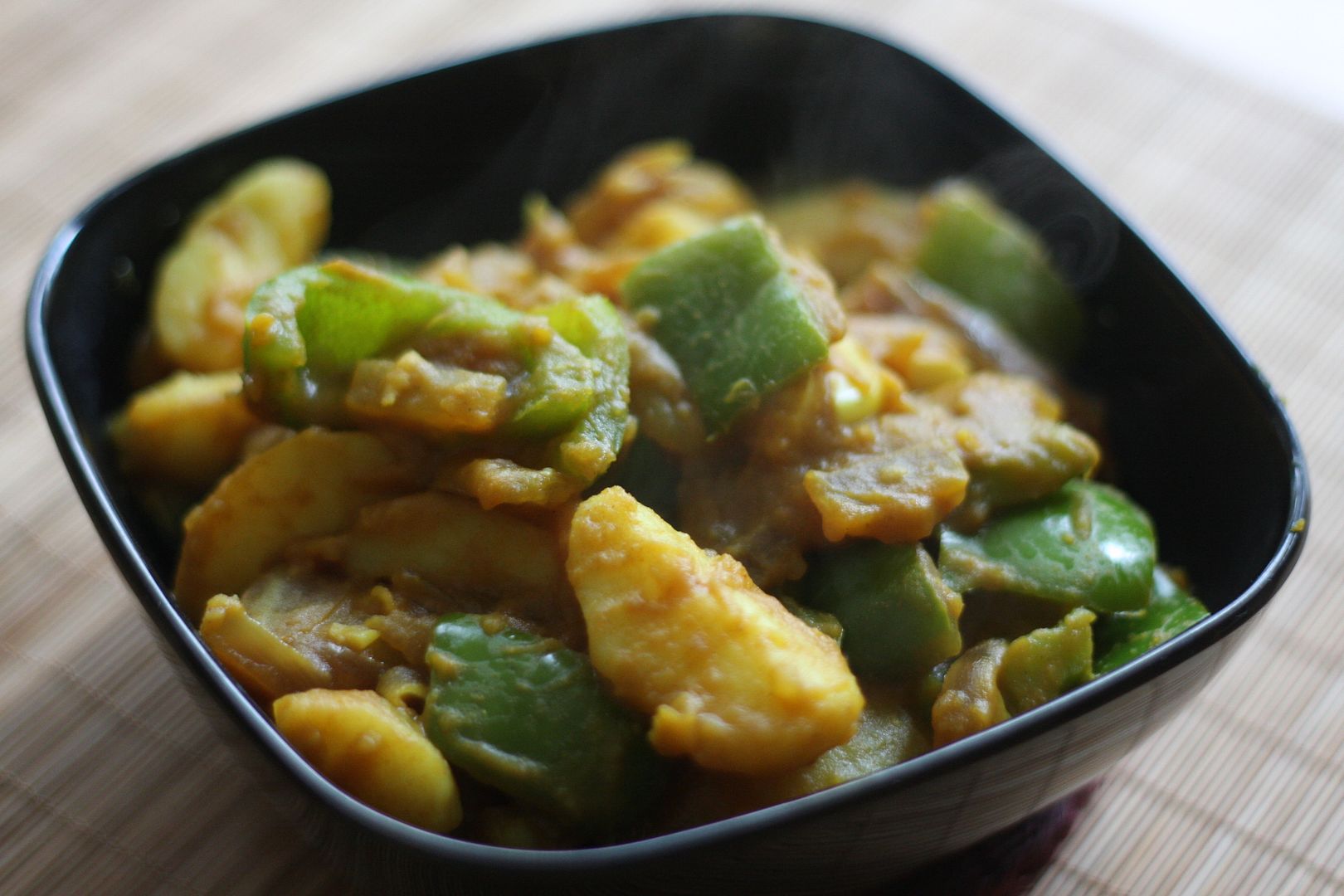 Potatoes and bell pepper subzi




Ingredients


1. 4-5 Medium sized potatoes (I used red potatoes) boiled till tender
2. 2 bell pepper diced (strips would work too)
3. 1/2 tbsp sambhar powder (or red chili powder)
4. 1 tsp amchur powder, 1 tsp turmeric powder
5. 1/2 Onion sliced, slightly thick slices
6. salt to taste
7. seasonings: mustard and cumin seeds (optional)
8. 2 tsp oil



Method


1. Boil the potatoes till tender and cut into cubes or wedges
2. Heat a wide mouthed pan and heat oil, add the seasonings followed by the onions and saute for a few minutes.
3. Add the bell pepper and saute till the bell pepper is half cooked
4. Add the potatoes, the spice powders and salt - turmeric, amchur and sambhar
5. Give it a good mix, sprinkle about 3 tbsp of water, close the lid and let cook for 5-8 minutes.

Note: If you want it very dry, do not add water and do not close the lid.

Serve with rotis or side for any rice dish.