Green Earth


Do you stress over whether to rinse out recyclable food containers before you toss them? I do. So this article in the Washington Post Health and Science sectionwas timely. The gist, it is not necessary to wash them out, recycling facilities are equipped to handle them. Tossing out half an unused jar might not be a good idea because of spoilage and rotting. If your community uses single stream recycling where paper,plastic,glass are all recycled together, then it is a good idea to rinse out and clean. Read the details in the above link.

Slate has a Green Lantern column here which answers a lot of questions.

Buying seafood has been a bit challenging these days. Deciding between which fish has higher mercury content, which one has been sustainably caught and after all this to see which one is fresh is not only nerve wracking but pretty baffling. I am exaggerating but these thoughts do go around in our heads don't they? Monterey Bay Aquarium is releasing ranking that would make it easier to buy fish. Here is Good for the oceans, good for you.
whole beans
I have been under the impression that purple hyacinth beans (avarakkai in Tamil) were very similar to the green hyacinth beans. My neighbor had them growing in his yard and the flowers and the beans are a very pretty sight. Here in the US, they are used mostly as ornamental plants. We got a big bag of them from our neighbor last week. I have never cooked with these purple beans before, they are a bit more fleshy than the avarakkai we are used to and the taste was very different. I had a few dishes in mind but decided on the pulav. We had been eating chapatis for the previous few days and were craving for rice.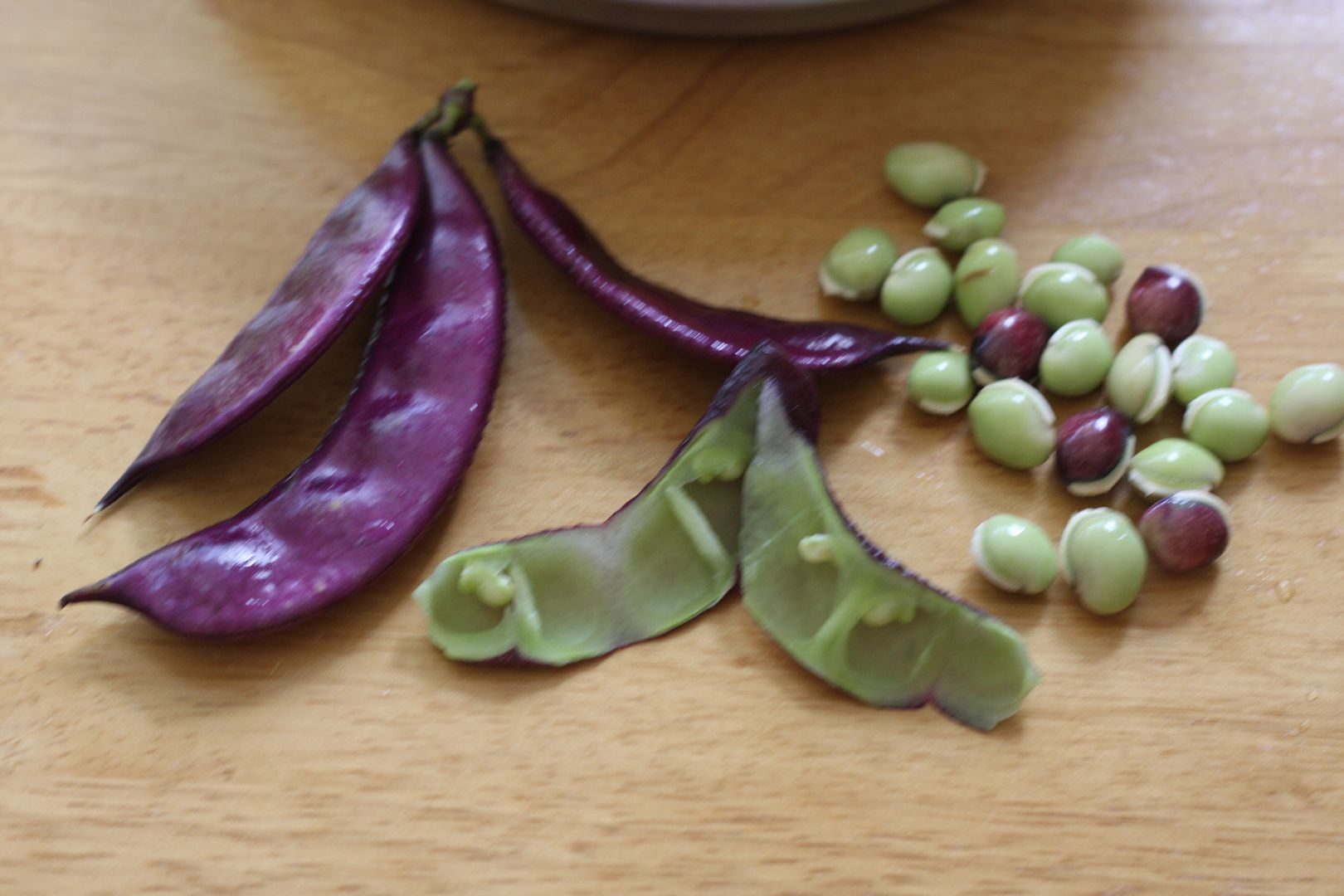 whole bean, split in half and the seeds
If you do not want a rice dish, stop just before adding the rice and you have a nice tasty side dish for rotis. I have added quite a bit of black pepper, adjust to your taste.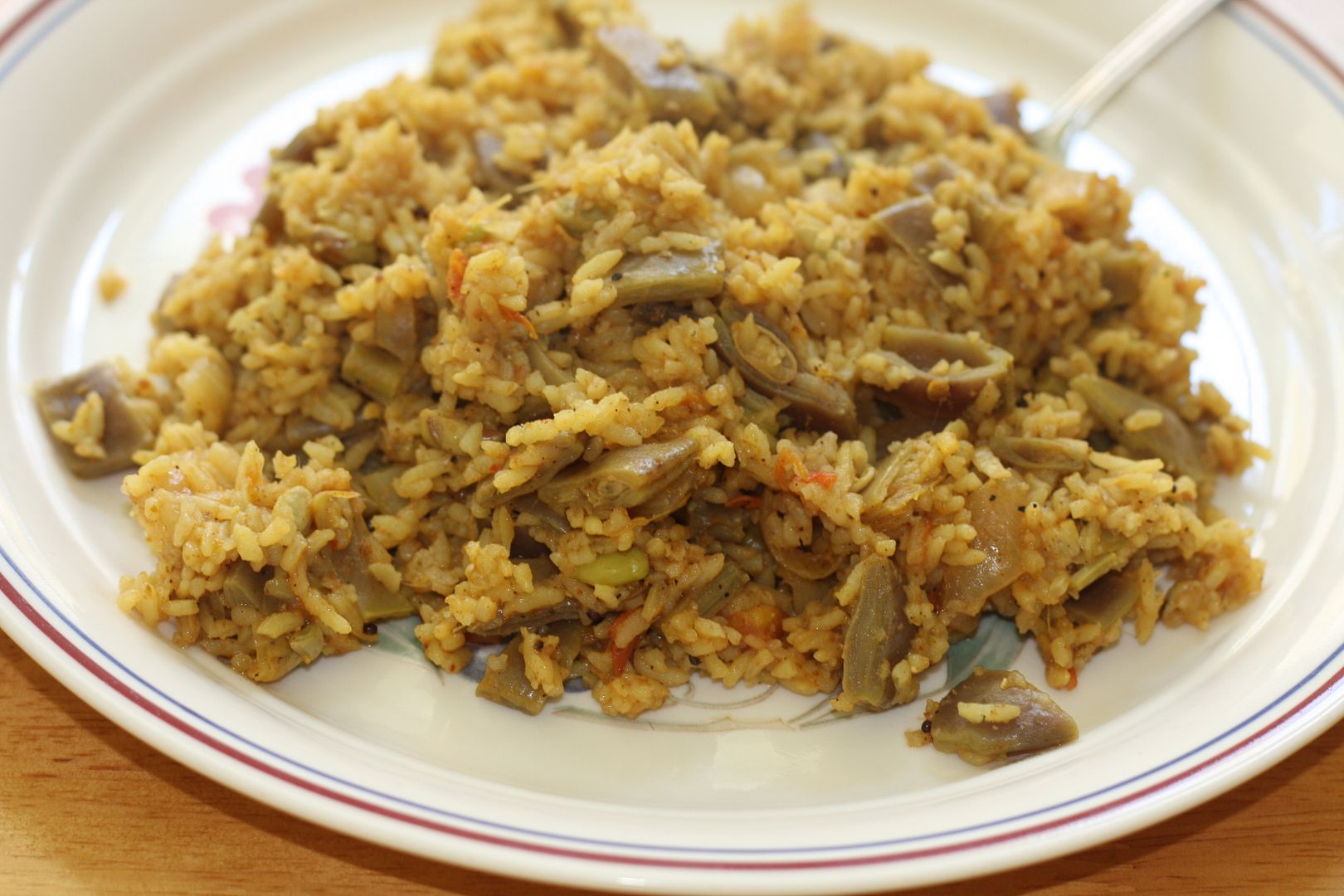 Ingredients


1. 1 1/2 Cups of Basmati rice/Seeraga Samba + water
2. 3 cups of hyacinth beans cut into pieces
3. 1 medium red onion, 1 - 1/2 cup worth chopped fine
4. 2 medium sized tomatoes, 1 cup worth chopped fine
5. 1/2 tbsp ginger grated
6. 2 red chilies split
7. seasonings: curry leaves, mustard seeds, fennel seeds
8. 2 tsp turmeric powder (optional)
9. 2 tsp of oil



To Powder


1. 1 tbsp coriander seeds
2. 3 tsp peppercorn (or to taste)
3. 1 tsp cumin
4. 2 tsp split urad dal
5. 4 red chilies
Dry roast the above and make a powder



Method


1. In a pressure cooker or a pan enough to cook 1 1/2 cups of rice, heat oil and add the seasonings.
2. Add the onions and red chilies and saute till onions are translucent
3. Add the tomatoes and ginger and saute till tomatoes are soft
4. Now add the beans and let them cook till they are half cooked 5-8 minutes
5. Now add the masala powder,turmeric powder and mix.
6. If you are making a gravy add 2 cups of water and required salt and let it cook till the beans are soft

OR
6. Now add the rice,salt and mix it well with the beans.
7. Add the required amount of water, let the water come to a boil and the rice 3/4th cooked.
8. Close the lid and place the weight if using pressure cooker and cook for 6 minutes on low medium.

Serve with raita.