A course of events happened last week that made me think about destiny. Of however small the consequences may have been, it made me pay a bit more attention, enough I guess to write about. I looked up the dictionary meaning and here it is.
destiny - a predetermined course of events often held to be an irresistible power or agency

Once the course of events have been set forth in motion they do not stop. This is true for good and bad but it is easier to notice the bad ones than the good ones. Our happiness perhaps lies in noticing the good ones more than the bad ones. Hoping with practice the good course of events will get more obvious.
A couple of weeks ago on a Friday, DD came home very upset because her calculator had gone missing. It was a brand new calculator and it was a bit more than $100 worth. Though upsetting the incident gave us an opportunity to talk about how to keep stuff careful at school, be generally watchful and smart. We as adults wrote it down to stuff happens. Come Monday DD finds her calculator and comes home beaming. I am not sure what exactly happened but some parent perhaps had a conversation with their child about taking what does not belong to them etc. Pure speculation and I digress.
A couple of days later engine/emission problem light comes on in the dashboard of the car I am driving. On reading the manual it advises to not drive too far and have it checked out very soon. We get a bill for close to $100 from the mechanic for the testing. The car was under warranty a fact we realize afterwards, a check and fix have been free if it had been taken to an authorized dealer. On talking to the manufacturer they agreed to refund the amount. That was the second time the $100 was saved!
A few days after that I realize that I had scheduled payment for the credit cards about 8 days later than the due date :( We all know the consequences of that stupid action. There we finally lost the $100 for certain this time. The $100 that was intended to get away got away.
Probably mundane, inconsequential sequence of events that is not worth repeating but into which a deeper meaning can be read into. Like sadness lasting longer than happiness we are able to recognize the events because of the loss. Just like loss, gains visits us perhaps more often than we know. We rarely pay attention to the gains in our life. We probably made a few hundred dollars worth of profits some where, but have no idea.
Just like the loss held away tentatively and made its way, good deeds are holding tentatively to make it our way if only we let them. Something to think about don't you think?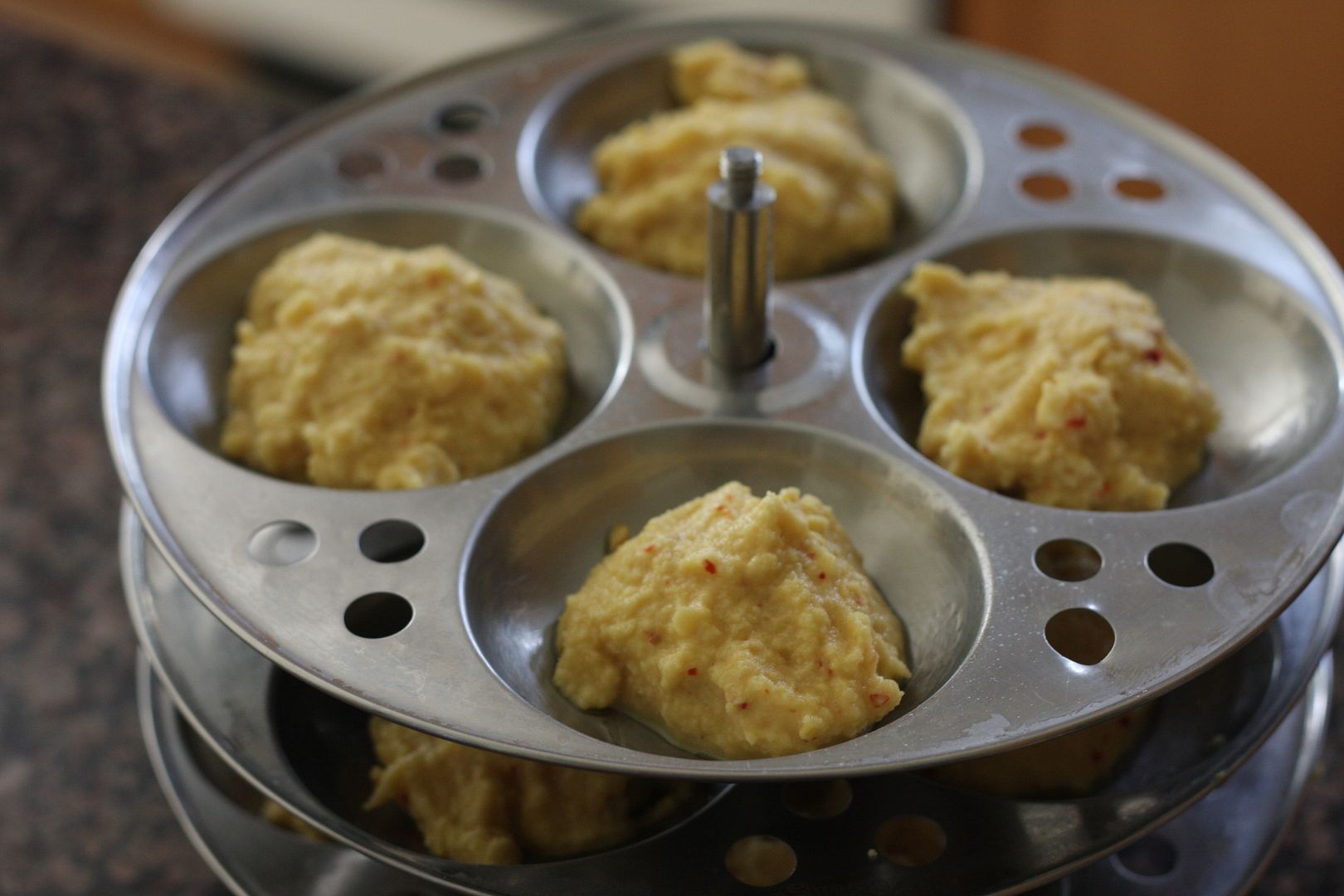 Steamed
Paruppu Urundai kuzhambu is one of those recipes and that has always held a great fascination but one that has never been tried. That changed recently when I set about to make it. I had longingly looked at pictures on
Of Soups and Souffles
and MIL's cook made it when we were visiting.
The cook loves to cook non-veg and no wonder the finally taste was close to non-veg as possible and tasted excellent. abacharam (travesty) you say :)



Ingredients


1. 1 Cup of toor dal soaked for couple of hours
2. 5 red chilies
3. half a pea sized piece of asfoetida
4. 1 1/2 chopped red onions
5. 1 1/2 cups of chopped tomatoes
6. 4-6 cloves of garlic
7. 1/2 tbsp grated ginger
8. 3 tsp sambhar powder
9. 1 cup of tamarind extract from a small lime sized piece of tamarind
10. seasonings: curry leaves, mustard, cumin (cook added fennel seeds as well)
11. salt to taste



To make the urundai


1. Blend the toor dal with the chilies, asfoetida and salt to a coarse paste just sprinkling enough water to blend. Save the water used to wash out the blender.
2. Shape into lime sized balls and steam cook. An idli pan works best. Steam for 6-8 minutes. Set aside


Method


1. In a pan heat a tsp of oil and add the seasonings.
2. Add the onions, along with the garlic and saute till translucent
3. Add the ginger and sambhar powder and give a good mix.
4. Now add the tomatoes and saute till they are soft and mash them with the back of a spoon.
5. Add the tamarind extract and bring it to a boil.
6. Add the saved washed out blender water and salt. Bring to a boil.
7. Add the steamed toor dal balls. Break a few of them into the gravy. Let heat through for a couple of minutes

Serve over rice or tastes great as a side for chapathis as well.