"Prevention is better than Cure", "A Stitch in time save Nine" are all sayings we have heard and have repeated in several contexts. These may be true for a lot of things but not for health care says a recent study. Unless you are relatively young (24-30) preventive care doesn't bring about cost savings or prevent the occurrence of chronic diseases. Article
here
. I hate visiting the doctors office for a regular health checkup. This study is the just the fillip I needed to continue avoiding the doctor's office unless I absolutely have to.
But seriously I do not want to sound flip while talking about health and lifestyle. I love food, good food, fatty foods, junk food, healthy foods and unhealthy foods. I love food period. The key is to maximize good foods(by this I mean natural foods cooked in the kitchen) and reduce the quantity of bad foods that we consume. It is getting harder and harder because the alternative is just too easy but it can be done with a bit of planning.
Breakfast and packing lunch for the kids are the 2 things that include a lot of premade foods. Bagels and cereals are food that have become part of life and hard to avoid. For lunch DD loves finger foods and premade foods provide an easy way to pack her lunches. So I am on the lookout for ideas that provide a good alternative to premade foods. I have a self imposed once a week limit on premade food for lunch packings.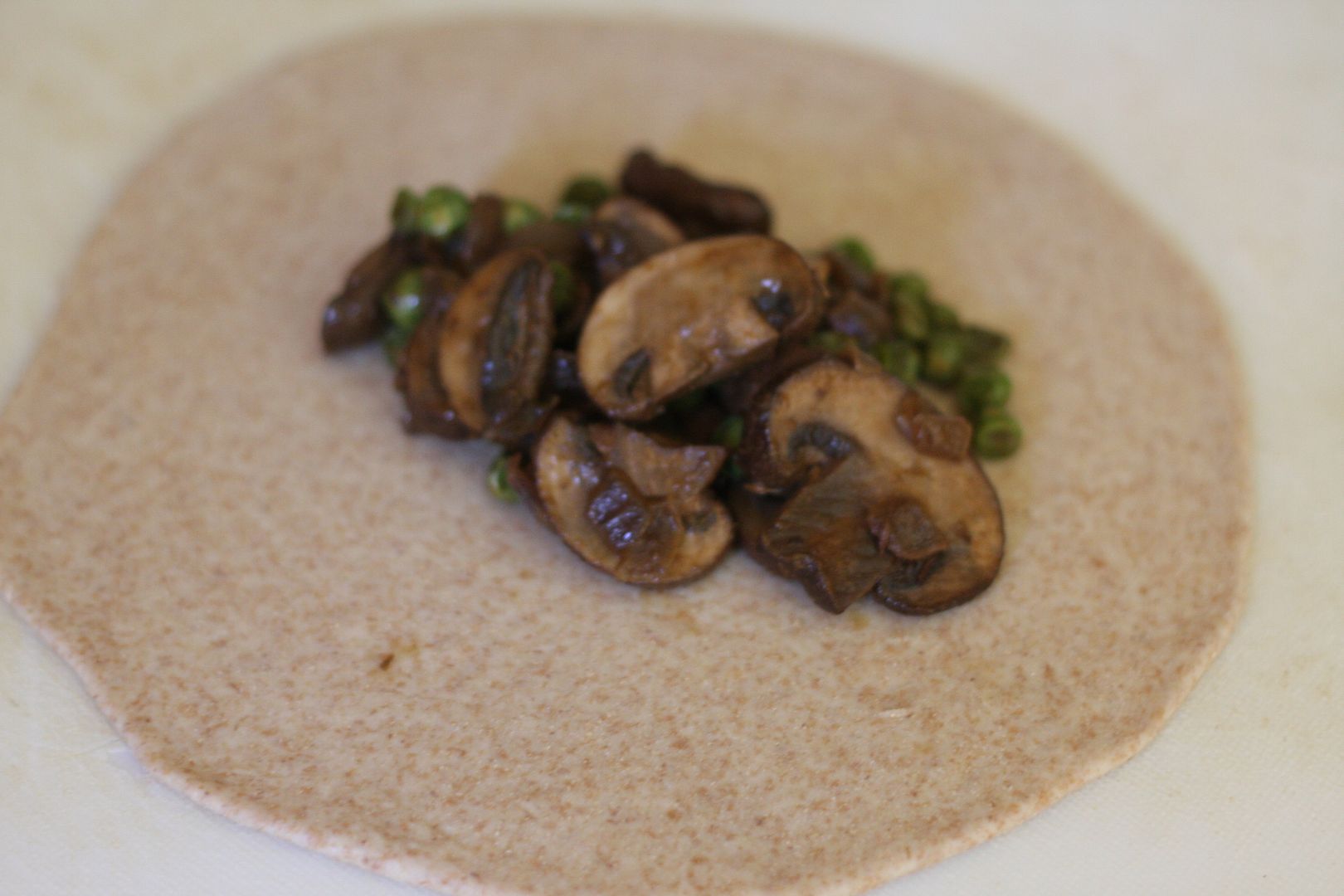 rolled out chapati with the filling
When I saw these lovely paratha packets on
Nirmala's Amma's Special
I knew I had just discovered an idea that is good for couple of days a week. If the filling and dough are prepared the night before whipping up lunch should be a quick and easy affair.
with cheese on top
DD2 loves mushrooms and I cannot resist buying fresh shelled green peas whenever I see them. A quick side dish of mushroom and peas was made and I also had dough ready for making chapatis. Chapatis with a side of mushroom and peas seemed boring but the minute I thought of Nirmala's chapati pockets the mundane became special. The cheese made it specialer. DD2 finished her lunch in record time without complaints and a pint of yogurt. These were also perfect lunch box items for DD.
It was an all day team building at a local park for them that day and DD says on the hot day the lunch was the highlight. She forgot to take the 2 bottles of water as instructed by her teachers and instead. She is a middle schooler now and I can't be expected to do everything for her can I? But lunch I take full responsibility :).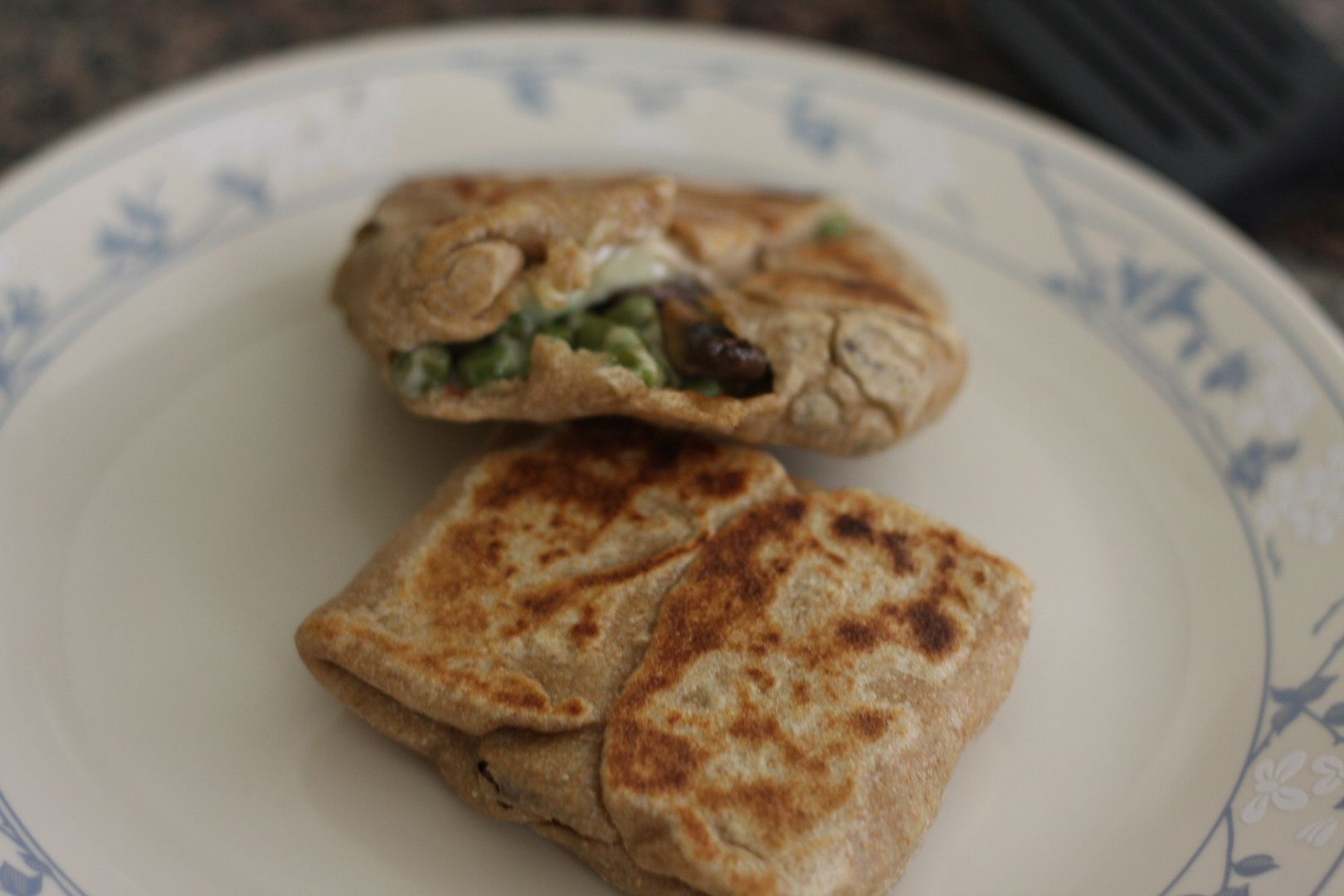 cooked and pricked open to expose the cheese and let out the steam
Recipe Source:
Stuffed Veggie Paratha

Ingredients
For the Chapati
1. 2 cups of whole wheat flour
2. 1 tbsp of curd
3. salt to taste
4. 1/2 cup of water

Mix 1-3 and by adding water a little at a time make a pliable dough.

For the Filling
1. 2 cups of crimini mushrooms sliced
2. 1/2 cup of fresh green peas
3. 1/2 onion chopped
4. 1/2 tbsp sambhar powder
5. 1 tsp of oil
6. salt to taste

Method
1. In a pan heat oil and saute the onions till translucent
2. Now add the peas and let them cook for a few minutes
3. Add the sliced mushrooms and sprinkle salt
4. Cook till the water evaporates and the mushrooms are cooked through.

For making the packets
Ingredients
1. ghee or oil
2. cheese slices (optional)

Method
1. Take a small lime sized ball of dough, dusting with some dry flour roll it out like you would a regular chapati.
2. On one side apply a few drops of ghee and place a tbsp of the filling
3. Place a slice of cheese on top
4. fold the opposite first 2 ends first and then fold over the other 2 sides. press slightly to seal.
5. Heat a tava, preferably one which has edges (I had rolled the parathas thick and when folded the packets had thick sides which required cooking and the edges of the hot pan helped do that) and place 2 or 3 packets depending on the size of the pan.
6. Drizzle ghee or oil on the sides and in medium heat let them cook first on one side and then on the other. Push the packets against the sides to let them cook on the side. Cook for atleast 5-6 minutes till the dough is completely cooked.

Enjoy, no sides required.