Having read and heard so much (controversy) on TV about health care reform, I had to read to be better informed. It is hard to differentiate between spin and what was being proposed. You can imagine the confusion when people like Palin get involved and bandy about phrases like "death panels". Another loud group shows its loud self in Town Hall meetings all worked up about turning this country into a Russia in other words a socialist country, forget the fact that Russia is no more a socialist country.
I started researching about the President's proposal. Health care was one of President Obama's top priorities when he was campaigning.
From what I have read so far a gist of what Obama wants is as follows:
1. Reduce overall health care costs
2. Offer health care coverage for all Americans
3. Eliminate denial by health insurance companies on the basis of pre-existing conditions
4. Offer choice of providers
5. Training for health care providers.
Offering health care will get the government more involved in the health care business. This will introduce what is called the public option or government sponsored option by which the government would provide low cost coverage for those who are not able to get insurance through private health care providers. More info
here
.
We all know that the President can only propose, it is upto Congress to enact them into law and approrpriate the money required. So I started reading what the Congress (House of Representatives) has proposed.
The House sponsored
America's Affordable Health Choices Act called the H.R.3200
summarises the provisions under these broad classifications:
1. Coverage and Choice
2. Affordability
3. Shared Responsibility
4. Controlling Costs
5. Prevention and Wellness
6. Workforce Investments
The much controversy creating government sponsored public option falls under the Coverage and Choice. The broad categories are more or less self-explanatory and details can be read in the link above.
Nobody denies that health care reform is urgently needed and every body is in total agreement of that fact. But the disagreement which is sometimes loud and scary starts when talk goes to actually implementing something. If you are not covered under Medicare/Medicaid you are pretty much left to the impulses of your employer and the choice of coverage that the company you are working for provides. There are many reasons why a good health care coverage provided by an employer is a good enough reason to stay in a job even though the work itself is killing you(no pun intended). During the course of my many jobs I have had several kinds of health insurances offered, where the premiums were high, premiums were moderate and where there was no premium or co-pay with a choice of doctors of your choosing(you ask why I quit that job, crazy perhaps!!). We also have had individual insurance and HSAs. A HSA by itself is not sufficient, so we end up getting a very high deductible insurance and the HSA and that is as complicated as it can get. Instinctively since the cost is borne by us we do not rush to get a doctor's appointment instead check out all ways to see if a visit to a doctor is really necessary. It helps that we have close relatives as doctors both here and back home.
Most blurb written compares the public option with those of countries like France, Germany and Canada whose population are respectively 64, 83 and 30 million respectively. Here in the US the scale is 40 million uninsured people so none of these countries would offer a realistic view of what to expect in a public option wouldn't? The population demographic of the US compared with the population of these countries is also dramatically different so their experiences would not truly represent what is going to happen here would it?
I would not have the same level anxiety if I were living in India. Even with no insurance the cure for an expected illness is not going to bankrupt you. The access for care remains affordable for most people.
As a premium paying, forced insurance company dependent citizen,
1. I hate the fact that my health insurance is strongly linked to my employer.
2. My health care is dependent on the whims of the people employed by profit seeking insurance companies. (Not for a minute do I care if the US has the best and most advanced care available, when I cannot afford it all the time by choice)
3. I do not want to carry the burden in the form of increased premiums because of the millions of uninsured who flood the ER(who cannot turn away these patients even if they have a minor illness, thanks to a Clinton era health care provision/loophole)
4. Last but not the least the thought of aging at a time when the government run health care programs might run out of money we are personally responsible to bank a large chunk of money for those twilight years has to keep a lot of us awake.
So the health care bill in its present form does nothing for me. I will still be a slave to my employer provided health care plan. That is what I wanted changed badly, simply put I should be able to pay into a insurance pool that can be used if I am employed or not as long as I don't miss the monthly payments.
With health care being the mess it is, the only thing I can do is to follow a healthy lifestyle and eat right. Adding Swiss Chard to the diet is definitely in that life style. I was able to get a large quantity of Swiss Chard and a bit of Amaranth leaves from the garden that would be enough for a saute. The greens shrivel in size to about a fourth of the fresh leaves.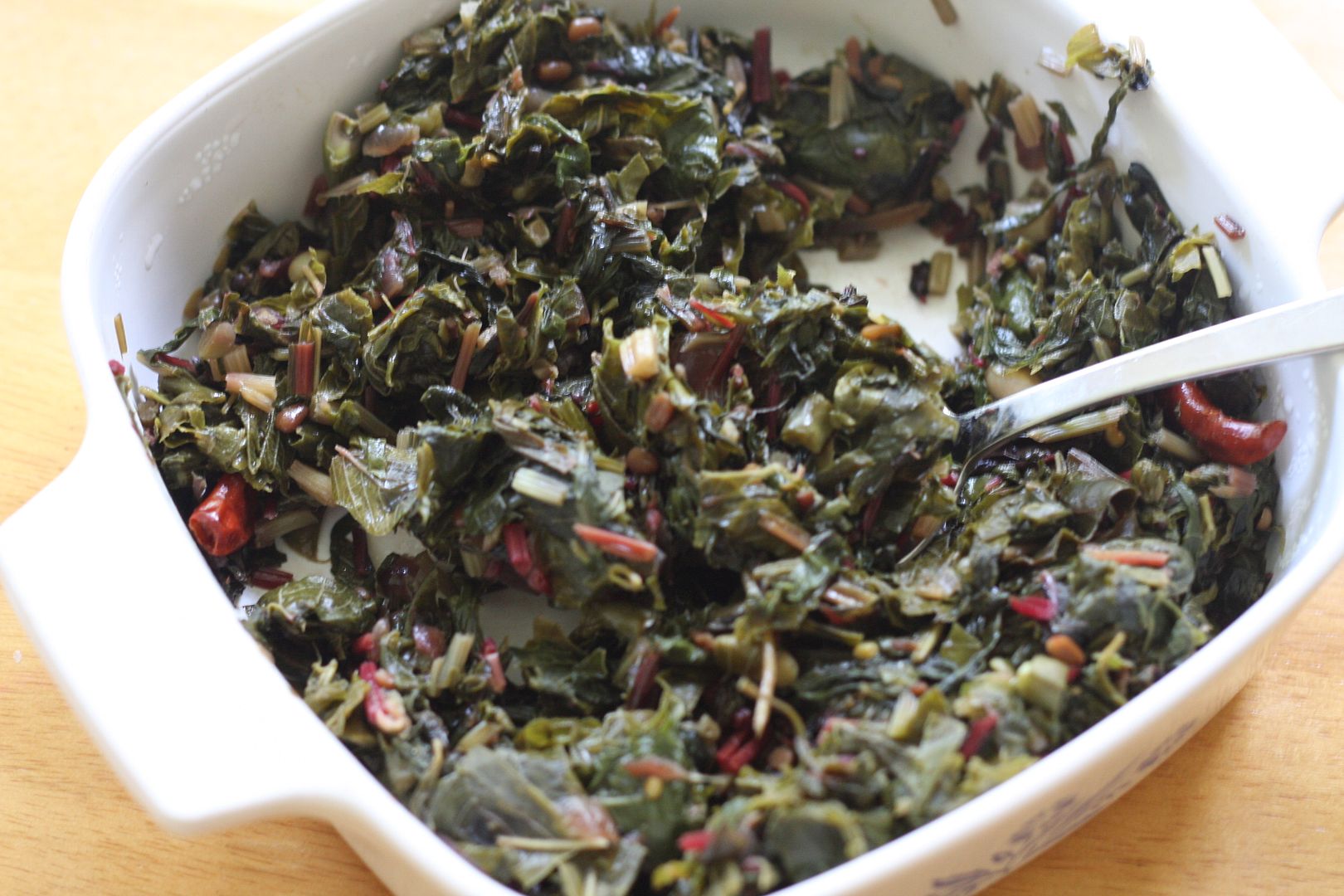 Swiss Chard Saute
Ingredients
1. 6-8 cups of loosely packed Swiss Chard and Amaranth leaves chopped roughly
2. 1/2 red onion chopped
3. 5 dried red chilies split and seeds removed
4. seasonings: mustard seeds and cumin seeds
5. salt to taste
6. 1 tsp oil

Method
1. Heat oil in a pan and add the seasonings when the mustard splutters, add the onions and red chilies and saute till the onion turn translucent.
2. Add the chopped up greens and in medium high heat cook till the leaves wilt and are cooked (10-15 minutes)
3. Add the salt and cook till the water evaporates.

Serve with rice and sambhar.