Today there are roughly one million Hindus with an ever increasing number of Hindu temples being built in the US but as a religion Hinduism is still bathed in mysticsm. There are people who think 'Hindu' is the language that is spoken in India rather than someone who practices Hinduism. It is not limited to the general population, even large newspapers use 'Hindu' in place of 'Hindi'. Just like interest in Indian foods and curry, yoga, Ayurveda etc., have increased so has the curiousity about Hinduism as a religion.
Unlike semitic religions(Islam, Judaism,Christianity) Hinduism does not prescribe to a single holy book, set customs or even a single God. It is more a way of life than a religion. It can be called an all embracing culture allowing within its huge following several practices, customs, foods and observations. So being asked to explain a religion which is more a combination of cultural practices, foods and a vast array of customs evolving over centuries is not an easy task.
For anyone who is not overtly religious, Hinduism gives space to follow their own version of life as a practising Hindu. The only preaching(if it can be called that) that I remember is "You can see God in everything that is done to the best of your ability".
Well anyway I am not really sure why I dove into religion today being unreligious but I do faintly believe in God :) This article in Newsweek recently piqued my curiosity -
We are all Hindus now
.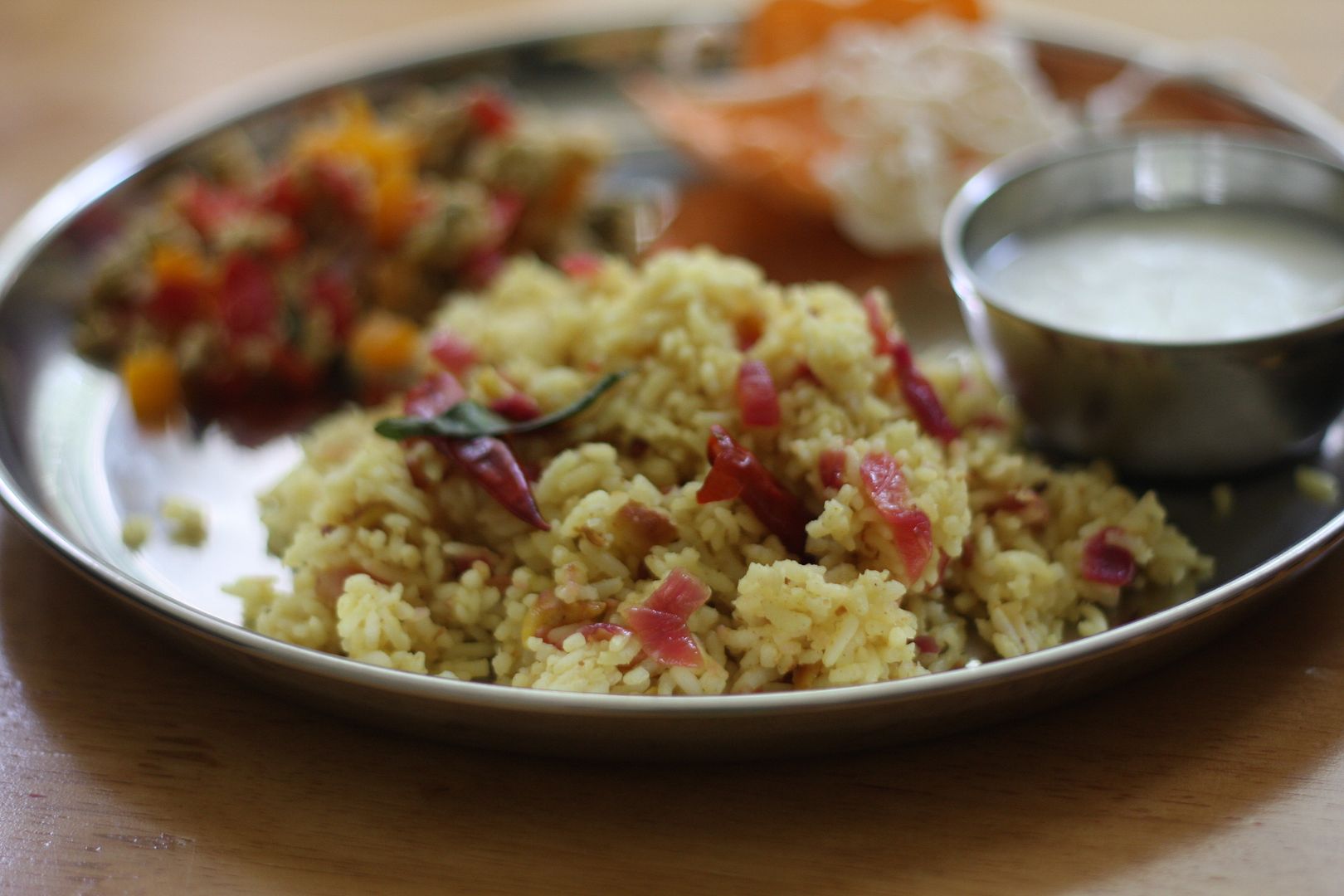 Lemon rice, scrambled eggs, vadagam and curd
Now onto food,
In a Kongu home a simple everyday meal would include white rice, paruppu or sambhar (dal), a stir fry generally with green vegetables, a rasam - pepper water (to aid in digestion) and yogurt. Whenever I set out to cook lunch I try my best to stick with this basic combination. In the simple lunches the lemon rice provides the carb element, eggs and bell pepper combination provides the protein and vegetable and yogurt completes the meal.
The masala powder in lemon rice is optional but it adds just a bit of extra spice.
The sweetness of the colored bell peppers adds a little something to any dish. DD2 loves eggs but she is moody about bell pepper but this scrambled egg disappeared along with the bell peppers.
I cannot take credit for the pictures, they were shot by
DD
.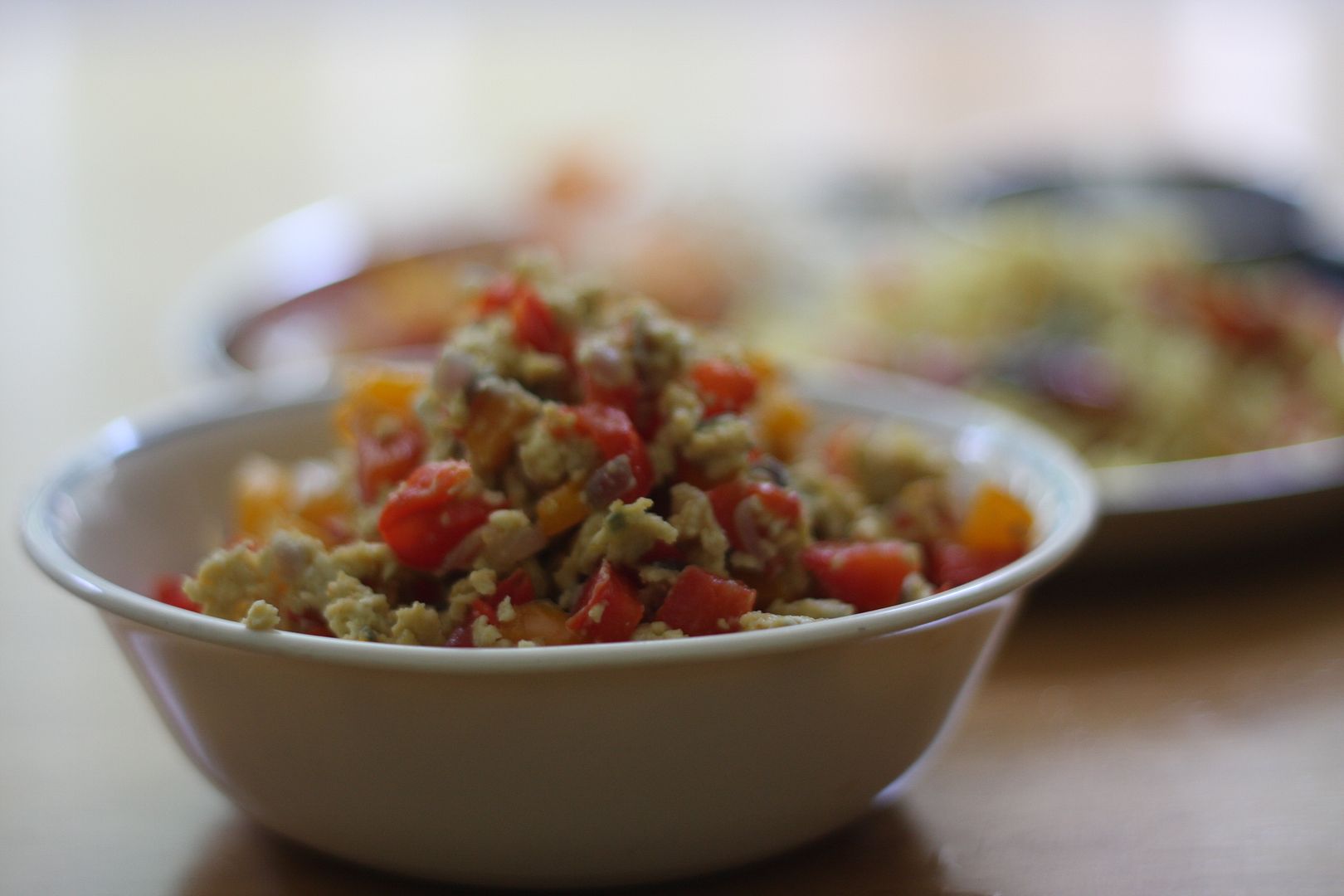 scrambled eggs

Lemon Rice
Ingredients
1. 4 cups of cooked cooled rice (I used ponni parboiled rice)
2. juice from 1 1/2 limes
3. 1/2 onion chopped fine
4. 5 broken chilies
6. seasonings: mustard, cumin seeds, curry leaves
7. 2 tsp of turmeric powder
8. 1 tbsp roasted peanuts or cashews
9. 2 garlic cloves chopped (optional)
10. 2 tsp of oil
11. salt to taste.

for the masala powder
1. 1 tsp of cumin seeds
2 2 tsp of coriander seeds
3. 1 red chili
4. a pinch of fenugreek seeds
5. 1/2 tsp of split urad dal

Dry roast the above and make a fine powder

Method
1. Heat oil in a big mouthed vessel (kadai) and heat the oil. Add the seasonings and when the mustard starts to pop add the chilies followed by
2. the onions and saute till translucent, add the garlic and saute for a few seconds if using
3. add the turmeric powder and saute for a few more seconds
4. add the roasted peanuts and mix them well (if using cashew nuts, roast them seprately and add towards the end)
5. Add salt and the masala powder and mix it well.
6. Let cool and then squeeze in the lime juice.
7. Add the cooked rice and mix it in gently.

Scrambled eggs with Bell Pepper
Ingredients
1. 2 red and orange bellpepper diced
2. 4 eggs
3. 1/2 red onion chopped fine
4. 4 green chilies chopped fine
5. salt to taste
6. 1 tsp oil

Method
1. In a pan heat oil, add the onions and green chilies and saute till translucent
2. Add the diced bell peppers and saute till they are soft
3. add salt and mix
4. Crack the eggs and in low heat continue to saute so the eggs do not stick to the pan
5. Continue till all moisture has evaporated and the eggs are completely cooked.

Serve lemon rice with the scrambled eggs, vadagam and yogurt.