The one thing I want to talk about among the several that caught my eye on this trip to my hometown is the mushrooming of biryani houses. In my last trip(about 18 months ago) I hardly caught sight of any but this time around there was one in every corner and very hard to miss. Sometimes the shop is just a hole in the wall and the kitchen is in the back usually part of a household. The taste of the biryani in these places is very very good provided you are happy to contend with the copious amounts of oil and spices used. A great tasting biryani can be made at home and with a pressure cooker and with the minimum of oil.
When I started making biryanis I used the oven to create the dum effect(indirect heat by placing the cooking vessel over a hot gridle) so essential for biryanis but it seemed too much of a waste to fire up the oven just to finish the biryani and ensure that each grain of rice is separate. I wanted to stick to my efficient pressure cookers and produce the same results and arrive at a method that makes it hard to decipher the difference between dum and dumless.
While using pressure cookers it is important not to let the rice cook for too long with the whistle on. Instead close the lid and let the rice cook for 5-6 minutes with the steam coming out, now place the whistle and cook for 2-3 minutes.
For someone who loves goat biryani and would not hesitate to call it the king of biryanis I have come to accept mushroom biryani as a quick tasty alternative. DD2 loves mushrooms and wanted them cooked right away. If you are willing to make it slightly richer use chicken stock else water works as well.
Before I move on to the recipe, here is a pitch for DD's website called
DoodlyGreetings
where she shows off her handmade greeting cards. Please do visit the site and if there any suggestions leave them here or you can do so at her blog
CherryBlossoms
.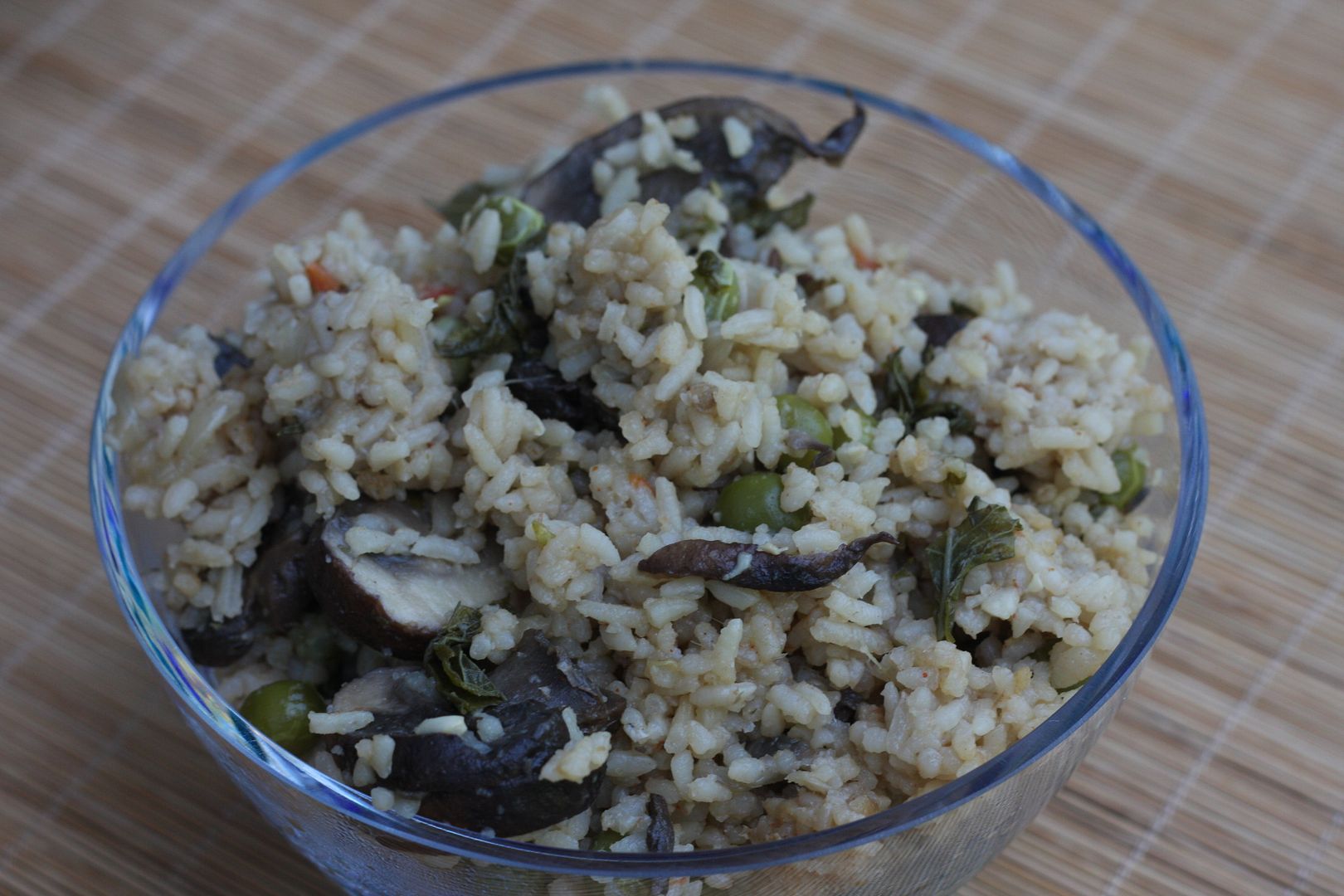 Mushroom Biryani
1. 2 1/2 cups of sliced mushrooms (I used Crimini)
2. 1 1/2 cups rice (I used seeraga samba rice:water 1:2) (Basmati rice can be used)
3. 1 Medium Red onion - sliced thin
4. 8 garlic cloves + 2 inches of garlic + 8 green chilis minced (in a food processor)
5. 1 cup of mint and coriander leaves chopped
6. 1 tomato chopped fine
7. 1-2 cups of fresh green peas (I used frozen)
8. 15 cashews broken into pieces and roasted in ghee (I forgot to add this)
9. salt to taste
10. 1-2 tsp ghee
11. 1 tsp of oil
12. seasonings - cloves, cinnamon, bay leaves, star anise, fennel seeds and curry leaves

Method
1. Wash and soak the rice for half an hour minimum.
2. In the pressure cooker heat the oil and 1 tsp of ghee and add the seasonings. When they start to turn color add the onions and saute till they start to turn brown.
3. Add the minced garlic,ginger,green chilies and saute till raw smell goes
4. Add the coriander and mint leaves and saute till they wilt
5. Add the chopped tomatoes and saute till they turn mushy
6. Now add the mushroom and peas and saute for about 3-5 minutes. Add salt
7. Drain the rice and add to the mushroom and mix well and let it sit on very low heat for about 3 minutes more.
8. Now add water, check for taste (heat,salt, if not enough heat add red chili powder) and let it come to a boil and let cook on medium for 6-8 minutes more. Now you would see what pooled on the top, give it a good mix close the lid and in low heat let it steam for another 4 minutes.
9. Now place the weight and let cook for exactly 3 minutes. Turn off the heat and remove the cooker from the stove.
10. After 10 minutes mix it gently.

Serve with yogurt or raita of choice.