One look at
Jugalbandi's Rasa Vadai
realized I had not had this favorite of mine for a really long time. Having first tasted them in a restaurant called Udipi Palace and have been hooked ever since. Not quiet as popular as its illustrious cousin the sambhar vadai, but for those of you who love Rasa Vadai you already know what I am talking about.
Every festival celebration requires a pairing of the sweet and spicy, so along with the
Rice Pudding
Rasa Vadai was chosen as the spicy accompaniment. Made the traditional way, deep fried in oil with a hole in the middle because I have the luxury of my mom visiting :) For those in the household who are not fond of rasa vadai there was sambhar and Coconut chutney with Bell Pepper. Addition of bell pepper gave the chutney a beautiful pink color.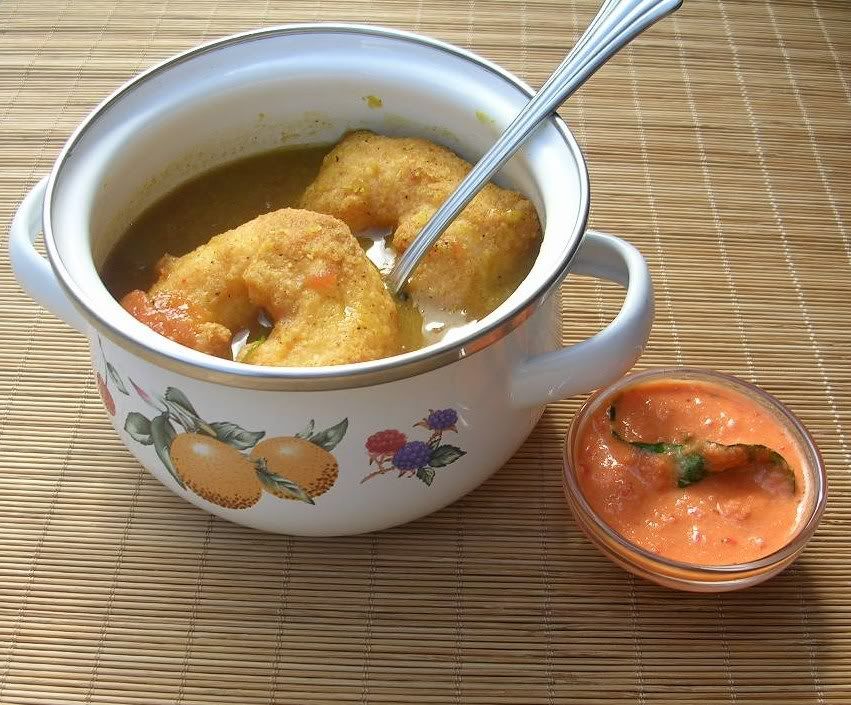 Just a few notes while making uzhundu vadai
. Grind the dough as close to the vadai making time as possible, do not add salt. Put the dough in the fridge if not using immediately. Onions and Green chilies are to be added just
before making the vadais.
I like the rasam in which the vadais are dunked to be tangy and bit spicy. Here is how my mom made the rasam.
Spicy Rasam

Ingredients
1. 2 tbsp of toor dal cooked with plenty of water and mashed
2. a small ball of tamarind soaked and pulp extracted
3. 1 medium sized tomato chopped
4. coriander leaves for garnish
5. seasoning: mustard, curry leaves,cumin and asfoetida

To Powder
1. 2 tsp coriander seeds
2. 1/2 tsp cumin seeds
3. 3-4 red chilies (or per taste)
4. 1 tsp pepper corns (this quantity can be increased and red chilies decreased depending on which heat you prefer)
5. 2 tsp chana dal
6. 1 tsp toor dal
7. few methi seeds

Roast the above and make a powder

Method
1. In a pan heat oil add the seasonings, saute the tomatoes, add the powder and the tamarind water and let it boil for about 4-5 minutes
2. Now add the dal water with as much water as you want.
3. Add salt and coriander leaves and switch of the heat when you see bubbles on top.

The rasam tastes great with dosai as well.

Bell Pepper, Coconut Chutney

Ingredients
1. 1 Red Bell Pepper seeds removed and chopped
2. Coconut about 3 tbsp
3. 2 tbsp roasted channa dal (dahlia )
4. 2 red chilies
5. Seasonings: mustards, split urad dal and curry leaves (few of each)
6. 1 tsp of oil

Method
1. Heat a bit of oil and saute the red bell pepper and red chilies
2. Together with the coconut and roasted channa dal and salt grind to a slightly smooth paste, remove to a container.
3. now in a small pan, heat oil add the urad dal, when brown add the mustard and curry leaves and pour over the ground chutney.

Excellent with the vadai or with idli or dosai.