Raw plantains are readily available in most grocery stores. While they are very similar to raw bananas but when cooked they are slightly sweeter. This recipe will work with either one of them. If raw bananas are not your thing potatoes, taro root, sweet potatoes or even beets can be used for this recipe.
Steam the raw banana in a steamer vessel, when done peel and cut into bite sized cubes.
Powder the spices and add it to the steamed banana cubes and roast till the desired color or texture is obtained.
A simple fry but jazzes up any lunch meal. If you are planning on a simple meal add this to the menu. Snack on it, that's what the kids did and loved it.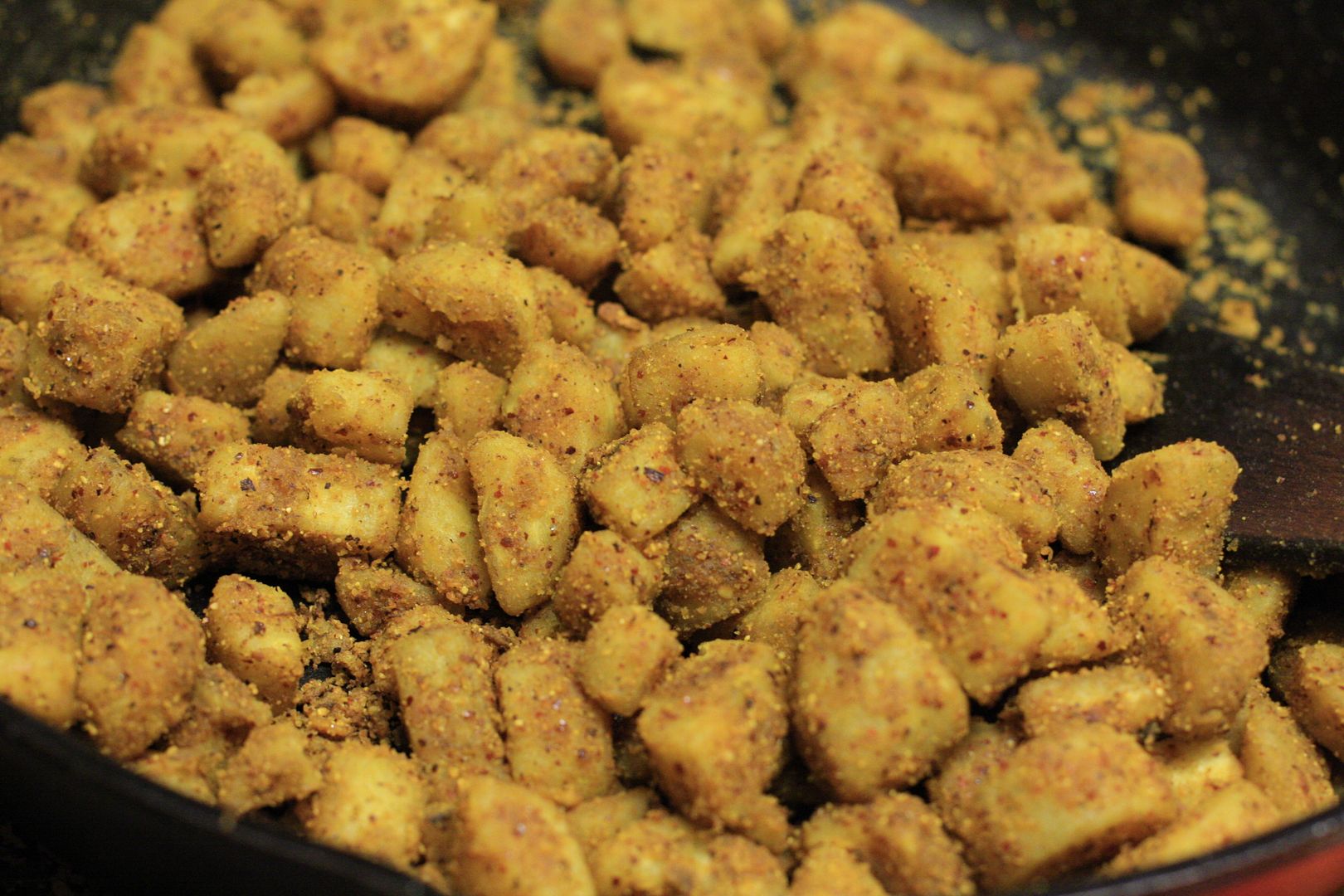 Raw Banana Roast
Preparation Time:5 minutes
Cooking Time:25 minutes
Ingredients


3 Green Plantains or 3 green raw bananas, cut the ends and cut in half
Salt to taste
1 tbsp oil (or less)

Spice Powder


2 tbsp Dahlia
2 Red Chillies
1 tsp Pepper and Cumin (optional)
Powder the above (do mine in a coffee grinder)

Method


Steam the Plantains/Raw bananas (8-10 minutes), remove the skin and cut into small cubes.(see Note:)
In a Wok or Kadai heat about 3/4 th of the oil and when it is smoking hot add the plantain cubes and stir fry for a minute or two.
Add salt and toss around.
Add the spice powder and toss them around till all the plantain cubes are coated with the powder.
Sprinkle a few more drops of oil if it looks too dry and saute till roasted. (about 8-10 minutes)
Note:

(Steamed the raw banana in the pressure cooker without the weight. Place the plantains/raw banana in a steamer vessel)



Serve with rice or as a snack.

If you have leftover, heat them in the microwave and they are good as new but a little soft that's all.