This past week my favorite section in the Washington Post, carried this headline
"Can Vegetable Biryani Satisfy Mr. Meat and Potatoes?"
no prodding is necessary to read the Food Section but this heading piqued my curiosity. There were a few Indian Recipes and the
Kadai Musroom recipe
was one that I wanted to try immediately. Mushrooms bought here have too much water and so the simple stir fry with just chilli powder and salt that my mother does in India does not taste all that good. The 2 packets of mushroom were not sufficient so added a few potatoes, also added fresh Methi leaves with the tender stems which gave it the special taste and aroma. If you have enough mushrooms leave out the potatoes.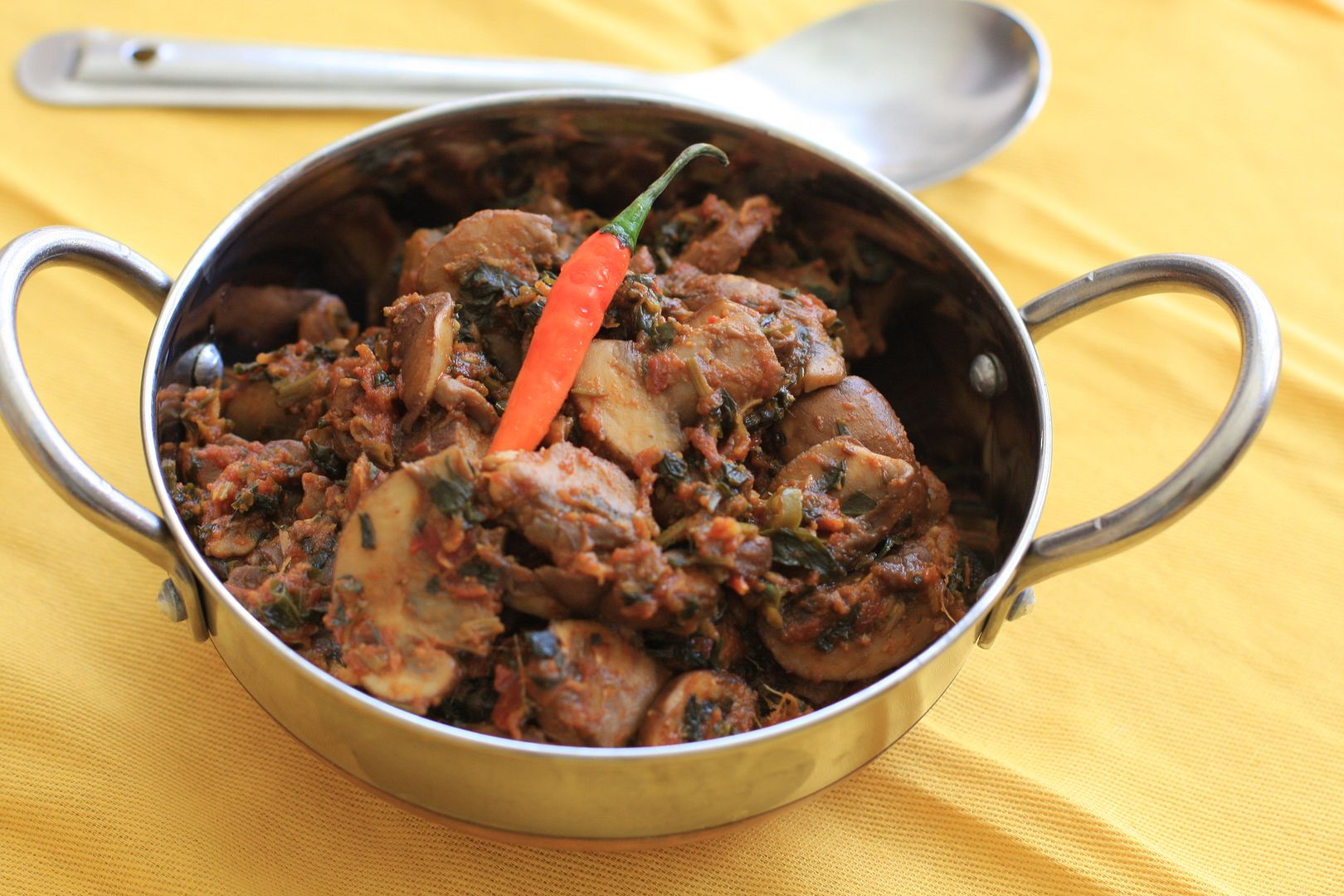 Ingredients

Cremini Mushrooms 2 Packets cleaned and sliced (about 3 cups)
6 garlic cloves minced or grated
5 Green Chillies (deseeded) and chopped fine
1 1/2 inch ginger piece grated
1/4 cup of fresh Methi leaves chopped or frozen (use more or less)
5 Roma tomatoes (I added one big tomato and one roma tomato) (or chopped/crushed canned tomatoes)
3 Medium sized Red potatoes cut into lengthwise strips (optional)
handful of corriander leaves chopped
1/2 tbsp kassor methi crushed coarsely
2 tsp of any masala powder or 1/2 tsp garam masala powder
2 tsp Red chilli powder
1 tbsp coriander powder
1 tbsp of oil

Method

In a Kadai add a little the oil and when it is hot add the mushroom and stir fry till all the water is evaporated, transfer to a bowl.
Clean the kadai add some more oil and stir fry the potatoes if using till they are 3/4 cooked and set aside.
Add the remaining oil and when it is hot add the garlic and ginger and let them cook till they turn color, don't let the garlic burn, adjust the heat to a little below medium.
Now add the methi and coriander leaves and chilli powder and saute till are wilted.
Add the green chillies and fry for a minute.
Now add the tomatoes and cook till they are soft and mushed.
Add masala and coriander powders and mix well.
Add the the mushrooms and Potatoes, salt mix well, cover with a lid and let it cook for 6-8 minutes till the potatoes are cooked through.
Now add the kasoor methi and after a minute switch off the heat.

Serve with Rice, roti or any Indian Bread
Recipe Source:
From chef Nilesh Singhvi (article in the Washington Post)
From the archives. Originally posted 4/22/07