I didn't quite think I'd like radish but as I have already sang its praises in this
Radish Masala Rice
, I will go straight to the recipe.
Whenever I make some chapathi and a dry curry some members in the house hold would like something moist or liquidy, so I make raitas with beets or sauteed onions and tomatoes. So when I had these radishes it felt like the perfect way to try out this raita. It tastes good and would go well with rice as well. This is a very easy recipe. Here in pictures,
Shred the radish, prepare the coriander,green chilies, ginger, cumin paste. Season oil in a wide mouthed plan.
Add the radish to the seasoned oil, add cumin powder. Saute till radish is cooked.
Add the coriander,green chilies, ginger and cumin paste to the yogurt.
Add the whisked spiced yogurt and the cooked radish together.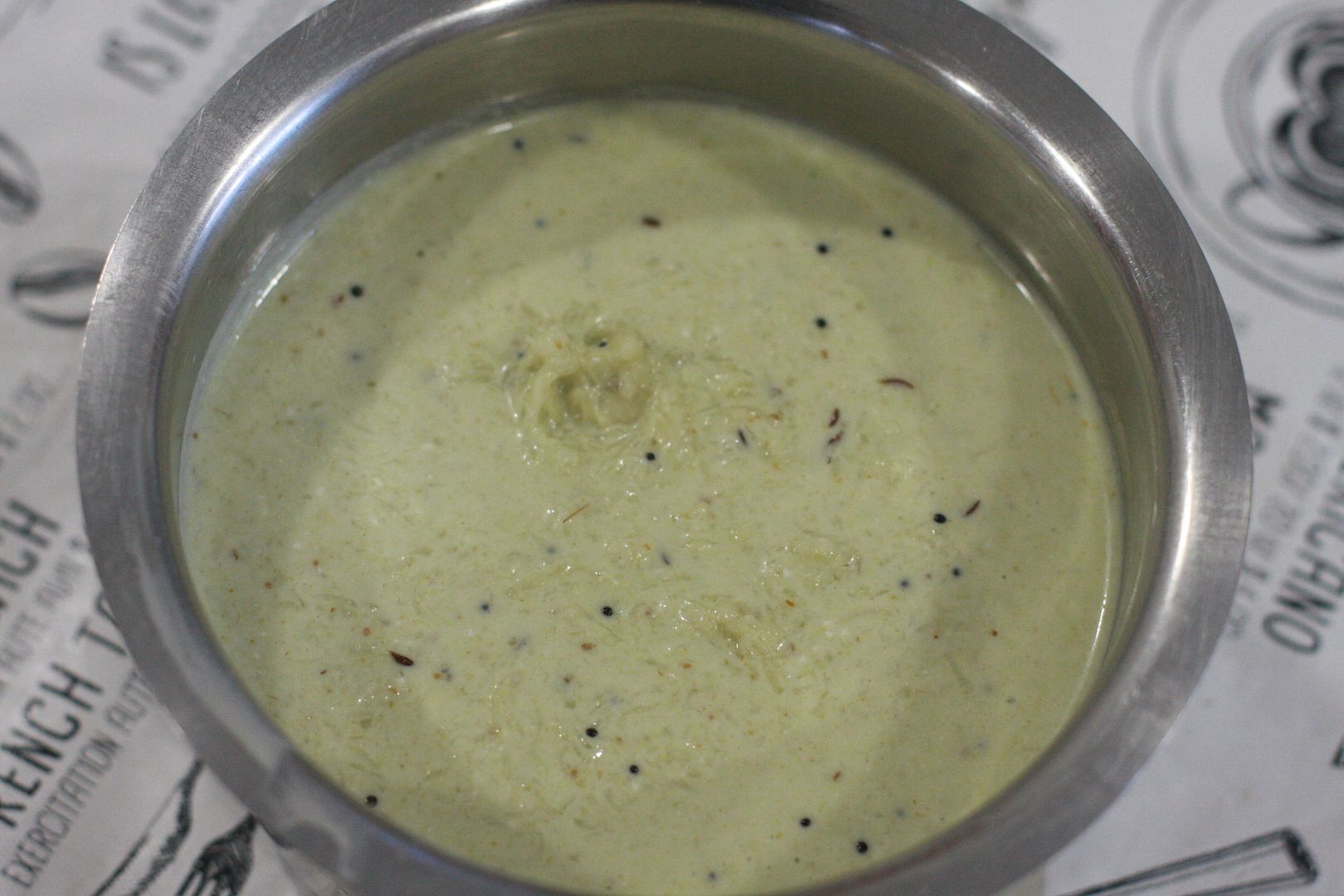 Spiced Radish Raita
Preparation Time:15 minutes
Cooking Time: 10 minutes
Ingredients


1 1/2 cups of grated radish
2 cups of yogurt
1/2 cup of coriander leaves
2-3 green chilies
1/2 inch piece of ginger
1/2 tsp cumin seeds
salt to taste
1/2 tsp of cumin powder
seasonings : cumin seeds, mustard seeds
1 tsp oil

Method

Peel and grate the radish and set aside.
Take the coriander leaves, green chilies, ginger and cumin and blend to a paste with addition of a tsp of water.
In a wide mouthed pan, heat oil and add mustard seeds and cumin and let the mustard pop.
Add in the grated radish and let it cook for 3-4 minutes. Add the cumin powder. (Radish does not have to be cooked all the way through, so cook as much or less as you want).
Take blended coriander paste with the yogurt, add salt and whisk together till smooth.
Add in the cooked radish and mix it well.
Serve as a side with any Indian bread or with rice.
Like what you are reading? Subscribe!