Wish everyone a Happy New Year! 2017 turned out to be busier than I thought bringing a lot of changes to our lives. Having to deal with the changes brought stress, some unexpected hardships - nothing that cannot be managed but kept me away from this blog. 2018 started off in India on our short visit there. The pleasant warm weather was perfect and coming back to this bitter cold made it that much
The tomatoes, eggplants, okra, bitter gourd, ridge gourd, chilies frozen during the height of summer are all being put to good use now. What is the point of talking about fresh vegetables in the middle of winter you ask? Just a thought of what awaits when spring comes around ;)
I am not a big fan of bottle gourd but there is something special about farm fresh vegetables and this one was no different. A simple stir fry with onions, fresh green chilies and some coconut to finish it off was just what was needed. These simple stir fries preserve the freshness of the vegetables without overcooking them. Cook them just enough so they don't get mushy and still retain the crunch of the vegetable.
Saute the onions and green chilies in seasoned oil and then add the bottle gourd pieces to cook. Once cooked add grated coconut, mix and turn off the heat.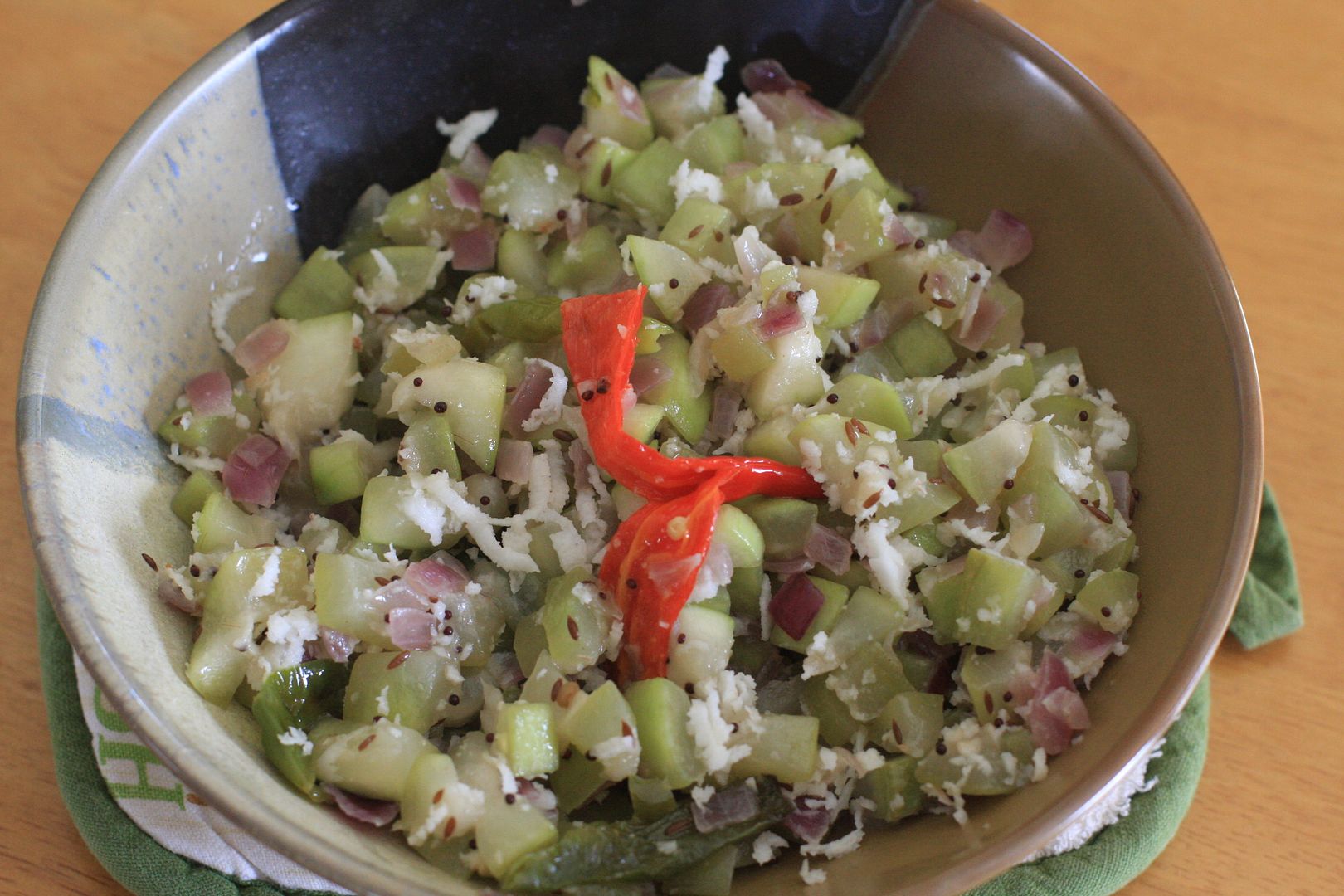 Bottle Gourd Stir Fry - Sorakkai Poriyal
Preparation Time: 10 minutes
Cooking Time: 20 minutes
Ingredients


1 medium sized bottle gourd
1/2 red onion chopped
4-5 green chilies slit
2-3 tbsp grated fresh or frozen coconut
seasonings - mustard seeds, cumin seeds, curry leaves
salt to taste
1 tsp oil

Method


Peel and remove the white soft insides. Now chop them into small cubes.

Heat oil in a wide mouthed pan, add the cumin seeds followed by the mustard seeds and curry leaves.
Add in the onion and green chilies and saute till the onions become translucent.
Now add the bottle gourd pieces and cook for 10-15 minutes till the pieces are cooked. Add salt.
Add the coconut mix and mix and turn off the heat.
Like what you are reading? Subscribe!