Drumstick leaves are suddenly so very popular. Back home a drumstick trees in every backyard is a common sight. The drumsticks were regularly eaten I knew that but I am not sure if the leaves were consumed as much as the drumsticks themselves. I know they got used in dal and stir fries but not as frequently.
They were almost impossible to get here in the US other than for a few lucky folks living in Florida and a few of the other states blessed with warm weather throughout the year. I occasionally see them in the Indian grocery stores now but are pricey. I also have a few friends who grow them in containers.
Anyway the Indian grocery store that is in walking distance of my work place had it on one of our visits. Whenever I visited my grandparent's house in the village I ask my grandma or aunt to make drumsticks leaves poriyal. Besides being very tasty these leaves are a
nutritional powerhouse
. If you get your hands on them don't let them go :)
Very simple to make and there are quite a few variations that can be done with it. While picking the leaves off of the stems is time consuming, it is well worth the effort. I add eggs to it but you can add fresh grated coconut instead. My colleague at work says to leave the drumstick leaves out overnight or in the sun for a little while and the leaves fall off from the stems easily.
Take the leaves and pick them of the stems. Wash and dry completely and chop roughly.
Get grated ginger ready. In a wide mouthed pan add oil, add the seasonings and saute the onions and when brown add in the ginger.
Add in the drumstick leaves, salt and when cooked add in the eggs and saute till the eggs are completely cooked. Turn off the heat.
Serve as a side dish with rice.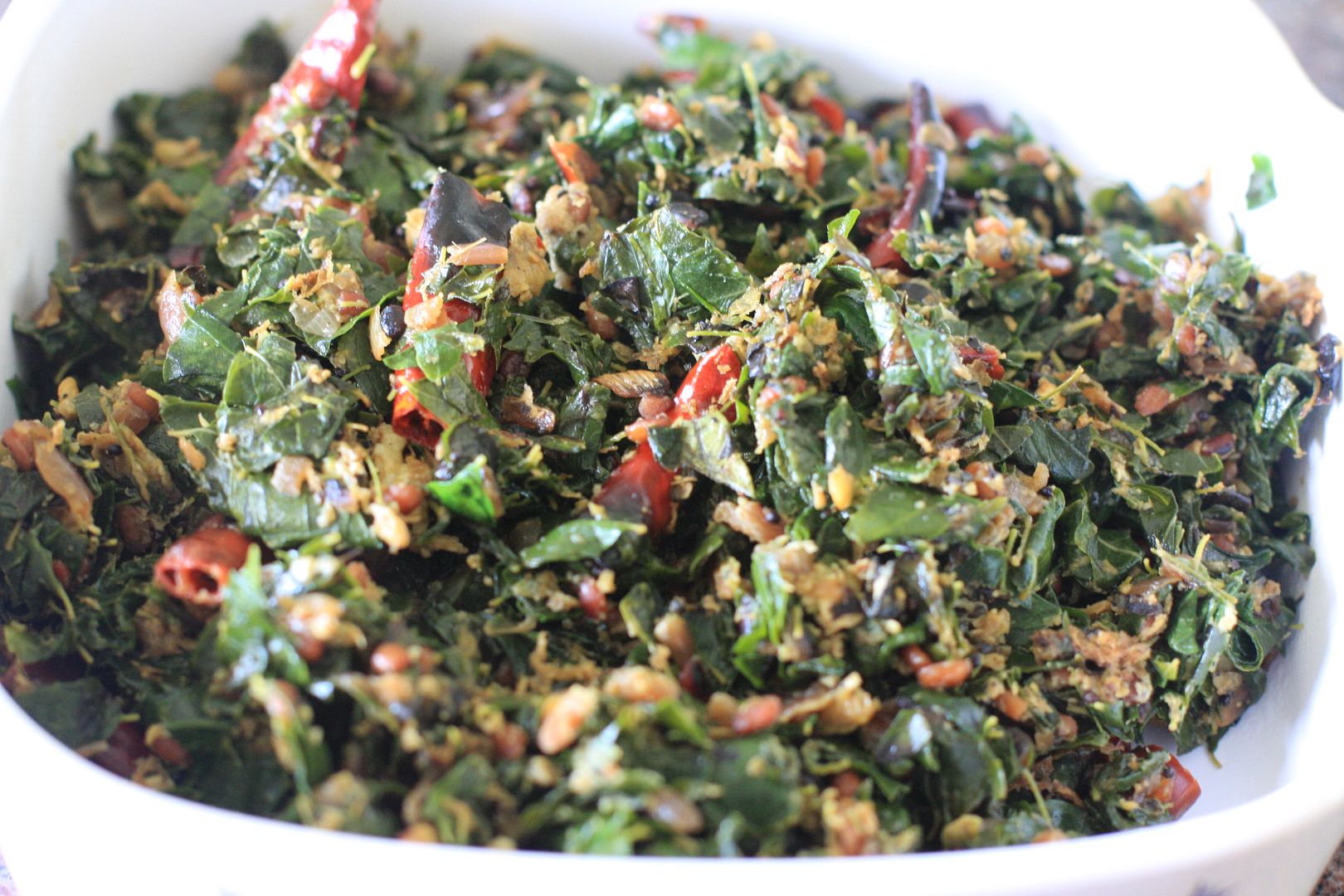 Drumstick Leaves Poriyal (stirfry)
Preparation Time: 20 minutes
Cooking Time: 20 minutes
Ingredients


Drumstick Leaves - 3-4 cups packed
1/2 cup finely chopped red onion or shallots
6-8 red chilies broken (I shake the seeds out)
1/2 tbsp of grated ginger
2 eggs or 1/4 cup grated fresh or frozen coconut for a vegan version
seasonings - split urad dal (ulaudam paruppu), cumin seeds, mustard seeds
salt to taste
1 tsp oil


Method


Wash and completely drain the water and chop the drumstick leaves if needed.
In a wide mouthed pan heat oil, add in the split urad dal and when it starts to turn brown add in the cumin and mustard seeds and when it starts to pop add the red chilies followed by onion, saute till the onion turns slightly brown.
Add in the grated ginger and saute for a few seconds. Be quick and don't let it burn.
Add in the leaves and in low heat cook till the leaves are completely cooked. It takes a bit of time to cook, so cover and in low heat, should take about 8-10 minutes.
Add in the salt and when the leaves are completely cooked add in the eggs and saute till the eggs are cooked.
For a vegan version skip the eggs and add the grated coconut and mix it in. Turn off the heat.
Like what you are reading? Subscribe!