We are all afraid of somethings sometimes but there are some of us who are afraid of everything isn't? At work, in personal life and all spheres of life fear keeps people from achieving their potential. I have met lots of them personally, been one, people mumble behind the back but would not speak up when the opportunity presents itself.
The consequences after you have expressed yourself is perhaps better than bottling it up and letting that anger get the better of you. Easier said than done. But we all need to stand up for ourselves some time or the other. It does not come easily and has to be practiced. With anger everywhere and around us and the consequences not as pleasant it is time to stop feeling like victims and being to feel empowered to standup and speak up.
It is nice to have a few recipes for those week nights when you want something quick or on a weekend when you are in a movie watching binge and want some comfort food on a cold windy evening.
The recipe in pictures,
Get the quick masala powder and onions, ginger and garlic chopped and ready.
Heat oil and add the cinnamon-cloves powder. Add in the chopped onions and when transparent add in the ginger and garlic.
Add in the chicken and turmeric powder and mix with the onions and continue to saute for 3-4 minutes till the chicken loses pink color.
Add the quick masala powder and mix into the chicken well and add salt. Let it cook till the chicken is fully cooked and the desired consistency.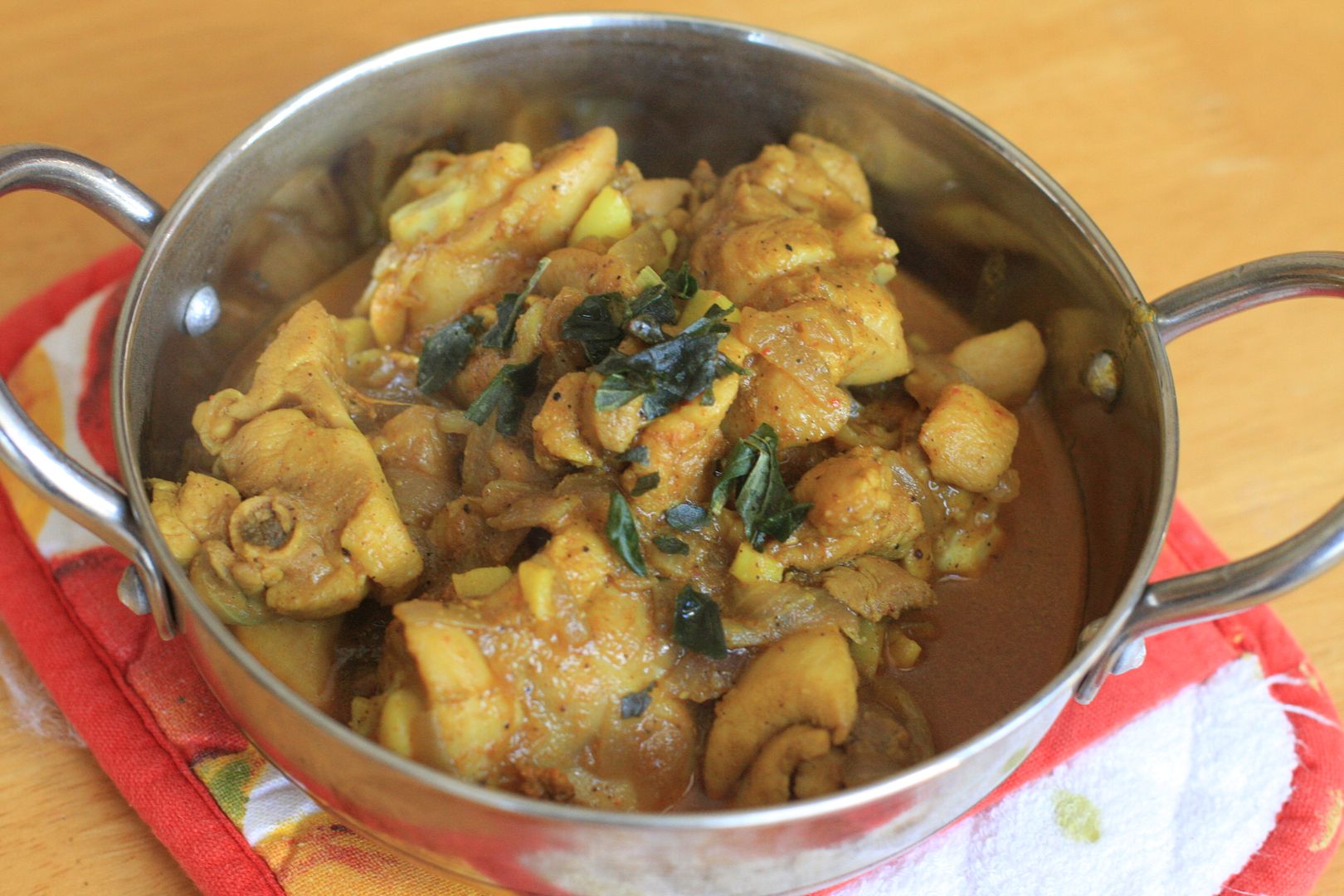 Simple Chicken Curry with Quick Masala Powder
Preparation Time: 10 minutes
Cooking Time: 20 minutes
Ingredients


1 1/2 lbs of chicken (I used chicken thighs with bones) cut into bite sized pieces
1/2 cup of onions sliced thin
5 cloves of garlic minced
1 tbsp grated ginger
2 tbsp Quick Masala Powder
handful of curry leaves
1/2 tbsp of red chili powder (optional)
2 tsp of turmeric powder
1/2 tsp powdered garam masala (cinnamon, cloves, star anise)
salt to taste
2 tsp oil


Method


If using whole spices powder them using a spice grinder and set aside.
In a pressure cooker heat oil and when hot add in the powdered whole spices.
Add in the chopped onions and saute for 3-4 minutes till it is translucent. Add in the ginger and garlic and continue to saute for a couple of minutes more. Don't let it stick to the pot.
Add in the chicken pieces and the turmeric powder and saute till the chicken changes color from pink to white.
Add in the quick masala powder, chili powder if using and salt and continue to cook for 5-10 minutes till the chicken is completely cooked and the desired consistency is reached. Add the curry leaves towards the end of the cooking process.
Note:I wanted to leave the chicken a little bit watery. It was going into a rice bowl. Continue to cook for a few more minutes if you wanted it thicker or drier.



Like what you are reading? Subscribe!