Cluster bean is a vegetable that has been in the periphery of my kitchen and peeking in only occasionally. Usually bought for making
paruppu usili
which is a delicious roast of blended dal and cluster beans.
This was until I grew some cluster beans out of curiosity last summer. Suddenly I had the freshest cluster beans and needed some recipes to use them up. I tried a few recipes that my mom had sent, all of them good. The one with peanuts became by far my favorite but before I had the chance to try it another time the season came to an end. Cluster beans freeze astonishingly well. So the excess that I could not use I froze which is coming handy now in the dead of winter.
Some of my favorite recipes with cluster beans or kothavaranga (in Tamil).
Cluster Beans (Kothavaranga) with Peanuts

Cluster beans in tamarind sauce - Kothavaranga pulikulambu
Kothavaranga Paruppu usili - Cluster beans and blended dal roast
To this list can be added this recipe. Neither a sambhar or a North Indian subzi but a combination of both, inspiration for which came from this
recipe on Mayeeka
.
In a pressure cooker heat oil and add the seasonings. Saute the onions, green chilies and tomatoes. Add in the spice powders and mix it in.
Add in the vegetables, the cooked dal and enough water.
Pressure cook for a whistle.
Using a pressure cooker is the fastest way to cook dinner on a weekday night and this was no different. I cooked the moong dal and then added it to the vegetables, but you can add moong dal directly and pressure cook with the vegetables too.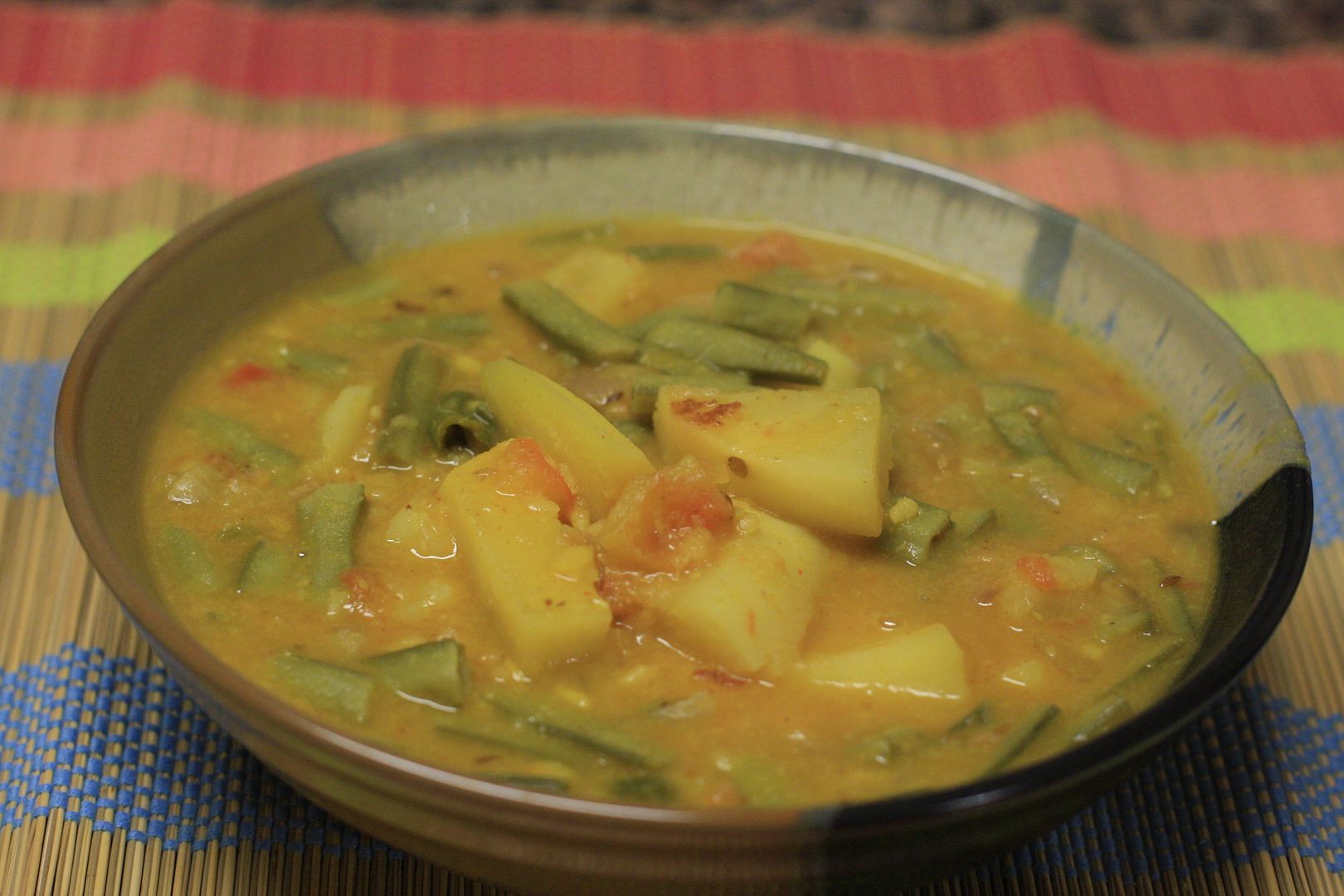 Cluster Beans with Potatoes with Moong Dal
Preparation Time:10 minutes
Cooking Time:25-30 minutes
Ingredients


2 Potatoes
2-3 cups of cut cluster beans fresh or frozen (I used frozen)
2 tomatoes chopped
1/2 cup of chopped onions (optional)
2 tsp of grated fresh ginger
4 green chilies chopped or slit
1 tbsp coriander powder
2 tsp red chili powder (adjust to taste)
2 tsp turmeric powder
1 cup moong dal
salt to taste
2 tsp oil
seasonings: cumin seeds, asfoetida


Method


Cook moong dal and set aside.
In a pressure cooker heat oil and add the seasonings. Add in the onions and green chilies and saute till the onions start to brown.
Add in the tomatoes and saute till it gets mushy.
Add in the coriander , chili and turmeric powders and mix it in.
Add in the potatoes and saute for a minute or two and then add in the cluster beans and saute for a couple of minutes more.
Add in the moong dal and 1 1/2 cups of water and salt and let it come to a boil.
Place the lid and and let it come to a whistle and turn off the heat.

Serve with steamed rice.

Like what you are reading? Subscribe!