What exactly is Grits? Grits is made by cooking coarsely ground corn (maize) with water or milk. The coarsely ground corn itself is also called grits. What if I tell you that grits has become a big time favorite around our house? You should not be surprised.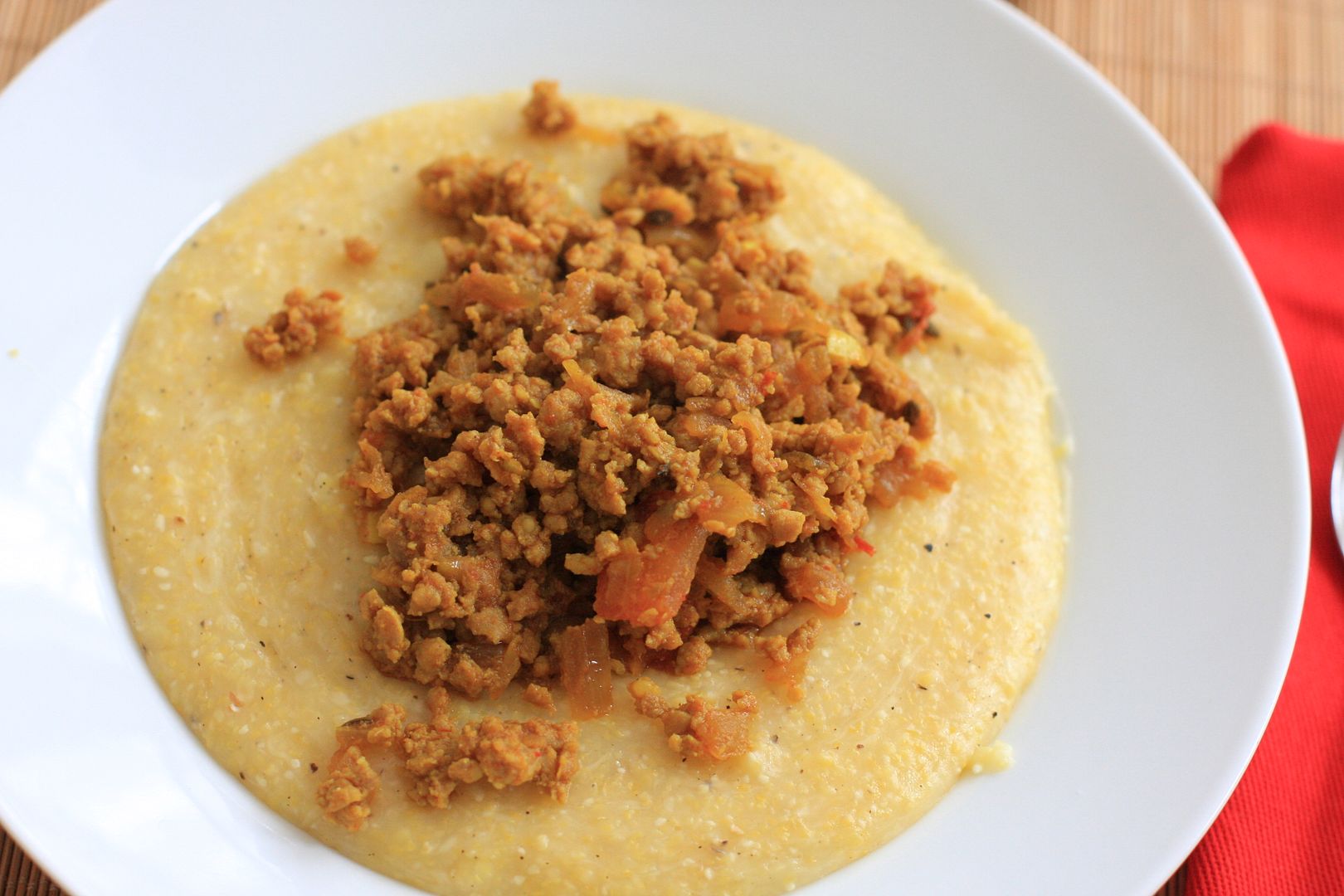 Grits is not the same thing as corn meal. Grits has a much coarser texture than corn meal and both are not interchangeable and grits is not polenta either. Look for stone ground grits for the best taste.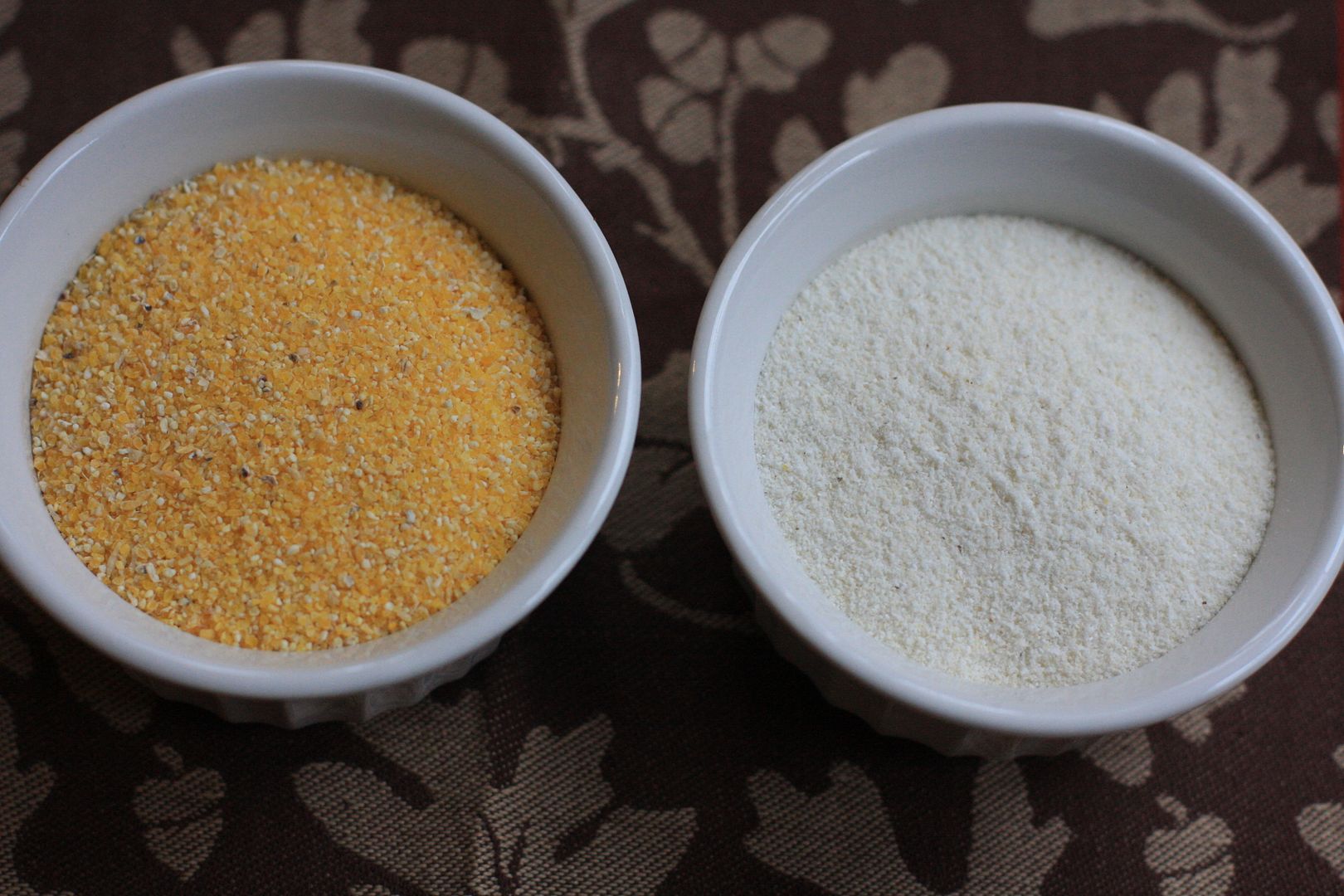 Corn Grits and Corn Meal
Take the corn grits and water in a electric cooker and let it cook for about 25-30 minutes.
When the grits have cooked and the water is almost all absorbed add butter, pepper followed by the cheese.
Mix in the butter,pepper and cheese so it is uniform. Switch off the cooker.
Plate the grits with the spicy meat or vegetables on top.
I have been thinking about making grits for a long time now. DH who went to school in the South has mentioned it a bunch of times. Trying something new does not come easily. Anyway a friend gave me a bag of stone ground grits and it was sitting in the pantry for a couple of months and then one fine day I decided to give it a try. I have no idea why we hadn't tried it for this long. We had it for lunch with some roasted chicken and it was fantastic. Grits make for a perfect breakfast as well. We kind of prefer to eat grits with some spicy meat or vegetables on the side.
Once you have cooked plain grits, cheese grits cannot be far behind. Cooking grits is very easy. You can either do it on the stove top or in an electric cooker. Even when cooking in the electric cooker you need to stir it now and then so the cooked grits does not settle in the bottom.
The Cheese grits can be had for breakfast with a few jalapenos ;) on the side or just by themselves. Or plain grits cooked with milk drizzled with honey and sprinkled with dried fruits on top. Fresh fruits and some Greek yogurt would work great as well.
But the recipe we are going to talk about today is cheese grits. Extremely tasty. While grits with shrimp is the popular southern delicacy, I made
some spicy minced turkey
which was paired with the grits and Burrito style black beans. For vegetarians a side of black beans like this
Burrito Black and Kidney Beans
works great.
I looked up this
recipe from Alton Brow
n but I did not use corn meal and did not cook it in milk. While it might be ok for corn meal to be cooked with milk I would recommend using water for cooking grits and then adding milk later in the cooking process if wanted.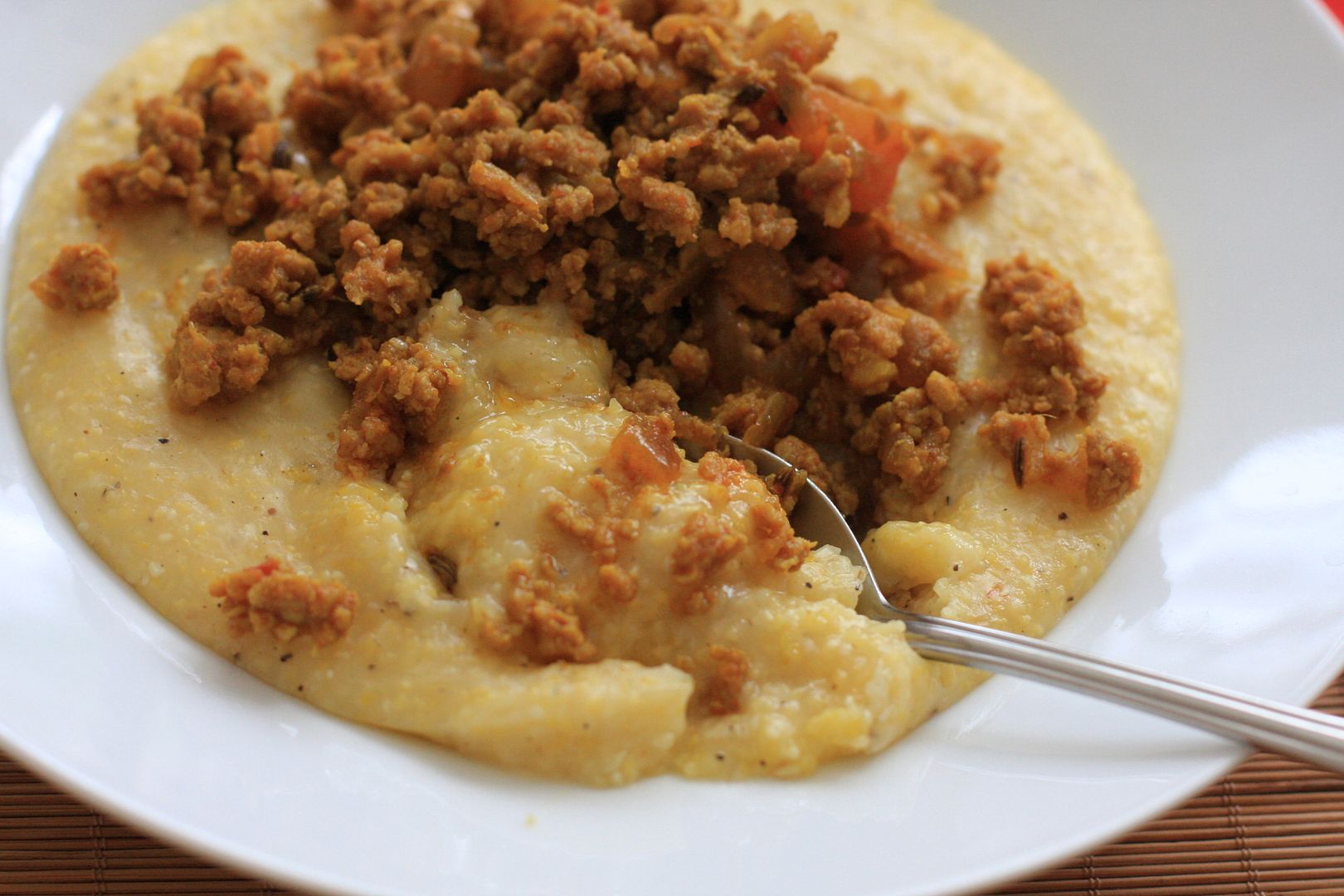 Cheese Grits
Preparation Time:5 minutes
Roasting Time:25-30 minutes
Ingredients


3 cups of stone ground grits
12 cups of water
1/2 tbsp butter
1 cup of Parmesan cheese (or any cheese you prefer)
2 tsp black pepper
2-3 tbsp chopped jalapeno pickled pepper (optional)
1/2 tsp salt


Method


In an electric cooker add the grits and water and let it cook for 25-30 minutes till the water is absorbed and grits are nice and creamy.
Every 5 minutes or so open the lid and stir the grits so that they do not settle on the bottom.
When most of the water is absorbed add the butter, pepper, jalapeno pepper if using and cheese, give a good stir and turn off the cooker.
Note: If serving the cheese grits all by themselves be sure to add the jalapeno peppers and more cheese on top while serving.
Like what you are reading? Subscribe!