Have you heard of the book "Defense of Food" written by Michael Pollan. If you have not, don't fret you can watch the show based on the book
here
. I recommend watching the show if you have not already. It makes clear what you already know but reaffirms your belief that vegetables and fruits are good when Michael Pollan says "Eat Food. Not too much. Mostly plants." Another important rule to remember is to use smaller plates and glasses. Serve the vegetables first.
Snack foods are usually a mine field if you want to follow the rule mentioned above because it is loaded with sugar, salt and fat. I personally prefer savory snack foods to sweet ones but they are not much better either when store bought.
The thing is tasty snacks can be made at home without too much effort. Roasted chickpeas are a big fad as we all know. The thing is I have a lot of dried purple eyes peas that were harvested this summer and when I saw this
recipe
I was more than happy.
I used chili powder, turmeric powder and a tiny bit of curry powder for spices. I guess any spices you prefer like Cajun seasoning or Italian seasoning might work as well.
Canned beans can be used. I prefer using dried and soaked beans. Black/Purple Eyed Peas do not require overnight soaking like the other dried beans, soaking for a couple of hours is sufficient. While I used the oven to do the roasting because I had about 2 cups of beans. If you are using a smaller quantity it can be quickly done in a toaster oven.
I roasted slightly longer than required so in the last 10-15 minutes keep an eye on it.
Soak and cook the purple eyed peas, drain and spread them on kitchen towel to absorb the water.
Prepare the spice paste. Whisk the spice powders together with the oil.
Toss the beans in the spice paste and get them coated.
Line a baking sheet with aluminum, grease and spread the beans and bake in a 375F preheated oven for about 50 -55 minutes till they are roasted to golden brown.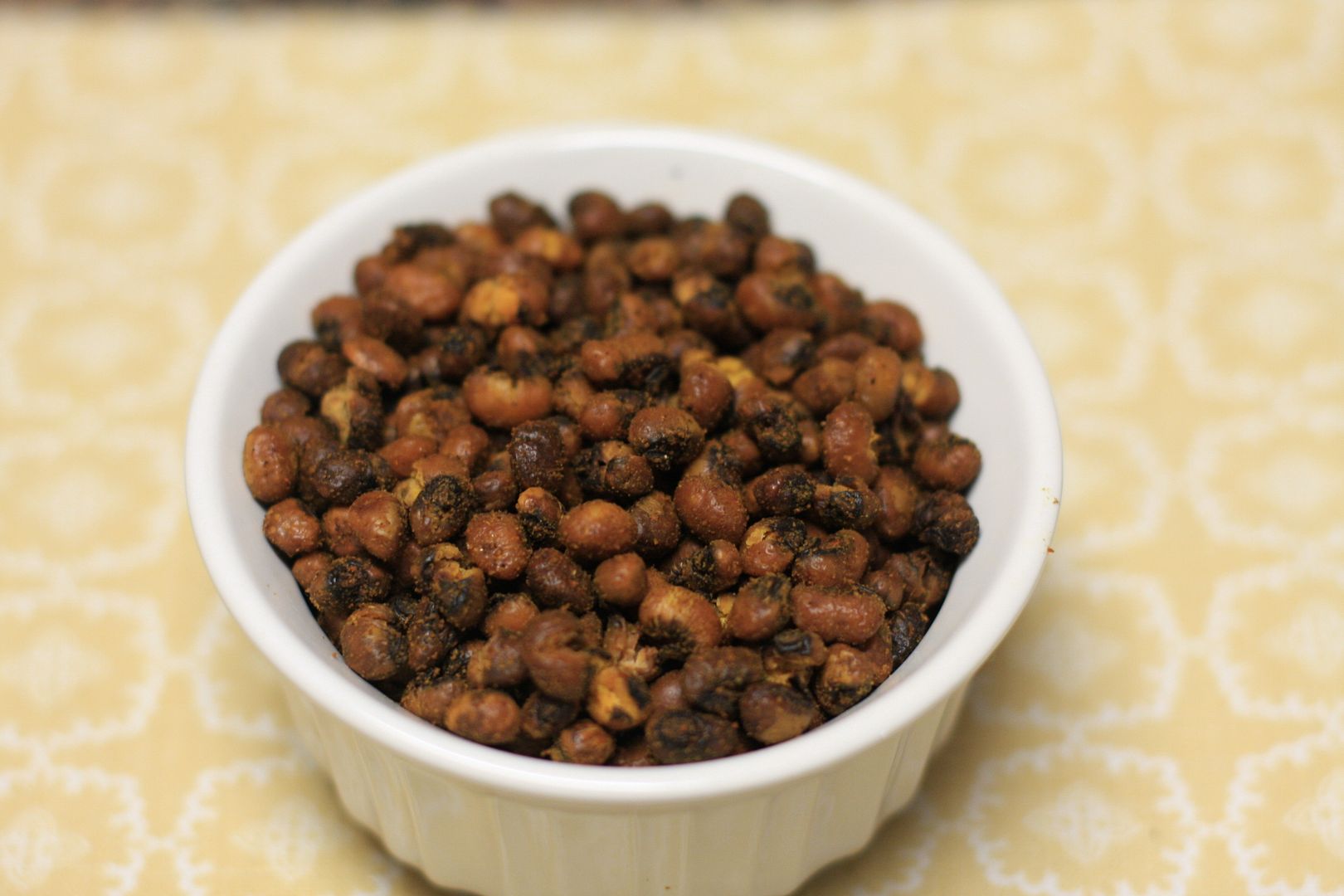 Chili and Turmeric Roasted Purple Eyed Peas
Preparation Time:Less than 10 minutes + 2 hours soaking time
Roasting Time:55-60 minutes
Ingredients


2 cups of dried beans
1 tbsp olive oil
1/2 tbsp chili powder
2 tsp turmeric powder
1 tsp curry powder (optional)
1/2 tsp of salt or to taste


Method


Soak the black eyed peas for about couple of hours. Wash the beans and add salt and cook for 1 whistle if using a pressure cooker. Take care not to cook just enough to keep the beans whole. (see Note)
Drain the beans and then spread them out in a kitchen towel to absorb any excess water.
Preheat the oven to 375F.
In a mixing bowl or a wide mouthed deep bowl tale the oil, chili powder, turmeric powder, curry powder and salt. Whisk it together.
Toss the beans into the spice paste and gently mix so all the beans are well coated.
Line a cookie or baking sheet with foil and grease it with oil. Spread the spice coated beans in a single layer.
Bake in a preheated oven for about 55-60 minutes. Check once at 30 minutes and turn the beans around. Check again at 50 to 55 minutes to make sure the beans are ready. It is done when the beans are golden brown. Do not leave it longer than required.
Cool and store in air tight container. Should last for couple of weeks.
b>Note:If cooking beans in a pressure cooker be careful not to overcook because the purple eyed peas get cooked pretty soon. It can be cooked on stove top in a sauce pan.
Like what you are reading? Subscribe!