Chennai or Madras as I am used to calling it back then always has a special place in my heart. I spent my higher secondary years there in a hostel. Shed a lot of tears for not being able to go to college there. Back then the place was not constructed out like it has been now but still a couple of days of rain and it starts to look like a swamp. I can only imagine the misery now with so much rain. It is ironic, we look to the skies for rains to alleviate some of the chronic water shortage that is typical of this region but then when the skies open up it deluges. Thoughts and prayers with the people of Chennai. May you find the strength to deal with this.
While I would like to go into a rant about the unfettered construction without nary a thought given to environmental and natural consideration I would hold that thought for now. While there is nothing surprising about the typical of
politicians' reactions to natural disasters,
heartening is the ordinary people rising up to the challenge and helping each other out
Moving on to our recipe,
Around our house mutton is a very popular item. Just that I don't cook it that often. Maybe that is a reason why it is popular. Anyway the Thanksgiving holiday seemed like a good time as any other to have some. My brother suggested we try
Turban Tadka's Mutton Bhatinda
. Glad we did. This was one of the best mutton dishes I have tried in a while. I always start making a dry roast and end up making a gravy. With this one it was just the texture we were looking for.
Saute the onions till they are nice and brown. Add in the mutton pieces.
While the original recipe had a bit of moisture in it, ours turned out to be a dry roast and that is the way we wanted it. With only slight modifications to the recipe, this one is a keeper. Recipe wise it is fairly simple with very few ingredients. I don't like to use cardamom in cooking savory dishes, use it powdered only in Indian sweets, so I skipped it.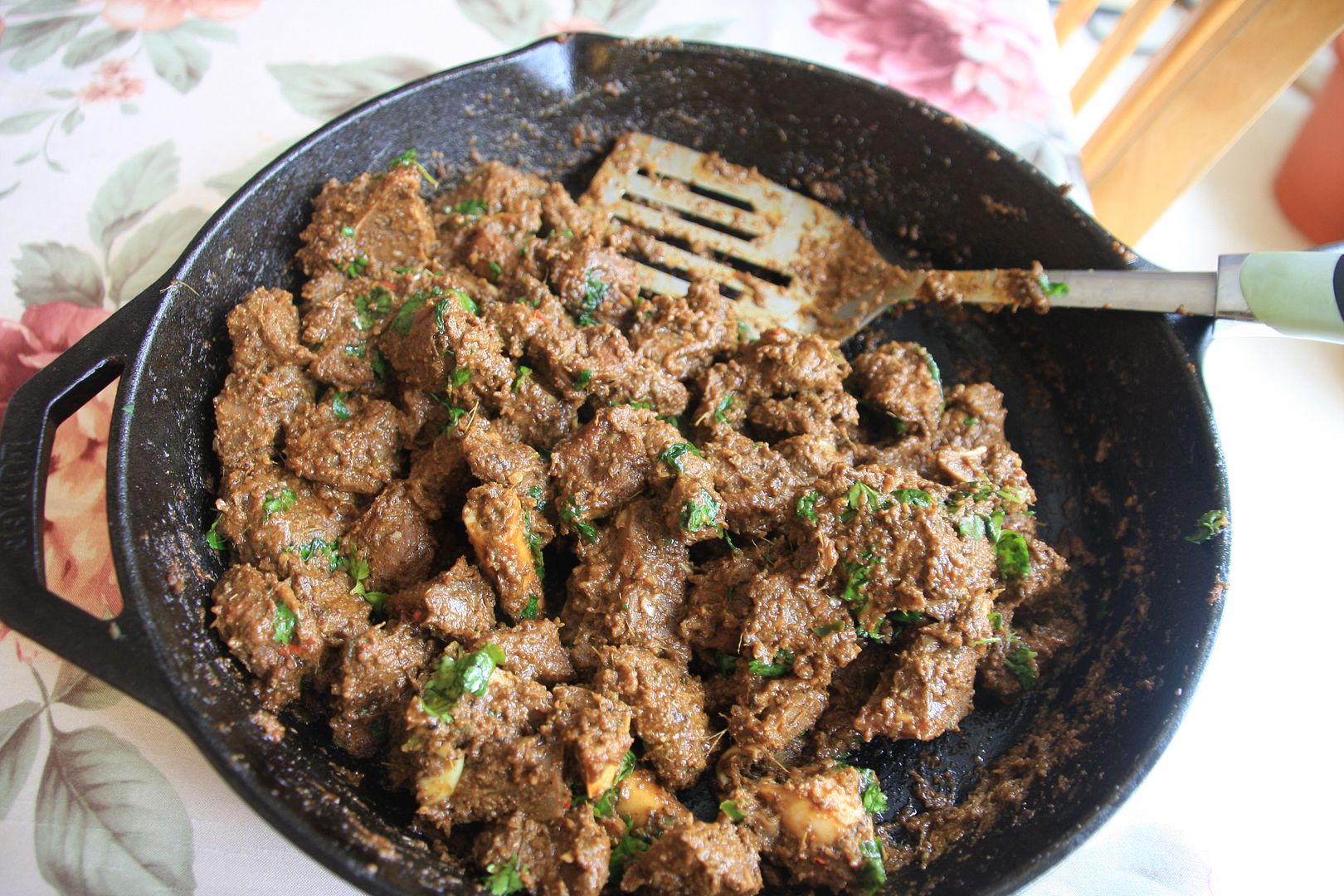 Mutton Bhatinda - Spicy Dry Mutton Fry
Preparation Time:15 minutes
Cooking Time:25 minutes
Ingredients


1 lb of mutton
1 red onion sliced
1/2 tbsp of red chili powder
3 tbsp of sour cream (substitute with curd/yogurt)
2 tsp of turmeric powder
8 garlic cloves + 2 inch piece of ginger + 8 green chilies
handful coriander leaves
salt to taste
2-3 tsp of oil
For the Spice Powder
2 tbsp of coriander seeds
1 tbsp cumin seeds
2 tsp pepper corn
1 bay leaf
5 cloves
1/2 inch piece of cinnamon
4 green cardamom + 4 black cardamom ( I did not use it)
couple of pieces of the star anise (optional, not in original recipe)
1 small piece of Marathi Moggu (black stone flower)


Method


Wash the mutton with turmeric, drain the water and set aside.
Dry roast the spices under the "For the Spice Powder" and set aside. They can be added together and roasted. Let cool and make a coarse powder.
In a cast iron pan or a wide mouthed pan heat half the oil and add the sliced onions. In medium heat saute it till it turns nice and brown and is starting to caramelize.
Add in the washed mutton and saute for about 5-8 minutes. Add a couple of tbsp of water half way through and cover with a lid.
** Transfer the mutton and onion mixture to a pressure cook, add couple more tbsp of water and let it cook for 2 whistles. Let the pressure release naturally. If you do not want to use a pressure cooker, cover the lid and cook the mutton in the same pan, sprinkling couple of tbsps of water at intervals to make sure it does not stick. In the meantime,
Using a food process coarsely blend together ginger, garlic and green chilies. Do not make it into a paste.
To the same saute pan add the rest of the oil, the minced ginger, garlic and green chilies mixture and let it saute till the raw smell is gone completely.
Now transfer the cooked mutton to the pan.
Add the spice powder, chili powder and salt and mix it in.
Reduce the heat and add the sour cream or yogurt and mix it in. Cook for another 4-5 minutes while sauteing continuously to make sure it does not stick. Add the coriander leaves and saute for a minute more and turn off the heat.
Note:**While we used a pressure cooker to speed up the cooking, you can use a lid and cover the cast iron pan and cook for 20-25 minutes for the mutton to be fully cooked and soft.
Serve with steamed rice.



Like what you are reading? Subscribe!