I cook a vegetable almost every other day. Lightly seasoned and with sauteed onions and green or red chilies and finished with a sprinkling of fresh/frozen grated coconut. While this is easy to cook when you are brain dead in the evening and want something done as quickly as possible this is not exactly terribly exciting.
So when I was getting ready to make a stir fry with hyacinth beans albeit using the boring method, my brother stepped and suggested we try these masala kind instead. He wasn't sure where exactly he got the recipe but vaguely remembered the spices he thought that went into and also the roasted roughly crushed peanuts.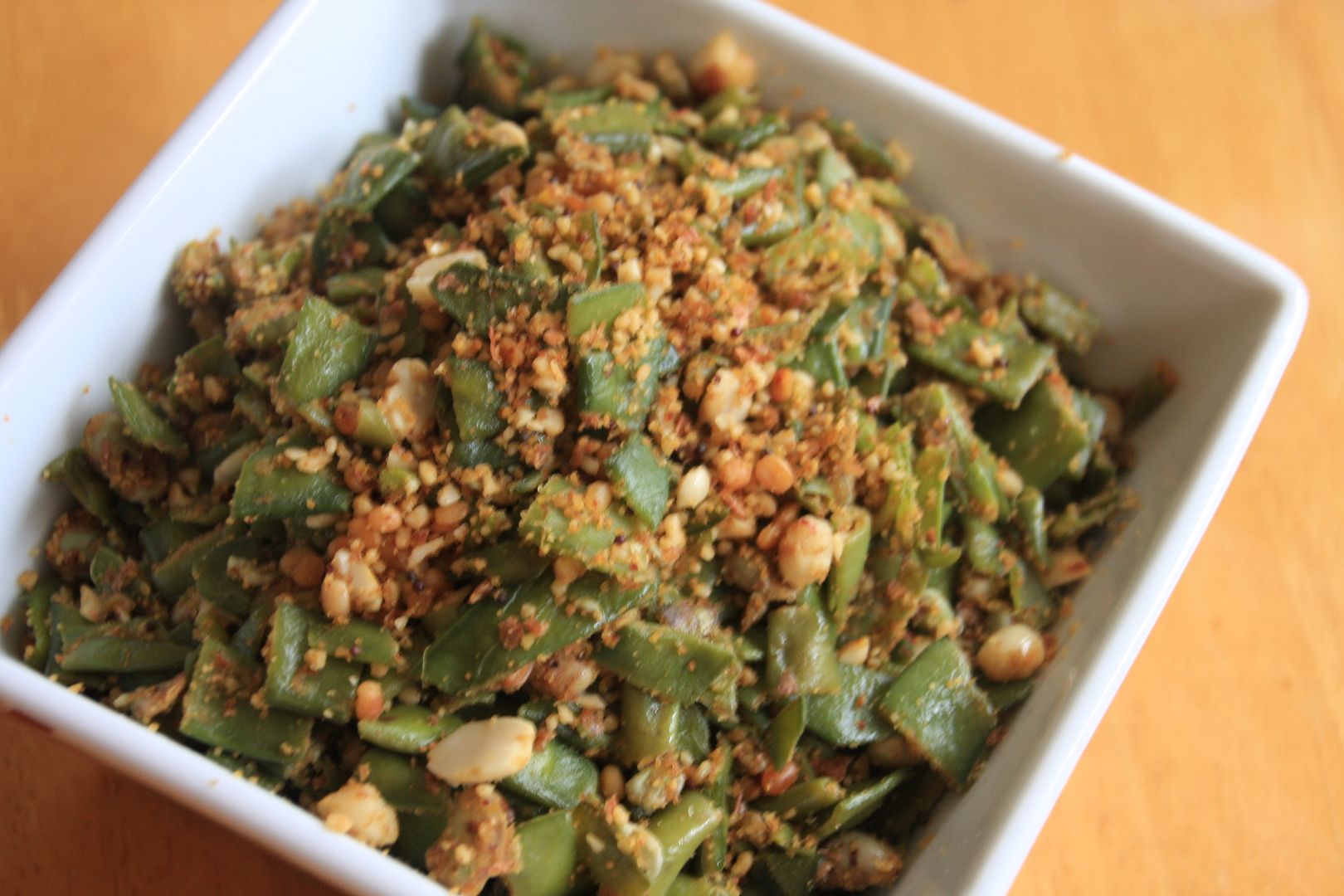 Masala Avrakkai Poriyal
Preparation Time:10 minutes
Cooking Time:20 hours
Ingredients


1 lb of avrakkai
1 tsp oil
seasonings: 2 tsp urad dal, cumin, mustard seeds, curry leaves
1/4 cup of roasted peanuts
For the spice powder
1 tbsp Bengal Gram (kadalai paruppu)
1/2 tbsp of coriander seeds
1 tsp cumin seeds
a few pepper corns
4 red chilies


Method


Roast the ingredients for the spice powder one by one and set aside. The dal should brown a little bit. Cool and powder using a spice grinder.
Coarsely powder or crush the peanuts.
Clean the beans. remove the strings if any and cut into 1 inch piece.
Add the beans to a sauce pan, add a couple of tsps of water and cook for about 4-5 minutes. Set aside. If there is any moisture drain it. (see Note:)
In a wide mouthed pan heat oil, when hot add the urad dal and saute till it turns brown. Add the cumin and mustard seeds.
Add the beans and saute for 3-4 minutes.
Sprinkle salt and the spice powder over the beans, saute for a couple of minutes.
Finish with sprinkling of the crushed peanuts and turn off the heat.
Note:You can add salt when steaming the vegetable.
Like what you are reading? Subscribe!