Think I have mentioned countless times before that the kids love paneer. I bet by now all of you are probably expecting the statement whenever I talk of paneer. So with that out of the way :),
I usually plan dinner on my way from work and on that particular day I had decided to cook some mattar paneer. I knew for certain I had a quarter bag of peas in the fridge and some paneer that badly needed to be used up. Reach home get everything else ready and search high and low for the non-existent peas. DH who had cooked a few days ago had used all of it and forgot to tell me and I finally got word after all the searching that they were all used up and at that particular time nobody wanted to make a grocery store run. Sounds familiar? After muttering under my breath and wondering what to pair it with it I quickly decided frozen corn could work wonderfully. It was not a bad choice, all the family members preferred the paneer - corn combination to the paneer - peas combination.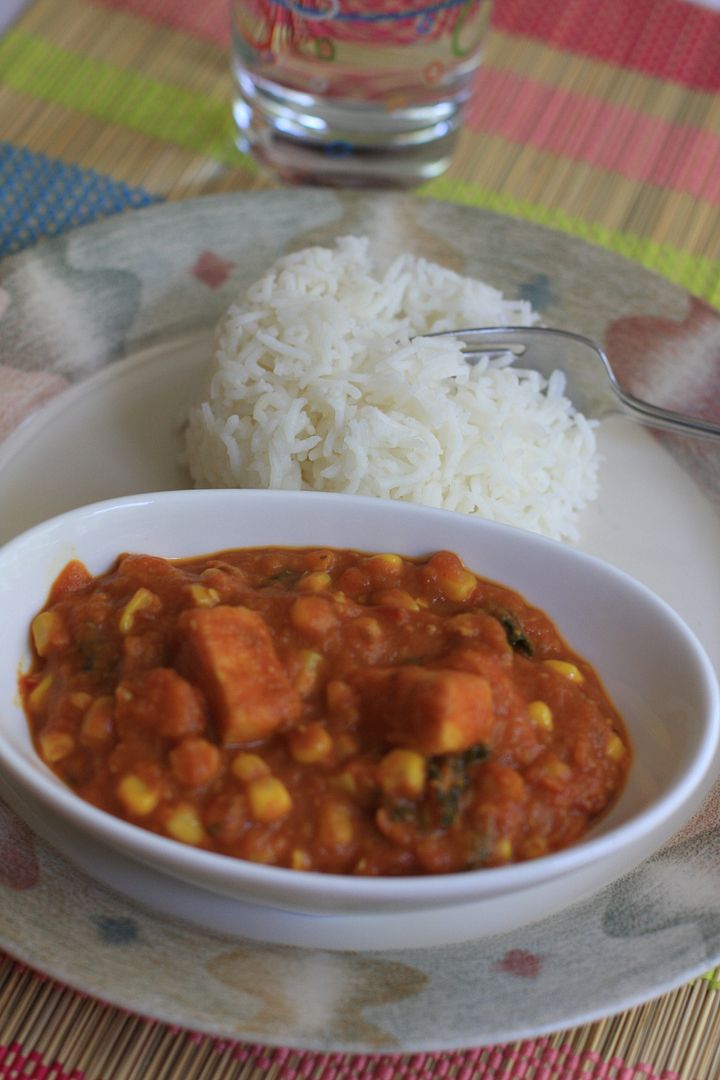 Not only this Paneer recipe but a lot of the North Indian style curries require onion paste made with raw onions. While the onion paste is done in a jiffy it takes a while to cook and also requires liberal amounts of oil. Slaving over the stove trying to cook up the onion paste was not something I was looking forward to. Just wanted to finish cooking and settle in front of the TV to remove the stress of the day or add more stress by watching the news.
You might wonder why not saute the onions like is done for most of the curries in the South. But that alters the taste of the paneer gravy. That is when I remembered the technique that
Sandeepa of Bong Mom's Cookbook
had mentioned a while back. It is to boil the onions which makes it very similar to blending the onions raw and cooking them. The other step is to also boil the tomatoes before blending, this also reduces the time drastically.
We usually eat paneer with Indian breads but this time we decided to eat it with rice and that turned out to be pretty good combination.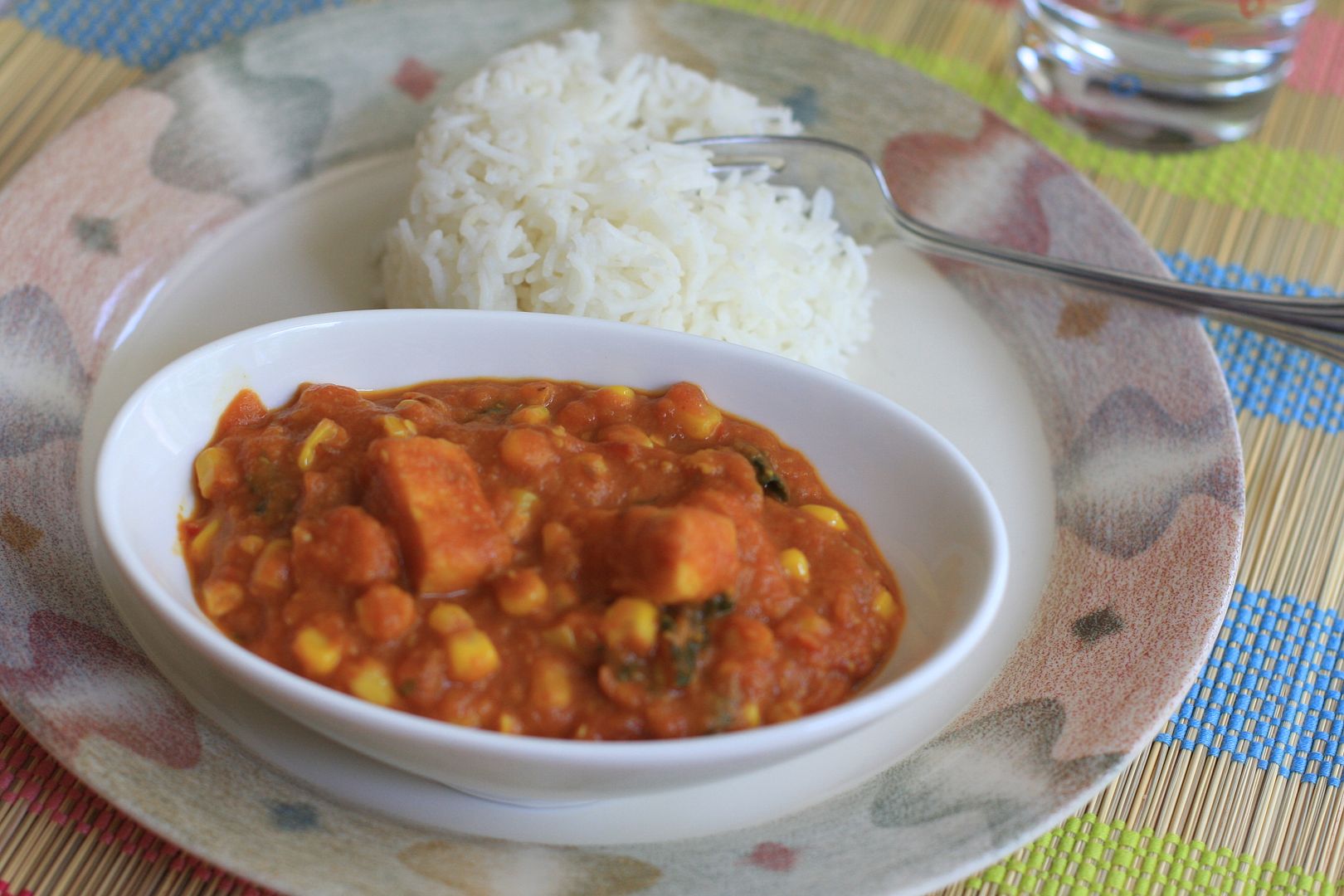 Paneer with Corn
Preparation Time:10 minutes
Cooking Time:25 minutes
Ingredients


12 oz bar of paneer
1 cup of chopped red onions
3 ripe roma tomatoes
3 cloves of garlic grated
1 inch ginger grated
4 green chilies
2 tsp of Kashmiri chili powder + 1 tsp of red chili powder
1 tsp cumin powder + 2 tsp coriander powder
2 turmeric powder
handful of chopped coriander leaves
1 tsp cumin seeds
1/4 tsp of powdered cinnamon + cloves or 1/4 tsp garam masala powder
salt to taste
3 tsp oil
1 tsp ghee


Method


Take the onions in a sauce pan, add just enough water to keep the onions wet to cook for 10 minutes.
While the onions are cooking add the tomatoes to boiling water and let it boil for about 4 minutes, take it out run it under cold water and peel the skin. Blend till smooth.
Cool the onions and blend to a smooth paste with the green chilies.
In a wide mouthed pan heat oil add the cumin seeds and add the blended onions. Lower the heat and let it cook for about 8-10 minutes stirring constantly till it starts to brown a bit. Add a bit more oil if it looks like it is sticking to the pan.
Add the grated ginger and garlic and let them cook for 2-3 minutes till the raw smell is completely gone.
Add the turmeric,cumin, coriander and chili powder and give a good mix. Add the blended tomato pulp, reduce the heat and let it cook for another 8 minutes or so. Add salt.
While the tomatoes are cooking take a saute pan and add the ghee and lightly brown the paneer pieces and keep them submerged in hot water. See this post here for tips on how to keep paneer soft.

Add the paneer to the gravy along with the coriander leaves and let it cook for another 3-4 minutes and turn off the heat.


Let sit for about 15 minutes before serving.


Like what you are reading? Subscribe!