Kadai Chicken is popular on a lot of restaurant menus. The delicious and spicy dish tastes great and the aroma is fantastic. You cannot really go wrong ordering this dish. It goes well with either rice or any of the Indian breads. The only downside like any restaurant food is that is swimming in oil and is bit on the sweet side. The best alternative is of course to make it at home.
The name kadai comes from the name of utensil in which the chicken is cooked in. Kadai is the deep saute dish that is common in all Indian kitchens. It is very similar to the Chinese Wok. Take a look at this
Kitchen Utensils post which talks about the Indian Kadai
.
While I could have easily cooked the dish in the kadai I chose to cook it in my quickly becoming favorite pan the Cast Iron Pan. If you have an iron kadai that might be the perfect utensil for cooking this chicken recipe. The recipe itself is very quick and easy. If chicken is not your thing check out these recipes,
Kadai Mushroom
Kadai Paneer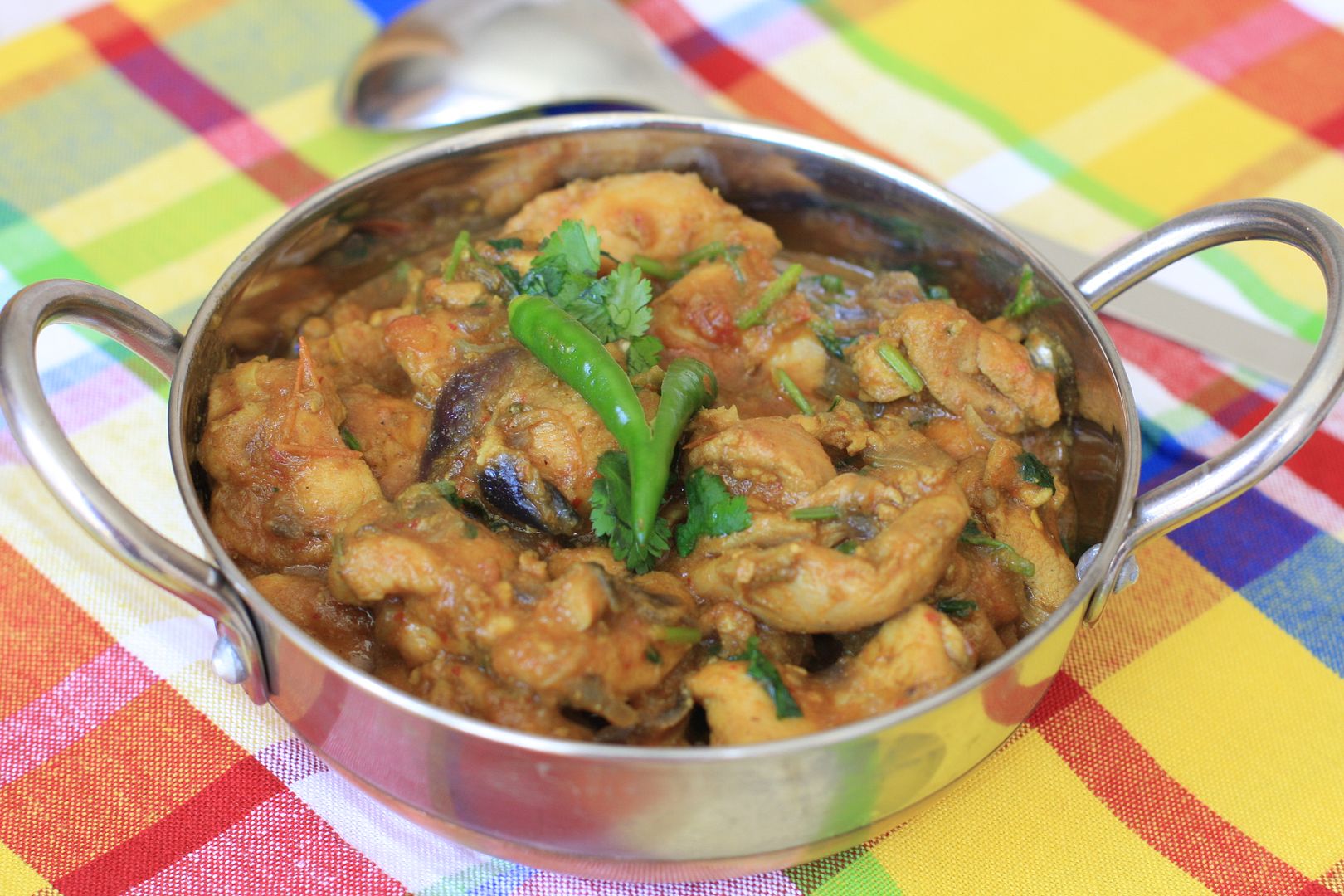 Kadai Chicken
Cooking Time:30 minutes
Ingredients


1 1/2 lbs of chicken (I used boneless chicken thighs)
1/2 cup of thinly sliced onion
2 tomatoes finely diced
3-4 shallots chopped or about 2 tbsp of chopped red onion
4-5 garlic cloves chopped
1 1/2 piece of ginger chopped
5-6 green Thai chilies (optional)
1/2 tbsp coriander powder + 1 tsp of cumin powder
3-4 tsp of turmeric powder
1/2 tbsp of red chili powder (or to taste)
handful of fresh methi(fenugreek) leaves or coriander leaves or 2 tsp of kasuri methi
salt to taste
2-3 tsp of oil
seasonings - 1/2 tsp cumin seeds , 1/2 tsp fennel seeds, small piece of cinnamon stick, small piece of star anise


Method


Wash the chicken with turmeric powder, drain the water as much as possible, sprinkle chili powder and salt and let it sit while you start the cooking. Or you could marinate it for an hour ahead of time.
In a small saute add a few drops of oil and saute the shallots, garlic and ginger for a few minutes till the onion becomes translucent. Cool and blend coarsely. Set aside. Alternately you could just grate the garlic and ginger and chop the shallots really fine.
Heat the cooking pan - kadai or cast iron pan, add oil let it become hot. Season with the cumin, fennel seeds, cinnamon stick and star anise.
Add the sliced onion and the green chilies if using, and saute till the onions starts to become brown. (Add in the garlic, ginger, shallot if using the grated kind and saute for 2-3 minutes.)
Add in the chicken and let it saute for 6-8 minutes. The chicken will let out moisture and will evaporate as the chicken cooks .
Add in the coriander, cumin, chilli powder and turmeric powder. Mix.
Add in the finely chopped tomatoes and let it cook for another 4-5 minutes till the tomatoes become mushy and fall apart. If you are using the blended ginger, garlic paste add it at this time and let it saute for another 3-4 minutes.
Add more salt if required and the chopped coriander and fresh methi leaves. Let saute for another 3-4 minutes. The chicken will start to look dry and coated at this point. Turn of the heat when the desired level of moisture and roast is reached. We like it with a little bit of gravy.
If you are using dried kasure methi leaves, crush it in the palm of your hands and add it to the chicken, mix and turn of the heat right away.
Note:
You can either use fresh methi leaves or leave it out and use just coriander leaves or use both. If fresh is not an option add dried kasuri methi.
If you want a spicier dish add a few slit green chilies while sauteing the onions.
Ginger and Garlic can be used raw either grated or chopped really fine or saute them both with a little bit of onions/shallots coarsely blend and use.
Chicken with bones, breast meat can all be used.
Like what you are reading? Subscribe!